Thanksgiving is just around the corner, but that doesn't mean you need to toss your Whole30 plans into the wind!
This recipe round up shows that a Whole30 Thanksgiving is very possible (and very delicious). Check out these 15 Whole30 Thanksgiving recipes for an epic, drool-worthy feast!
1. The Best Whole30 Roasted Turkey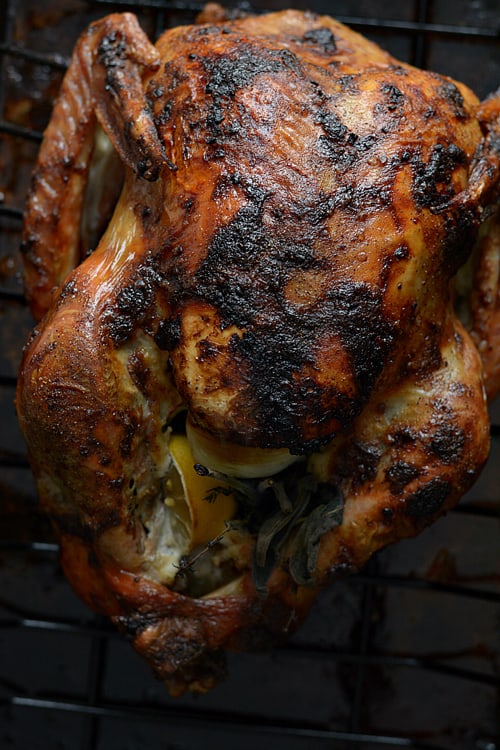 The best roasted turkey originated by Carrie over at Bakeaholic Mama. This roasting method uses homemade whole30 approved mayo to give it that moist taste we all want when we are having turkey.
No more drowning your turkey in gravy, because this one doesn't need any additions!
2. One Pot Thanksgiving Chicken
This one pot Thanksgiving chicken comes to you from Kristen over at If The Saddle Fits.
Why stress yourself out by making a turkey, mashed potatoes, green bean casserole, candied yams, and cranberry sauce? This recipe puts it all together in one dish!
In under an hour you can have a delicious protein, with some cooked vegetables on the side.
3. Paleo Sausage, Apple & Cranberry Stuffing
This paleo sausage, apple and cranberry stuffing comes to you from Trina over at Paleo Newbie.
For many eaters, Thanksgiving stuffing is one of the best aspects of this stuffed-stomach holiday.This Whole30 sausage, apple, and cranberry stuffing provides more flavor that traditional stuffing. Mix it up this year with this gluten free version of Thanksgiving stuffing!
4. Spiced Spaghetti Squash with Roasted Butternut Squash
This spiced spaghetti squash with roasted butternut comes from Kelsey over at Little Bits Of. This squash on squash combination is a simple recipe that uses the true squash flavors to season the dish.
Cooked spaghetti squash and butternut squash vegetable noodles drizzled in olive oil bring a sweet and savory side dish. Garnish with pomegranate seeds for a fall twist and a sweet crunch to this simply crafted dish.
5. Roasted Brussel Sprouts with Bacon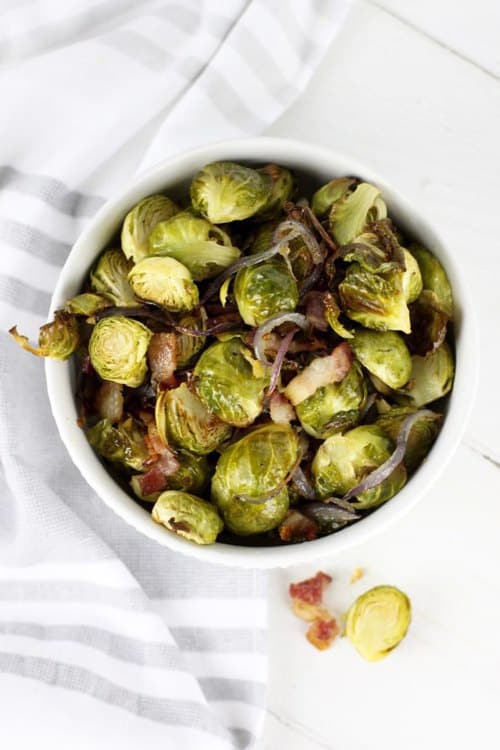 These roasted brussel sprouts with bacon originated from Jessica and Stacie from The Real Food RD's.
These brussel sprouts with Whole30 bacon will convert any non brussel sprout lover into a devoted fan. The combination of bacon and garlic mellows out the strong taste of this nutrient-rich vegetable. This one is sure to please any Thanksgiving guest, because who doesn't love bacon?
6. Twice Baked Acorn Squash
This twice baked acorn squash comes from Candice and Katie from Whole Health Hacks.
If you are looking for a substitute for buttery, milky mashed potatoes this twice baked acorn squash will do the trick. This recipe is a simple substitution to the classic side dish, sure to impress and surprise your guests.
7. Turmeric Roasted Root Vegetables
These turmeric roasted root vegetables are originally from Leslie's kitchen over at Balanced Life – Leslie.
These turmeric roasted root vegetables are the perfect side dish to help with the common inflammation and bloating that comes with Thanksgiving dinner. Turmeric is a known anti-inflammatory to help with the overeating of Thanksgiving dinner. These veggies also survive well into the next day, serving as great leftovers!
8. Parsnip Carrot Mash
This parsnip carrot mash comes from the kitchen of Megan over at Skinny Fitalicious.
If you're looking for a more nutritious, Whole30-friendly mashed potato recipe this year, try this parsnip carrot mash instead (although it's fine to go with the classic mashed potatoes as well – potatoes are Whole30 compliant!)
This recipe is a great way to get your vegetables in without even trying!
9. Sautéed Green Beans with Mushrooms and Caramelized Leeks
These sautéed green beans with mushrooms and caramelized leeks were created in the kitchen of Beth from Tasty Yummies. This green bean dish is a lighter and modern version of the classic green bean casserole. As Beth says – ditch the processed crap and try this healthier green bean recipe!
10. Herb Marinated Mushrooms
These Whole30-friendly herb marinated mushrooms comes to you from Karen over at The Kitchn. Give your guests a surprise by bringing out a dish not typical of Thanksgiving dinner.
These herb marinated mushrooms are the perfect appetizer full of flavor to serve your Thanksgiving guests – and the best part is that they can easily be made a couple days in advance!
11. Sweet Potato Cinni-Mash
This sweet potato cinni-mash recipe comes to you from Jacque over at The Whole Family Strong.
Ditch the brown sugar filled candied yams this year and enhance the natural flavors of sweet potatoes with this Whole30 sweet potato recipe! The best part, this recipe is only 5 simple ingredients, so it's a breeze to whip up.
12. Tahini Celeriac Potato Salad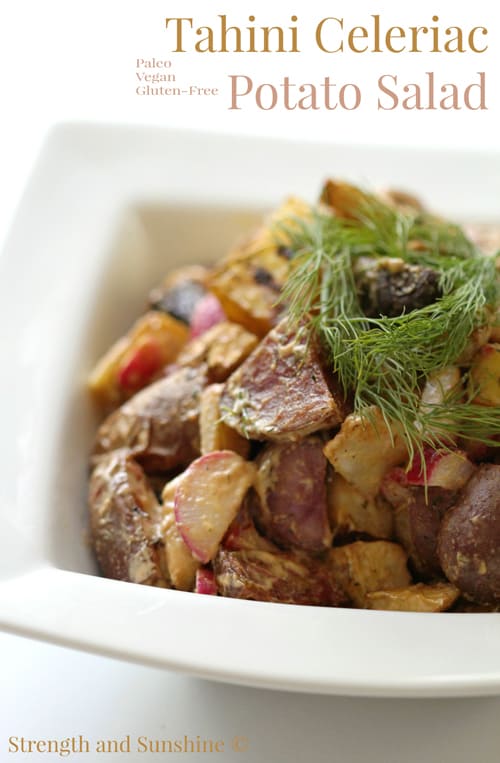 This Whole30-compliant tahini celeriac potato salad comes from Rebecca from Strength and Sunshine. Make Thanksgiving easy as pie with this make-ahead dish.
Combining tricolored potatoes, celeriac root, and radius tossed in a tahini dressing with seasoning, this is the perfect substitution for the classic potato salad. Keep your guests entertained and serve this with your pre-Thanksgiving meal snacks!
13. Spicy Crockpot Pumpkin Soup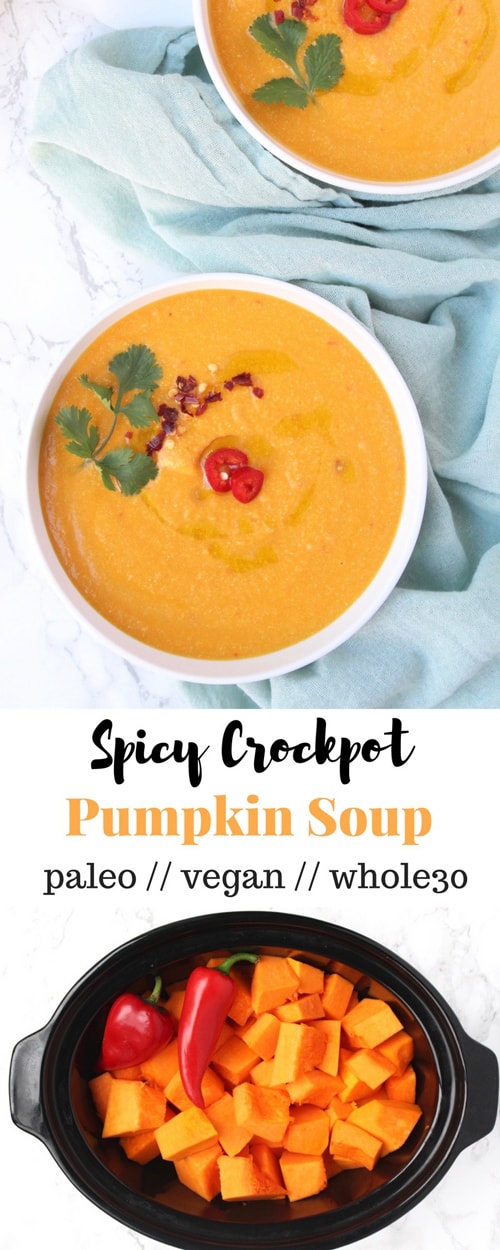 This spicy crockpot pumpkin soup recipe was created by Kelly over at Eat The Gains. If you need a set it and forget it starter for your Thanksgiving guests, this spicy crockpot pumpkin soup is for you!
This Whole30 soup recipe is autumn incarnate with a kick, combining velvety cooked and pureed pumpkin with jalapeños.
14. Whole30 Cranberry Sauce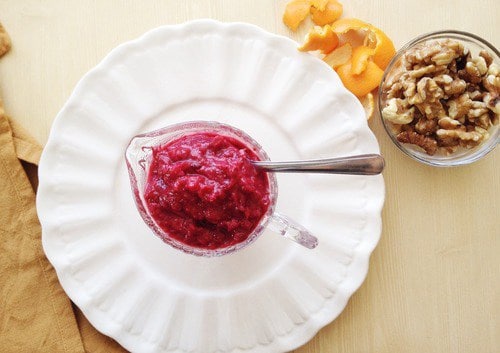 This Whole30 cranberry sauce comes to you from the three sisters, Dr. B, Dr. K and Dr. L over at Doctor's Pantry.
Cranberry sauce is usually loaded with added sugar, but this recipe combines tart cranberries with a touch of all natural sweetness found in dates to bring you this perfect Thanksgiving, Whole30-friendly cranberry sauce.
15. Cinnamon Sweet Potato Apple Bake
This cinnamon sweet potato apple bake comes from Jessica and Stacie over at The Real Food RD's. Whether you want to consider this a side dish or Whole30 dessert for your compliant Thanksgiving, this Cinnamon Sweet Potato Apple Bake is loaded with soluble fiber, vitamins, antioxidants and phytonutrients.
That concludes our list of amazing 15 Whole30 Thanksgiving day recipes!
We hope you enjoyed and found inspiration for your upcoming feast. Did we miss any of your favorites? Share your top Whole30 Thanksgiving recipes in the comments below!