Walmart is a great place to shop for groceries on the cheap, but what about when you're on Whole30?
Well, you may be surprised by how much Walmart has to offer for Whole30-ers on program. While you won't get as access to as much compliant food as you would in a Trader Joe's, there's still plenty you can stock up on at Walmart.
We're here to lend a hand with our Whole30 Walmart Shopping List!
Note: This shopping list is focused largely on items you might not expect to find at Walmart. We don't list every fruit and vegetable (for that kind of detail, check out our Whole30 Shopping List). Instead, this shopping list focuses mostly on specific Whole30-compliant products you may want to have in your arsenal.
Reminder: Always Check Ingredients! This list is up-to-date as possible, but ingredient lists do change, so always be sure to take a glance at the ingredient list yourself to be safe. Still, we've confirmed these items were compliant at the time of putting this list together, so they are good items to start with.
Also keep in mind that Walmarts can carry different products depending on where you live, so you may not find all the items listed here. Keep an eye out for these finds though!
Here's the haul I came home with recently:
Whole30 Walmart Shopping List
Walmart Fresh Veggies, Fruit & Meat for Whole30
Naturally, Walmart is a great place to stock up on the obviously compliant foods that you can get at any grocery store like fresh vegetables, fruit, and meat proteins.
Walmart actually has a decent selection of bagged veggies as well as chopped fruit, in addition to standard produce, with items like:
Bagged Riced Cauliflower
Baby Carrots
Bagged Snap Peas
Guacamole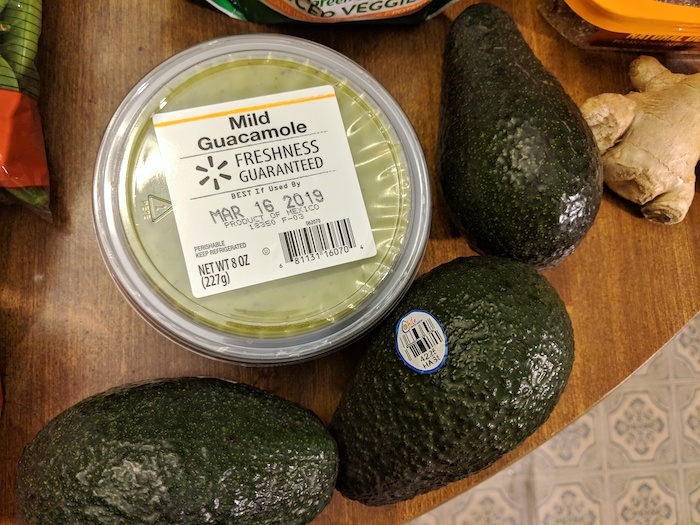 In addition to standard meat proteins, I was also able to spot some grass-fed beef, which is great for those who want higher-quality proteins for their program.
Whole30 Staples Available at Walmart
Walmart has a decent number of Whole30-friendly essential staples and condiments too, such as:
MaraNatha No Sugar Added Almond Butter

Spectrum Organic Coconut Oil
Kelapo Ghee
Thai Kitchen Coconut Milk
Olive Oil
Great Value Balsamic Vinegar
Great Value Red Wine Vinegar
Great Value Apple Cider Vinegar
Mustard
Chopped Nuts
Walmart Whole30 Frozen Veggies
Walmart offers a nice variety of frozen vegetables that are Whole30-compliant. See our list below of ingredient-compliant frozen veggie mixes.
Great Value Organic Steamable Multi-color Cauliflower Blend
Great Value California Style Vegetable Mix
Great Value Broccoli Stir-Fry
Green Giant Riced Veggies Cauliflower Risotto Medley
​Green Giant Riced Cauliflower
Green Giant Cauliflower & Sweet Potato Riced Veggies
Green Giant Riced Veggies Cauliflower With Lemon & Garlic
Green Giant Little Sprout's Organic Butternut Squash Veggie Spirals
Green Giant Fresh Cauliflower Crumbles "Fried Rice" Blend
Birds Eye Steamfresh Mixtures Broccoli, Cauliflower & Carrots
Birds Eye Steamfresh Mixtures Broccoli & Cauliflower
Birds Eye Steamfresh Riced Cauliflower
Birds Eye California Blend​
Walmart Whole30 Bonus Items
There are a few items I hunted down at Walmart that certainly aren't essential, but are nice to have on Whole30.
Sam's Choice Chicken Apple Smoked Sausage
Natural Delights Date Rolls
Nutty or Fruity Pineapple Rings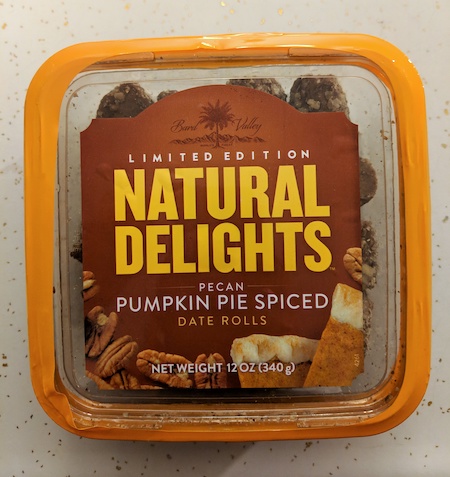 Walmart Whole30 Pre-Made Meals
It's definitely handy to have some pre-made meals on hand for Whole30. Not only does Walmart carry Beetnik paleo meals (most of which are compliant) and Grancestor Meals (also generally compliant), but they carry their own line of Great Value frozen meals that are officially endorsed by the Whole30 team.
Whole30-friendly frozen meals at Walmart store aisles include:
Great Value Barbecue Sauce with Chicken & Vegetables Whole30®
Great Value Roasted Orange Chicken & Vegetables Whole30®​
Great Value Spinach Pesto Chicken & Vegetables Whole30 ​
Great Value Chicken and Coconut Curry
Beetnik Paleo Lemongrass Chicken
Beetnik Paleo Organic Chicken Verde
Beetnik Organic Shepherd's Pie with Grass-Fed Beef
Grandcestor Meals
In fact, you can even see the Whole30 logo in the corner of these Great Value compliant meals.
I'll be totally honest – Walmart's frozen Whole30 meals aren't the best, and the portions are pretty darn small. Still, they're reasonably priced compared to other Whole30 and paleo pre-made meals, and it's probably smart to have a few on hand.
If you're looking for something a little more filling, check out our article on Whole30 Pre-Made Meal Services – we've partnered with several brands to get you great discounts on fresh, pre-made, delivered Whole30 meals.
What to Avoid at Walmart
There are plenty of good finds at Walmart stores, but of course there are danger zones too. Most notably we found a few products that were not Whole30 compliant even when similar items or other products under the same brand were compliant. We'll note some of those products below to help you avoid any mistakes!
Birds Eye Mashed Cauliflower​ (Contains Dairy)
Green Giant Sweet Potato & Cauliflower Veggie Tots (Contains Flour, Sugar)
Birds Eye Veggie Made Riced Cauliflower Savory Herb (Contains Cornstarch)
Great Value Stir Fry Riced Cauliflower (Contains Cornstarch, Soy, Sugar)​
Beetnik Organic Beef Chili and Sweet Potato (Contains Honey)
Atkins Meals​
Don't forget, you can visit Walmart.com or use the Walmart app to see if your local store offers Walmart delivery for groceries and/or grocery pick-up. No reason to slog through the store!
What do you think of our Whole30 Walmart Shopping List? Is there anything you wish we included that we didn't? Have you had any great finds at Walmart? Share your thoughts in the comments!