Sriracha sauce is a popular condiment and ingredient in a lot of asian cooking, so it's no surprise Whole30-ers long for that tasty red sauce.
Unsurprisingly, most brands of sriracha sauce are not compliant (that includes the famous "rooster sauce" so many people know and love). Sriracha sauce often includes sugar in its ingredient list, with chilies and garlic making up the main flavors.
Siracha sauce tends to be thicker than Tabasco sauce, and while vinegar is present, it has less of a presence than it does in Tabasco sauce and other traditional hot sauces (check out our article on Whole30 Compliant Hot Sauce Brands to see the whole list of compliant hot sauces.)
We've been able to find a few compliant sriracha sauces, which we're detailing below. If you come across any others, be sure to add them in the comments to share your finds with the community!
1. True Made Vegetable Sriracha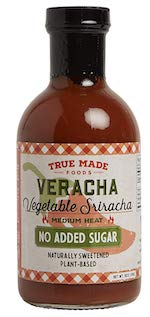 Ingredients: Tomato Puree (Tomato Paste, Water), Jalapeno, Butternut Squash, Carrots, Garlic Powder, Distilled Vinegar, Onion Powder, Spinach, Salt, Cayenne Pepper
Taste Profile: Generally runnier than standard sriracha sauce, but most folks love it!
Where to Find It: Amazon and some grocery stores
2. New Primal Sriracha Tahini Dressing
Ingredients: Water, Vinegar, Tahini, Extra Virgin Olive Oil, Coconut Aminos, Sea Salt, Tapioca Starch, Garlic Powder, Cayenne Pepper Mash, Lemon Juice Concentrate, Xanthan Gum, Black Pepper, Dill, Ascorbic Acid
Taste Profile: Definitely tastes different than standard sriracha sauce, as it combines elements from tahini dressing as well. Most agree that it has more of the hot and spicy flavor than the tahini flavor.
Where to Find It: Thrive Market and some grocery stores (like Whole Foods)
Other, Almost-Compliant Sriracha Sauces
These sauces are close to being compliant but are not quite there due to the presence of sugar. Still, the sugar is natural, and these sauces are considered paleo-friendly, and therefore are worthy of consideration after you've completed the initial 30 days.
Steve's PaleoGoods Sriracha Sauce (Ingredients: Water, Tomatoes, Roasted Red Peppers, Apple Cider Vinegar, Honey, Korean Red Pepper, Sea Salt, Garlic) – Available on Amazon
Whole30 Compliant Sriracha Sauce Recipe
Want to have a try at making your own sriracha sauce that's Whole30-compliant? Try this Whole30 sriracha recipe from 40 Aprons that uses red jalapenos, garlic, coconut aminos, white vinegar, and salt!
Have any DIY sriracha recipes you want to share? Or have you found other compliant brands of sriracha sauce? Share your finds in the comments!