Let's face it – we all want to be healthier and do the Whole30 program, but some of us don't have the time or energy to put together perfect paleo meals every day.
These paleo meal services make it easy to eat compliant, taking some of the stress off of cooking fresh, compliant meals daily. While some of these services deliver pre-made paleo meals, other simply send you the ingredients, saving you time in the grocery store while you do the cooking.
Brushing up on your kitchen culinary skills is a significant part of completing the Whole30, but there's nothing wrong with calling upon a little help when you need it, and these meal services are happy to lend a hand!
Beware: Most Meal Services Are Designed For Paleo, So Watch Out For Honey!
The majority of these meal delivery services are basically Whole30 compliant, but not 100%. There are very few meal services catering specifically to the Whole30 diet – instead, most meal services listed here offer paleo meals.
Whole30 is basically a more strict version of paleo (we explain all the similarities and differences of whole30 vs paleo here in detail), so usually, if something is paleo-friendly, it's Whole30 friendly too.
However, this isn't always the case. The biggest issue being sugar – and that's the major thing you'll need to keep an eye out for with any paleo meal delivery service.
You see, with paleo, processed sugars are not allowed, but natural sugars like honey or coconut nectar are OK. However, when it comes to Whole30, absolutely any and all sugar is out (even natural stuff like honey).
This is important to keep in mind while browsing the paleo meal services listed here. The vast majority of meals will be totally compliant, no problem. However, always look at the ingredients because you may sometimes find the odd meal that uses honey or some other natural sweetener that's blacklisted on Whole30.
1. True Fare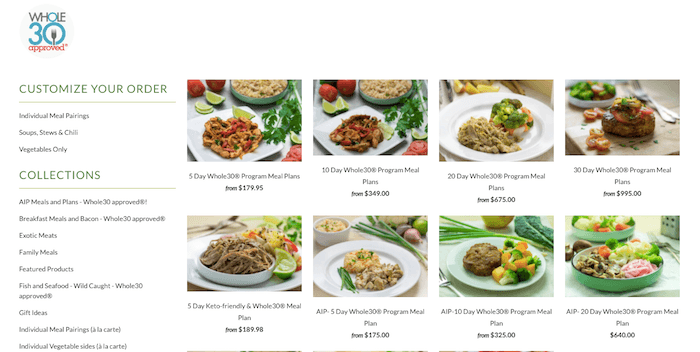 True Fare is one of the lucky meal delivery services that is officially endorsed by the Whole30 program, which means no tricky ingredient issues – just awesome, Whole30-friendly eats.
These chef-prepared, fully cooked meals are guaranteed to be compliant for stress-free, quick and easy Whole30 meals.
In their meals, True Fare uses:
local and certified organic produce
organic chicken
grass-fed and finished beef
heritage breed pork
Naturally free-range turkey
Proteins are all responsibly sourced with no hormones, no antibiotics, and no GMO feeds. You can even find the farm where ingredients were sourced listed in each meal's ingredient list, showing just how serious True Fare is about transparency.
Grab 10, 15, or even 20 meal packs! Or, if you prefer, just order a few individual meals to stock up on some emergency eats when cooking plans go unexpectedly awry.
True Fare also lets you add on some extras to your orders – like 2x protein. Each meal is composed of 5 oz. of protein paired with 6 oz. of organic vegetables.
True Fare is unique in that they are one of the few services that offers 100% official Whole30 approved pre-made meals, with no exceptions or tricky ingredient issues.
As an awesome bonus – you can get 10% off you True Fare order when you use code LIFEHEALTHHQ!
2. The Good Kitchen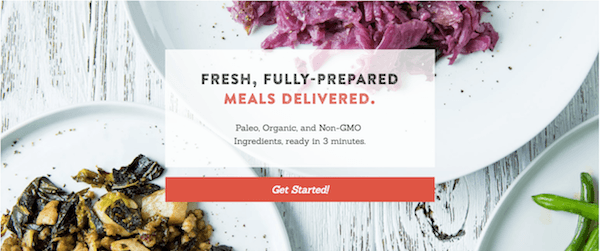 The Good Kitchen is another service specializing in home-delivered healthy, paleo and Whole30-compliant meals to make good eating easy.
Meals are pre-prepared – all you have to do is heat them up and enjoy!
All Good Kitchen meals are gluten-free, soy-free, and contain no processed sugar. All beef and pork is grass-fed and pastured, and all chicken is antibiotic-free and hormone-free.
The Good Kitchen is an official Whole30 partner, so you're in good hands with them. They have a whole line of Whole30-friendly meals for folks looking to eat clean.
The Good Kitchen lets customers pick a plan and then select their dishes for the period.
Plans include:
The Couples Plan: 10 meals per week
The Anti-Cook Plan: 14 meals per week
The All in Plan: 21 meals per week
The Your Way Plan: Custom – choose however many meals you'd like
Selecting your meals is also super easy, and the Good Kitchen has a nice clean, streamlined meal selection dashboard on their website. Just choose your protein and browse through plans.
Clicking on any meal will bring up a screen that shows exactly what ingredients are in any given meal.
To ensure a meal is Whole30-friendly, just look for the Whole30 symbol at the bottom of certain recipes, which mark them as Whole30 certified!
The Good Kitchen also has a special deal for Life Health HQ readers – you'll get 15% off your orders when you use code LIFEHEALTHHQ!
3. Factor 75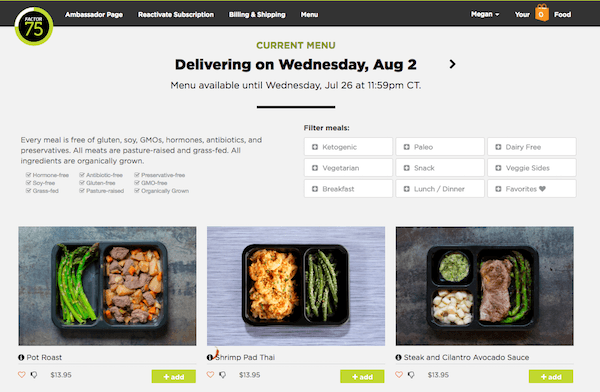 Factor 75 is a meal delivery program that offers fantastic paleo options to make your Whole30 that much easier. Meals arrive pre-made and ready to eat after a quick hit in the microwave.
Factor 75 boasts high-quality ingredients, similar to other services listed here. Gluten-free, soy-free, hormone-free, GMO-free, antibiotic-free, and preservative-free. None of that nasty stuff!
All of Factor 75's meats are also grass-fed and pasture-raised, so you're always getting solid protein sources.
Meals will change depending on the week, but as with all paleo-based meal services (that don't have specific Whole30 offerings), you'll still need to do at least a bit of due diligence and double check each meal's ingredients before ordering.
When I poked around their ordering system, most of Factor75's meals were Whole30-friendly. However, some meals did list honey or burgundy wine as an ingredient, neither of which are compliant on Whole30. So just make sure to avoid those meals!
More good news – you can get $25 off your first week with Factor75 when you order and use code LIFEHEALTHHQ  – hurrah!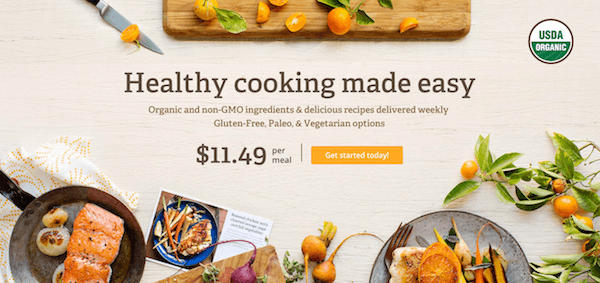 Sun Basket is a meal service in a similar vein as Blue Apron and Hello Fresh, delivering fresh ingredients and recipes to your doorstep.
However, there is one very cool thing about Sun Basket that puts it a step above competitors. What is that special difference? Sun Basket provides a paleo option, ensuring that you only get meals that are paleo-friendly!
Now as we've discussed, paleo and Whole30 are not one and the same, but they are very similar, with Whole30 being a slightly more strict version of paleo.
Paleo-friendly meals from Sun Basket can be easily modified to be Whole30-friendly (in all likelihood this will require simply leaving out honey or maple syrup as a sweetener for a few dishes).
Sun Basket isn't absolutely perfect for Whole30, as meals can't be guaranteed to be 100% compliant, but it's pretty darn close. With just a few tiny modifications here and there, you'll be in the green!
Plus, all ingredients are sustainably sourced, grass-fed, organic, and GMO-free!
Similar to Blue Apron or Hello Fresh, Sun Basket delivers ingredients and recipe instructions to your doorstep and lets you do the cooking. This usually makes for cheaper meals compared to the pre-made services, but will require more work on your part.
The nice thing about making your own meals and just having ingredients delivered is that you can easily leave out non-compliant ingredients such as honey or syrup. With pre-made meals, it's all or nothing!
You even get $35 your order with your first Sun Basket purchase, making them the perfect power horse to provide you with a decent portion of your week's compliant meals!
5. Wild Zora Paleo Meals To Go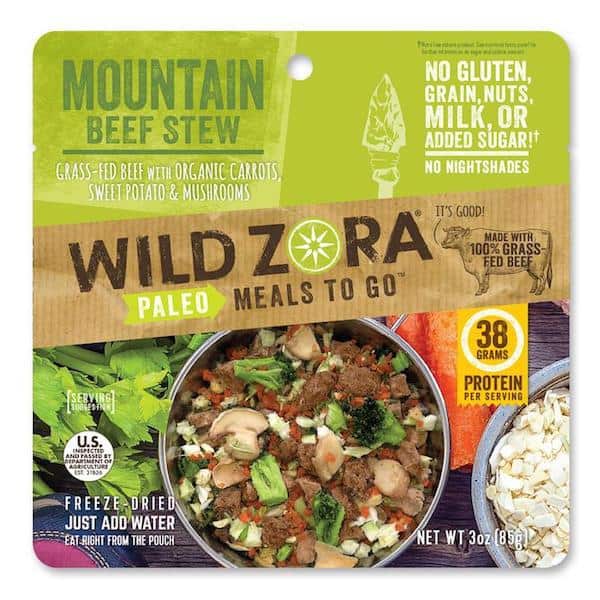 Wild Zora's Paleo Meals To Go provides freeze-dried paleo meals that are super portable, lightweight, and work especially well for hiking and traveling when you are on-the-go.
While dehydrated foods shrivel up and lose texture as well as flavor, freeze-dried meals can retain all their fresh-food qualities and nutritional compounds – all you need to do is add water.
At the time of writing this (Jan 2019 update), all of Wild Zora's Paleo Meals to Go are also Whole30 compliant, as none contain any form of sugar. However, always check ingredient lists, as ingredients may change or new meals may be added.
Here are a couple of our favorite Whole30-compliant Paleo Meals To Go:
Summit Savory Chicken: Free-Range Chicken, Organic Spinach, Carrots, Broccoli, Sweet Potato, Onion, Mushrooms, Lemon, Green Onion, Parsley, Cilantro, Turmeric, Garlic, Sea Salt.
Caldera Chicken Curry: Free-Range Chicken, Organic Spinach, Pineapple, Coconut, Red Bell Pepper, Sweet Potato, Onion, Green Onion. Turmeric, Cayenne Chili Pepper, Spices, Sea Salt, Garlic.
Mountain Beef Stew: Grass-Fed Beef, Organic Carrots, Sweet Potato, Onion, Broccoli, Mushrooms, Celery, Green Onion, Sea Salt, Marjoram, Thyme, Garlic, Parsley.
Wild Zora also offers several Paleo Meals to Go that are generally considered breakfast egg alternatives. These include:
Cliffside Coconut Berry: Organic Flaxseed Meal, Almond Flour, Strawberries, Pecans, Walnuts, Shredded Coconut, Coconut Chips, Blueberries, Apple, Mango, Sea Salt, Vanilla Bean.
Palisade Pineapple Mango: Organic Flaxseed Meal, Banana, Mango, Almond Flour, Pecans, Walnuts, Shredded Coconut, Coconut Chips, Pineapple, Sea Salt, Vanilla Bean.
6. Paleo On The Go
Paleo On The Go provides delicious, all-natural frozen paleo meals that can be delivered straight to your doorstep.
Best of all, Paleo On The Go actually has a "Strict 30" collection of recipes, providing Whole30 compliant meals! Many meals contain Pederson's meat, which is officially endorsed by Whole30.
Another cool thing about Paleo On The Go – we've partnered up with them to get you $15 off your first order – just use code LIFEHEALTHHQ through this link!
A few of our top pick meals from the Whole30-compliant "Strict 30" section include:
Butternut Squash Lasagna With Beef: butternut squash, grass fed ground beef, cashews, crushed tomato, tomato puree, onion, garlic, oregano, basil, sea salt.
Bangers & Mash: pastured ground pork, grass fed ground beef, sage, sea salt, mace, cloves, cauliflower.
Elk Burger with Wild Mushroom: north american farm raised elk, mushroom, onion, parsley, garlic, arrowroot, cooked in tallow.
Grassfed Beef Chilli: grass fed ground beef, grass fed beef broth, diced tomato, crushed tomato, oregano, red pepper flakes, bell pepper, onion, garlic, chili powder, cumin, sea salt.
Herb Roasted Chicken: certified organic free range chicken legs and thighs, lemon, olive oil, rosemary, sage, thyme, sea salt, garlic.
Compliant, But Not All In The Spirit. While all the dishes from the Paleo On The Go are Whole30 compliant ingredient-wise, a couple may qualify as SWYPO, so we'd suggest bypassing the Biscuits & Gravy and Beef Pot Pit, as they imitate breaded items.
7. Green Chef (With Minor Modifications)
Green Chef is a popular meal delivery service that provides fresh ingredients and easy-to-follow recipe instructions to your doorstep.
Like Sun Basket, Green Chef has paleo options, getting you as close to Whole30-compliant as possible. Just make sure to use a discerning eye when your ingredients arrive and leave out any sweeteners or anything else that's questionable (although there shouldn't be many of these instances outside of sweeteners like honey).
Green Chef also has a great deal running right now – you can get 2 free meals with your first order!
Other Less-Than-Ideal Options That Are Still Do-Able!
In addition to Sun Basket and Green Chef, Hello Fresh and Blue Apron are decent options too if you really want to go double down on the meal delivery route. Just be ready to discard those lentils, couscous, and other grains. It's definitely possible, but more of a hassle.