Let's face it, eating out while on Whole30 really is no cake walk (pardon the expression if you're still in sugar-craving stage).
However, in some situations, you won't be able to avoid eating out at a restaurant. We're here to help you get through it and make sure you survive and stay compliant!
Please note: We've done our best to provide guidelines and recommendations for the best Whole30-friendly restaurants, but you'll always want to double-check and ask your server questions to ensure that the meal you're eating is Whole30 compliant. This guide is regularly updated, but recipes may change so please use this guide at your own discretion.
Update: Originally I had included Panera Bread's chicken as compliant – I have been corrected, it does contain sugar in the marinade, so that's out! No subway meats are compliant either.
Whole30 Restaurant Guide: Where to Eat Out
Finding restaurants where you can eat out while staying Whole30 compliant can be hard, but we have a few recommended spots where you should be able to find some compliant dishes.
Whole30 Fast Food
When it comes to quick and easy food, these fast food spots are your best bet for staying compliant.
Subway. Subway offers build your own salads which can allow you to create a Whole30 compliant fast and easy food option. Try a spinach salad with tomatoes, onions, peppers, and vinegar. No Subway meats are allowed.
Whole Foods Hot Bar. The hot bar at Whole Foods allows plenty of pick-and-mix healthy options, so be sure to stop by there when you need something fast and Whole30.
Chipotle. Chipotle is a favorite fast food option for Whole30 eaters. Go with a carnitas salad (carnitas is the only protein at Chipotle cooked in sunflower oil, as opposed to rice bran oil), avoid the rice and beans, and then heap on the guacamole and salsa (all salsas should be fine, minus the corn salsa). Note that if you cut out the meat altogether, the guacamole should be free. For more details, check out Chipotle's ingredients list.
Also, as of January 2019, Chipotle's fajita veggies AND chicken are now Whole30-compliant, as they've stopped using rice bran oil and now use sunflower oil for the fajita veggies and chicken!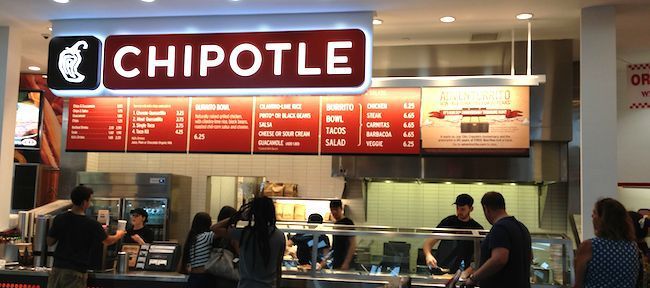 Boloco. Boloco is another great choice, working in a build-your-own style similar to Chipotle. Boloco's chicken marinade does seem to be compliant, consisting of canola oil (allowed in small quantities, mainly for restaurant eating), garlic powder, onion powder, salt, pepper, celery seed, and paprika. See the complete Boloco ingredient list here.
Panera Bread. Panera Bread has some decent salad options that are Whole30 compliant. Scour the menu for compliant dishes like the Cobb Salad With Avocado with lettuce, tomatoes, hard-boiled eggs, and avocado. Ask for no cheese, no chicken (Panera Bread's chicken marinade has sugar in it), and no bacon, plus ask for plain olive oil and vinegar dressing, or ask for no dressing and bring your own.
It's also worth noting that Panera Bread's iced Plum Ginger Hibiscus Tea is compliant, as is the brewed iced tea and iced coffee.
Five Guys. Five Guys burgers are compliant – as noted on their website, "We do not add anything to our products. Our burgers are NOT seasoned, they are simply 80/20 ground beef." You'll just have to order a lettuce bun and stick to veggie toppings (jalapeno peppers, green peppers, onions, lettuce, tomatoes, pickles). Leave out the mushrooms as they are reported to have high fructose corn syrup on the Five Guys nutrition/ingredient sheet. Their hot sauce is also compliant!
B.Good. B.Good offers burgers, bowls, and salads with plenty of Whole30 friendly options. In fact, B.Good is a Whole30 officially recommended restaurant, featuring a menu item called the "Whole30 Approved Salad" featuring avocado, egg, kale, brussels sprouts, apples, squash, beets, pepitas, and red wine vinaigrette.
In N Out. In N Out meat patties are compliant, so as long as you stick to a limiting order, you can order an In N Out Whole30 meal with some creativity. We recommend a "double meat, protein style (lettuce wrapped), with grilled onion, mustard, tomato, and pickle with no sauce and no cheese".
Zoe's Kitchen. Zoe's Kitchen provides officially Whole30-approved fresh Mediterranean dishes, with options like kabobs, salads, sides, and bowls. Zoe's Kitchen is not a nation-wide chain, but they are available in 20 states, so see if there's one near you.
Snap Kitchen. A healthy meal delivery service that offers a variety of ultra-fresh meals, with an assortment of officially Whole30-approved options. Available in Austin, Dallas, Houston, and Philadelphia.
More Whole30 Recommended Restaurants
These spots aren't quite as fast – they're more sit down spots, but past Whole30-ers have found these restaurants to have some compliant options (although you may need to do some fiddling).
Ruby Tuesday's. At Ruby Tuesday's, the salad bar is your best buddy. Just avoid the usual culprits of cheese, croutons, and stick to vinegar and compliant oil for dressing.
Golden Corral. Golden Corral's buffet style eating makes it easy to pick and choose compliant dishes. The salad bar provides ample greens. Be careful with meats, as the steaks usually come with sugar in the seasoning. However, some Whole30-ers were able to successfully order dry steaks. Veggies were simply steamed, and potatoes and sweet potatoes were also compliant.
Chili's. For Chili's, try aiming for steaks (ask for them dry) and steamed veggies. Also try burgers with no buns (make sure to ask about how burgers are cooked), or grilled chicken. Salmon dishes and other fish may be OK, but you'll have to ask to make sure. You could also try the fajitas, minus the tortilla, sour cream, and cheese.
Applebee's. Applebee's Ribeye and NY Strip are the only two steaks that aren't cooked in soybean oil. For seafood, ask about the Garlic Herb Salmon. For sides, go with the steamed veggies.
Whole30 Maybe Restaurants
These restaurants have some solid paleo options, but aren't proven to be Whole30-safe, so we'd only suggest these spots after your first 30 days.
Panda Express. Believe it or not, Panda Express has some solid options for paleo eaters. The Panda Express menu "Wok Smart" options are clean and non-fried, with options like Broccoli Beef, Mushroom Chicken, String Bean Chicken Breast, and more. You can also sub noodles or rice for broccoli, which makes for great clean eating. Unfortunately, the jury is out on what oil is used, so we can't say this is a good choice for the first 30 days of your Whole30 run. And no — the grilled teriyaki chicken and orange chicken are definitely out!
General Guidelines for Eating Whole30 At Restaurants
Indian. Seek out grilled and roasted meats + vegetables. Tandoori is often a good way to go. Indian cooking often uses ghee and coconut milk, which is handy for Whole30.
Thai. When going out for Thai, curries can be a good choice, but make sure to talk with the server to ensure that there is no sugar in the sauce (most curry sauces are usually made with coconut milk). Make sure to ask for no rice.
Hot Pot. Hot Pot is another type of restaurant where you should be able to easily stay compliant. For those who haven't eaten hot pot before, it's when waiters bring a large pot of broth to your table and place it on a built-in stovetop at your table. Then, fresh, raw meats and veggies are brought to your table (you select what ingredients you want). Then, you place the raw meat and uncooked veggies into the boiling water and watch it cook before your eyes. The only real room for error is the broth – many hot pot broths are simply water with spices, but you'll definitely want to get the specifics concerning what is in the broth to verify that it is indeed compliant.
Steakhouses / Outback Steak House / Texas Roadhouse. Most steak houses have an option where you order your cut of steak plus two sides. For your sides, order steamed veggies and sweet potato. Ask for no oil, butter, or seasoning (be specific about this since many steak houses will put a pat of butter on steaks).
Create-Your-Own Mexican. Any place where you can choose your own ingredients is a plus. Stick with grilled meats, veggies, and healthy fats like avocado. For salads, look for oil and vinegar dressings. Check ingredients lists before you go.
Poke. Poke shops are becoming increasingly common. With tons of fresh veggies and proteins, poke bowls tend to make great Whole30 meals. Plus, since the main protein is usually raw fish, there it little concern about the oils or spices the protein is cooked in.
Eating Whole30 Out: What To Look For On The Menu
Navigating a huge menu on Whole30 can be tough – here's what to look for on restaurant menus that will give you the best chances of staying compliant.
Meat + Grilled Veggies. As a general restaurant rule, seek out dishes that involve meat + veggies. For meat, look for steamed or grilled seafood, or lean cuts of meat (such as sirloin steak). The next best bet is grilled chicken (no skin), fattier cuts of red meat like ribs or ribeye steak.
Burgers with no bun work here too, but aren't always the best option due to cooking method and oil. Avoid any skin-on chicken, sausage, bacon, and (of course) anything fried.
Salads. Salads are often a great way to stay compliant while out at a restaurant. However, beware of croutons, cheese, and dressings – get either oil & vinegar dressing, or bring your own Whole30 salad dressing. Many restaurants offer salad bars – seek these places out!
Stir Fry. Stir fry can be a good menu option as long as you are very clear about the oils used in cooking and avoid any non-compliant ingredients.
Hamburgers. Hamburger sans bun is a pretty readily available option at most restaurants. Get your burger with lettuce instead of a bun, and with plenty of veggie toppings. It's smart to also ask if the burgers contain any bread crumbs or flour, as some restaurants add these to burgers.
Baked Potato. Baked potatoes (and sometimes other potato dishes) are a common Whole30 compliant restaurant side dish, so keep an eye out for these! Obviously you'll have to pass on the sour cream and butter.
Eggs. Eggs are an easy dish to keep compliant with, but you'll still need to do your due diligence. Make sure no milk or pancake batter is used in egg dishes (which some places use to make eggs more fluffy). You can also ask specifically for shelled eggs to make sure you're not getting egg substitutes or beaters. Poached eggs are a pretty good guarantee since they're just made with eggs and water. Omelets with veggies and meat are good so long as you're getting real eggs – ask and make sure!
Whole30 Eating Out Restaurant Tips
These tips will cover the essential info you need to keep in mind when it comes to eating out Whole30-style.
Ask The Tough Questions. I know it stinks to be that person asking a million and one questions at a restaurant, but this is a time where it has to be done. Make sure to ask what oil certain meals will be cooked in, ask if there is any added sugar in your dish, and don't be afraid to say that you have a gluten/dairy intolerance. Help get the server on your side and get the answers you need (all while keeping a smile and being polite of course!)
Prepping Beforehand. Be sure to check out restaurant menus before visiting to see what meals you can choose from to be the most Whole30 friendly. First, browse menus online and look for any dishes and sides that look compliant. Also take note of any special policies, such as no substitutions, as these could be problematic.
Next, go ahead and call the restaurant to learn about their cooking oils and fats. Find out if they have an allergen or gluten-free menu. The more knowledge you can get beforehand, the better. That way when you're there, you can be an already informed eater which can help cut down on some of the questions you'll need to ask the server.
BYOD (Bring Your Own Dressing). If you're not sure what the dressing options will be at restaurants you're heading to, go ahead and pack your own Whole30 salad dressing to bring with you. Most restaurants won't mind. If you want to use a restaurant dressing, stick to the simple oil + vinegar dressing.
Don't Slack on Substitutions. Don't be afraid to ask about substitution options – switch out sandwich buns for lettuce, or ask for steamed veggies instead of fries.
Ask About Olive Oil. Ask if veggies can be steamed or sautéed in olive oil instead of vegetable oil.
Say Thanks And Be Appreciative. Be sure to thank the chef and server if they work to cater to your needs, and consider tipping a little extra. Be sure to show appreciation for your server's help and be polite with your questions.
Look For Grass-Fed, Farm to Table. Restaurants that serve grass-fed meat and focus on farm to table eating will be much more likely to cook the healthy way and will probably be more open to playing with the menu and ingredients to cook you up something compliant.
Avoid "Crispy" or "Battered." These are code words for fried-and-definitely-not-Whole30-friendly. Instead, look for foods that are steamed, broiled, grilled, braised, etc. Make sure to also ask seasoning or sauces used in the cooking process.
Look For a Gluten-Free Menu. Some restaurants offer a gluten-free menu, which can be a great jumping off point for staying Whole30 compliant while eating out. You'll still need to be careful about grains and dairy, but looking at a gluten-free menu weeds out a lot of problem ingredients and can be helpful.
Dealing With Company. If you're out with friends and family who give you quizzical looks over your eating choices, give as few details (or as many) as you feel comfortable with. I often found myself telling people that I was eliminating certain foods from my diet to gauge possible food allergies, and most seemed pretty content with that answer.
Manage Expectations. Cheaper places will be less likely to jump through hoops, so you'll eat pretty plain. However, higher-end restaurants are usually better about catering to olive oil and other needs.
Avoid The Rolls. Many restaurants serve tempting bread rolls – avoid these like the plague! Ask your server to not bring them to the table, send them back, or if you're with bread-loving company, keep that bread basket on the other side of the table!
Focus On What You Can Eat. Don't get down about the french fries and bacon mac and cheese that you can't eat. Instead, focus on what you can eat and give yourself a pat on the back for sticking to your guns!
More Whole30 Eating Out Resources
Want more advice on Whole30 restaurants and eating out? Check out a few more resources:
Whole30 Restaurant FAQs
What restaurants can you eat at on Whole30?
Popular restaurants that you can eat at on Whole30 include Chipotle, Five Guys, B.Good, Ruby Tuesday's, Chili's, and Applebee's. Be aware that the options as these restaurants are severely limited and many require some kind of meal modification.
What fast food restaurants are Whole30 approved?
What can I eat at Panera on Whole30?
If you're eating at Panera on Whole30, The Green Goddess Cobb Salad with Avocado is compliant without bacon or chicken. You could also order a plain garden salad with oil and vinegar dressing (or bring your own dressing)!
Are McDonald's fries Whole30 compliant?
No, McDonald's fries are not Whole30 compliant. They contain vegetable oil which is not compliant, as well as dextrose (aka sugar).
What at Chick-Fil-A is Whole30 compliant?
The best you would be able to do at Chick-Fil-A is the Market Salad with no chicken or cheese. The chicken (including the grilled nuggets) is not allowed, as it contains sugar and corn starch, among other off-limit additives.
Can you have rotisserie chicken on Whole30?
Most rotisserie chickens from grocery stores are not allowed on Whole30, as they commonly have sugar, rice, soy, or flour. However, some stores (like Whole Foods) offer a "naked" chicken without off-limit additives. If you can find a clean, ingredient-compliant rotisserie chicken, then you're good to go!
Are Five Guys fries Whole30 compliant?
No, Five Guys fries are not Whole30 compliant because they are cooked in peanut oil (which is an oil that is not allowed on Whole30). However, Five Guys burgers ARE compliant, as the burgers are just beef with no seasoning. You can even get a lettuce bun!
Do you have any Whole30 restaurant tips for eating out? Share your advice in the comments!