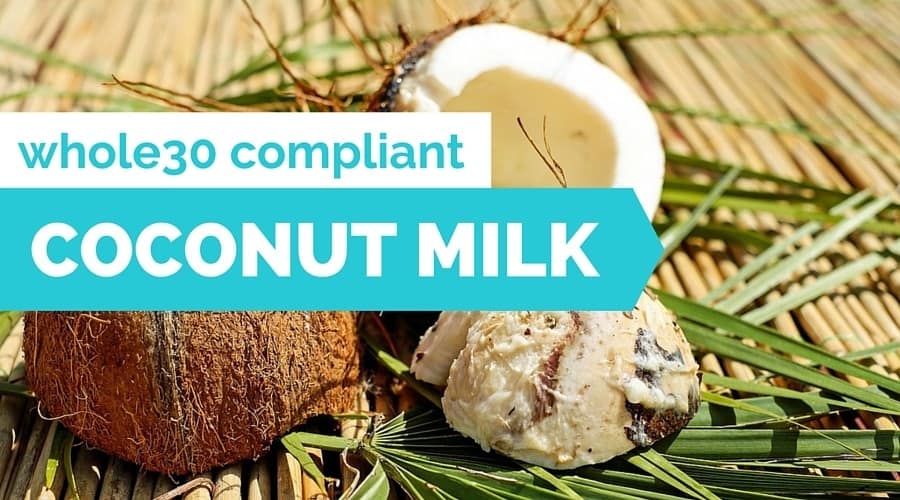 Coconut milk is a major ingredient in any Whole30 diet, used from everything to flavoring Whole30 coffee to making a spicy thai sauce.
Today we're providing details on where to find compliant Whole30 coconut milk, what to look for, as well as what to avoid.
Compliant Whole30 Coconut Milk Brands
These products sell Whole30 complaint coconut milk, so look for these brands in store, or order them online (some can even be bought on Amazon, which is super convienent).
Trader Joe's Coconut Milk (available at Trader Joe's)
Whole Foods 360 Brand Coconut Milk (available at Whole Foods)
A Taste of Thai Coconut Milk (can be found at various grocery stores)
Whole30 Coconut Milk: What to Look For & What to Avoid
When searching the aisles for Whole30 compliant coconut milk, here's what to keep an eye out for.
What to Look For:
Canned Coconut Milk.

 Coconut milk in the carton is often packed with preservatives and additives. Instead, look for canned coconut milk, which often has far less strange ingredients.
Unsweetened. Sweetened coconut milk is packed with added sugar. Instead, look for coconut milk that is labeled as "unsweetened"
What to Avoid :
Sulfates. When you check your coconut milk's ingredient list, make sure that it does not contain any form of sulfates. Potassium metabisulfate, for sample, is a common ingredient in canned coconut milk. This is not compliant on Whole30.
Don't Be Afraid Of:
Guar Guam. You don't want to seek out guar gum, but it is allowed on Whole30. If you can find a brand without any guar gum, even better, but so don't stress out if you can't find a can of coconut milk without guar gum on the ingredient list.
Where to Find Coconut Milk In Stores:
Canned coconut milk isn't shelved near dairy milk since it doesn't need to stay cool.
Look for coconut milk in the Asian food section, or where grocery stores house their dressings, oils, and condiments.
Should I Buy Lite Coconut Milk?
Many coconut milk brands offer a lite version, which can confused some Whole30-ers. So what exactly is lite coconut milk?
Lite coconut milk is simply coconut milk that has had more water added. Normal coconut milk is composed of blended coconut with water. Lite coconut milk is actually giving you less bang for you buck, as you're purchasing a mix of more water and less coconut.
Economically, it makes more sense to buy regular coconut milk since it has more coconut and less water. However, is the lite version is the only compliant can you can find, or if you see it for much cheaper than classic coconut milk, it's no problem to buy it. Many Whole30-ers are avid fans of Trader Joe's Lite Coconut Milk.
That's it for our Whole30 coconut advice. Do you have any other favorite compliant coconut milk brands you've seen in-store? Share you picks in the comments!