Have you heard about Tokyo Treat? It's a Japanese sweets subscription box packed with fun treats and goodies sourced straight from Japan!
Today I'll be providing a Tokyo Treat review, giving the low down on how the Tokyo Treat Japanese subscription box works and my own personal experience with the service (please note: I was given a free box in exchange for a review – as always, we keep our reviews objective and fair).
What is Tokyo Treat?
Tokyo Treat is a Japanese snack box packed with delicious Japanese treats and goodies! It's perfect for any fan of Japan and all its quirks!
Tokyo Treat Cost + How Does It Work?
With the Tokyo Treat subscription box, you can choose from several sizes. Larger sizes contain more items plus some bonus items.
Small Box ($14.99/month): 5-7 full-sized treats
Regular ($24.99/month): 8-12 full-sized treats + DIY candy kit
Premium ($34.99/month): 13-17 full-sized treats + DIY candy kit + Drink + Special Item (toy or other premium item
I got to try the Premium box, getting the ultimate Japanese treat box! I highly recommend the Premium box if you're totally crazy about Japanese goodies, as it comes with a whopping 13-17 candies!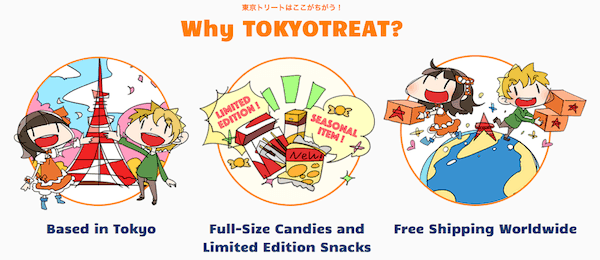 A few things that set Toyko Treat apart from other Japanese subscription boxes include:
No Sample Sizes. You only get full-sized candies – no silly sample sizes!
Seasonal Items. Tokyo Treat makes an effort to connect the goodies they send you with specific occasions and events happening at that time in Tokyo. In my opinion, this adds to the value and makes the box much more fun than if it were a random collection of treats with no significance.
Free Delivery. No matter where you live, delivery is free!
Entered To Win Lucky Treat. If you're a subscriber, each month you are automatically entered to win Lucky Treat – a gigantic box of toys and treats valued at over $500! Talk about an awesome bonus.
Tokyo Treat Review: Unboxing
When my Tokyo Treat box arrived in the mail, I could barely contain myself! Here's a look at what I found inside!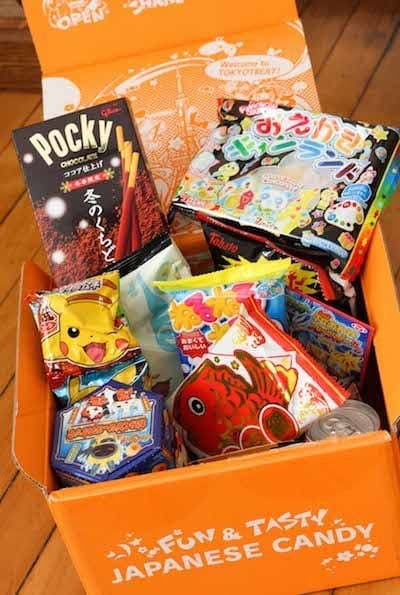 As someone who has visited Tokyo in the past, I couldn't wait for the opportunity to re-experience the quirky Japanese sweets and snacks that make visiting there so memorable and special!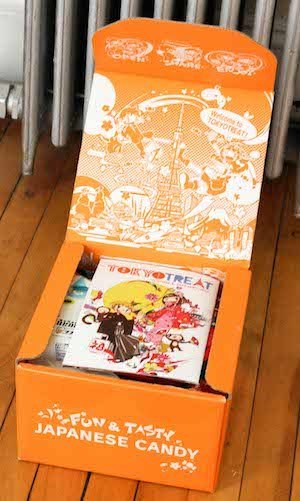 Even the Tokyo Treat box is fun to open, featuring bright orange panels decorated with characters and Japanese writing.
Immediately when I opened the treat box my eyes jumped to the Pokemon treats!
I hold a big spot in my heart for Pokemon, as an original nostalgic Pokemon Red fan. I was psyched to find not one but FOUR Pokemon-related treats and items in my Tokyo Treat box!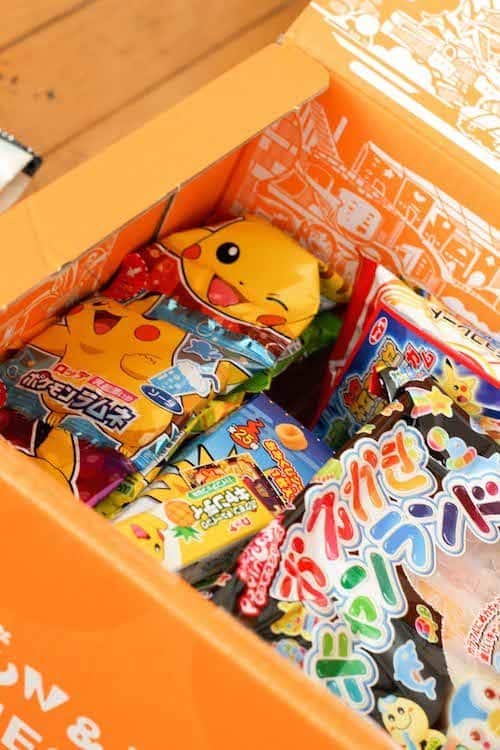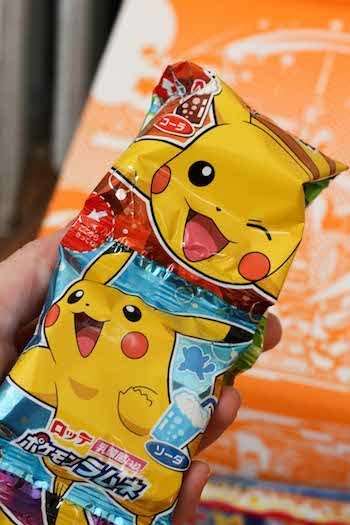 The Pikachu candies are a series of packets containing candies similar to sweet tarts, but with unique flavors like raspberry, pineapple, milkshake, and some other mystery flavor I couldn't guess, but they were very tasty!
Next was a Pokemon-themed LOTTE treat featuring a large wafer cookie with chocolate in the middle (I'm pretty crazy about wafer cookies).
But that wasn't it for Pokemon-related items! This Japanese subscription box also included Pokemon sticker cards!
There was also a really cool Pokemon collectable toy that was very high-quality! Sadly I'm not much of a fan of Throh, a judo throwing Pokemon, but we can't always get the cute ones, right?
Next were some insanely tasty Japanese sweet caramel corn puffs that tasted just like ice cream! I wolfed these babies town pretty quickly.
To compliment the caramel corn puffs, there was also a bag of spicy hot corn rings, equally tasty, but (of course) much hotter!
I also received a Japanese snack of curry corn rings – it sounds strange but they tasted incredible! Unfortunately I forgot to photograph that snack, but it featured a very cute cat-like creature from Yo-Kai Watch, a popular franchise in Japan.
The Tokyo Treat Japanese snack box also contained a wafer fish with mousse-like chocolate in the middle! This treat was very reminiscent of the traditional red bean paste treats (although I'll admit I much prefer the chocolate ones like this one here in the box).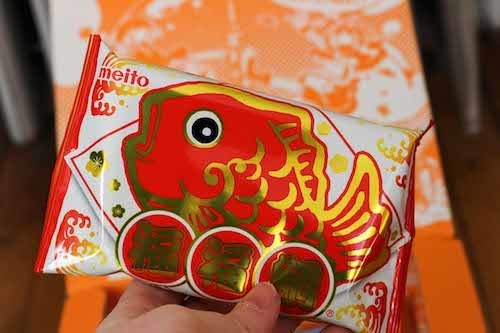 There was also a wacky DIY candy kit – you mix the ingredients with water, set overnight, and the next morning it will grow into a sweet puffy candy! What a cool (and tasty) science experiment.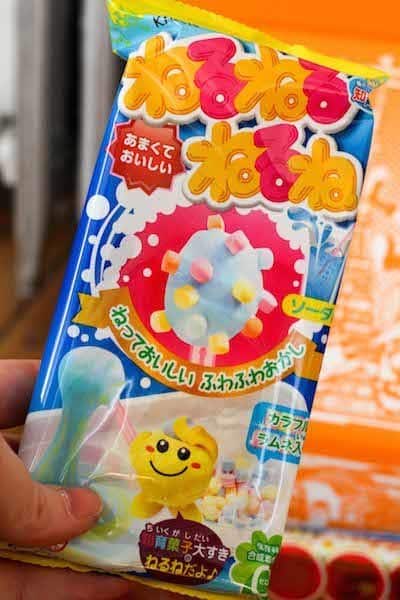 My favorite treat in my Japanese snack box was probably the chocolate pocky!
I'm a pocky fanatic, and this pocky was AMAZING! I especially enjoyed how this pocky was thicker than the standard size, with more chocolate to enjoy.
Since I subscribed to the premium box, I also received this can of sweet sake. I was a little nervous about trying something so different (and liquidy), but I have to say, I really enjoyed the sweet sake!
I also received another awesome DIY candy kit that allowed the eater to create custom candy molds, and then decorate the candies with edible paints! It's unique and creative candies like this that make Japanese treat boxes like Tokyo Treat so exciting – you don't see much like this in the US!
Each Tokyo Treat box also comes with a little book, describing the different treats in the box as well as giving some background on special events, holidays, and traditions taking place in Japan.
I really appreciated this informational packet because (1) it's hard to understand what you're eating when packaging is in a different language and (2) the whole point of enjoying a Japanese treat box is to enjoy Japanese culture and what the food is reflecting. The informational packet adds cultural understanding and interest!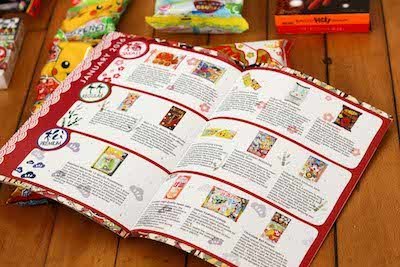 Overall, whether you're looking for a Japanese snack subscription box to remind you of home, or are looking for a sweet way to experience another culture, Tokyo Treat is well worth ordering!
Considering all the sweet stuff (literally and metaphorically) I received in my Tokyo Treat box, I'd definitely recommend giving them a try – check them out online! 
Have you tried the Tokyo Treat Japanese subscription box? What was your experience like? If you haven't tried it yet, why are you interested in ordering a Japanese treat box? Share your thoughts in the comments!