Welcome to the wonderful world of zoodles!
Today we'll be showing you how to spiralize zucchini noodles as well as how to cook zucchini noodles and prep them for a variety of delicious, nutritious vegetable noodle dishes!
photo credit: miss_yasmina
How to Spiralize Zucchini Noodles
Noodle-izing your zucchini is a snap – just grab a spiralizer and get started. You can go with a simple spiralizer like this one from Amazon (and at under $10 it's a real steal), or a more complex spiralizer capable of different noodle shapes and sizes.
Once you have your spiralizer go ahead and transform your zucchini into healthy veggie noodle strands.
How to Cook Spiralized Zucchini Noodles
Cooking your spiralized zucchini noodles is simple.
How to Cook Zucchini Noodles: Heat up a pan with olive oil and add your zucchini noodle strands. Sprinkle with salt and pepper, and continue to cook until the zoodles soften, about 3-5 minutes.
After that, you're good to go! You can dig into your zucchini noodles and eat them as is.
From there, you can basically use zoodles as you would use normal pasta. You can try adding.
Pesto. Add pesto to your zoodles are an italian-style dinner!
Meatballs and Tomato Sauce. Recreate this tried and true classic with zoodles!
Spinach & Paramseason Cheese. Add spinach while cooking your zoodles and sprinkle with parmesean cheese once cooked for a light and easy zoodle dish.
5 Irresistible Zucchini Noodle Recipes
Now that you've gotten the hang of cooking zoodles, try these delicious zucchini noodle recipes to upgrade your zoodle game.
Zucchini Noodle Pad Thai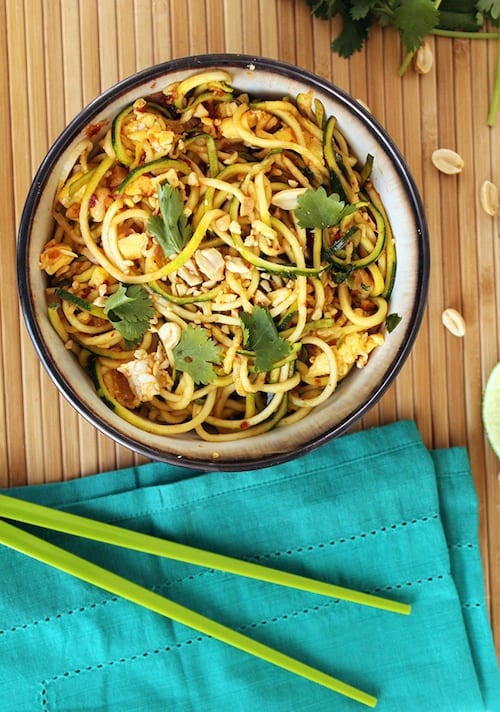 This Zucchini Noodle Pad Thai recipe from Inspiralized featured zoodles, eggs, roasted peanuts, garlic, and cilantro!
Greek Zucchini Noodles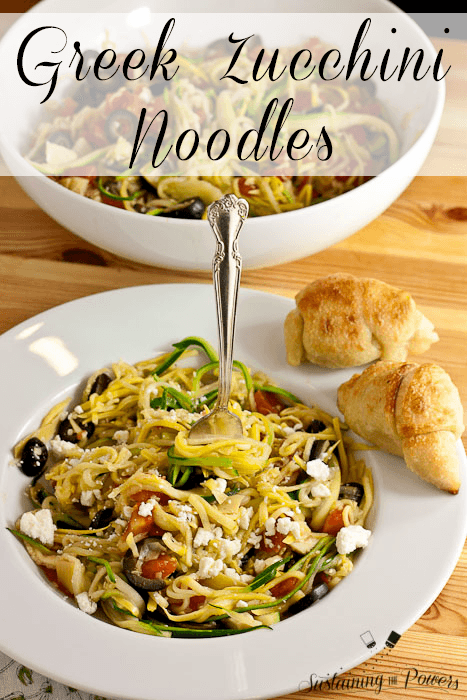 Try this Greek Zucchini Noodles recipe from Sustaining The Powers, made with feta, olives, artichokes, and tomatoes!
Vegan Lemongrass Thai Green Curry Soup
Check out this Vegan Lemongrass Thai Green Curry Soup from One Green Planet.
Keto Vegan Zoodles with Avocado and Olives
Give this Vegan zoodles recipe with avocado pesto, kalamata olives ,and dried tomatoes a try from the Keto Diet Blog.
Creamy Red Pepper Zoodle Alfredo
Just try resisting this Red Pepper Zoodles Alfredo recipe from Nosh and Nourish, featuring red bell pepper, walnuts, veggie broth, basil, oregano, and garlic.
What's your favorite zoodle recipe? Share your top picks in the comments!