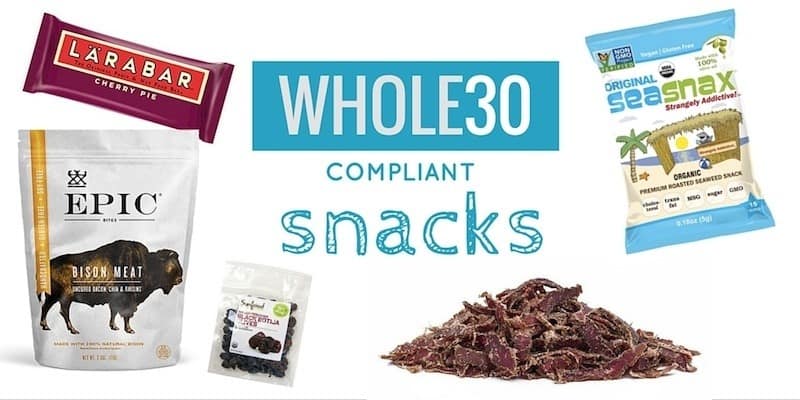 What Are Whole30 Approved Snacks?
While doing Whole30, you may find yourself needing to snack while on the run. Of course, Whole30-friendly snacks can't be picked up too easily at your nearest 7 Eleven, so you'll want to prep ahead of time and make sure you have a small stock of Whole30 approved snacks in your arsenal.
Whole30 snacks are snacks that you can eat while on your Whole30 diet that are compliant and aligned with the Whole30 whole eating philosophy. The snacks listed here are Whole30 compliant, with many snacks here even being officially endorsed by Whole30, so you know you're in good foodie hands!
While these vendors provide Whole30 approved snacks, they may also provide a few offerings that are not compliant, so as always, make sure to double check your labels to be safe before ordering!
Whole30 Jerky
Whole30-friendly beef jerky can provide a substantial and satisfying snack when you're on the move! The jerky below is officially Whole30 approved and will keep you compliant.
Chomps
Chomp are grass-fed beef snack sticks that are an official Whole30 approved snack for on-the-go.
Chomps offers beef jerky sticks with 100% grass-fed beef and no gluten, soy, hormones, or antibiotics. They also don't contain any dairy, MSG, synthetic preservatives, or sugar (this is unheard of when it comes to normal beef jerky sticks).
These paleo-powering beef sticks are a tasty way to stay fueled on your Whole30 program, perfect for any jerky lovers. They come in three flavors – Classic, Hoppin' Jalapeño, and Crankin' Cran!
Where to Buy: You can buy Chomp Whole30 beef sticks in packs of 12 or packs of 24 online!
Sophia's Survival Jerky
Sophia's Survival Jerky is another Whole30 approved snack great for meat lovers! Sophia's Survival Jerky is clean ingredient jerky made from hormone free, US-grown, 100% grass-fed beef. It's gluten, soy, any dairy-free, with no artificial preservatives and no refined sugar – perfect for paleo!
Sophia's Survival Jerky comes in 4 flavors: original, mild, spicy, and chipotle raisin.
Where to Get It: You can grab Sophia's Survival Jerky on their website. 
Brooklyn Biltong
Brooklyn Biltong is another Whole30 approved source for compliant dried beef. Biltong is a bag of steak bites that can be used either as a protein-packed snack or to top dishes like salads, pizzas, etc.
MSG, gluten, and nitrate-free, these tasty steak snacks are perfect for when you're on the go and need a protein boost.
Biltong is an all natural bite of steak in a bag that can be used as a post workout meal or a protein filled snack. Versatile beef supplement for numerous dishes like salads, pizzas and sandwiches. Compliment a party platter or take it on the go.
Where To Get It: Brooklyn Biltong beef bites are available in a few limited locations in NYC and are also available online.
Whole30 Snack Packs
Barefoot Provisions
Barefoot Provisions provides tons of paleo snacks and goodies, with special selections just for Whole30 folks!
Snack safe knowing you're eating all Whole30 compliant snacks – choose from snack packs selected by Barefoot Provisions that are promised to be Whole30 friendly.
Choose from the:
In addition to these snack packs, Barefoot Provisions also has a huge selection of individual Whole30-approved snacks, such as hickory bacon bits or chicken sesame BBQ bites!
Seasnax Seaweed Snacks
Seasnax provides seaweed snack and seaweed chips that are perfect for some Whole30-approved snacking.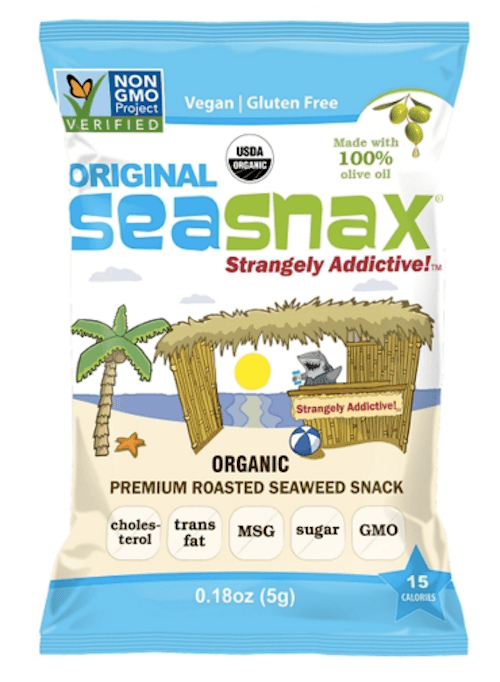 These roasted seaweed snacks are vegan, gluten-free, and non-GMO. These snacks are real whole foods, made from sustainably-grown seaweed, extra virgin olive oil, and a dash of sea salt – that's it!
Choose from classic, toasty onion, or chipotle & wasabi for some fun flavors!
Where to Buy: You can chomp on Seasnax by ordering them from the Seasnax website or ordering Seasnax on Amazon.
Whole30 Compliant Bars
There are also a number of Whole30 compliant protein bars that can make great snacks when you need something to eat on the go.
Official Whole30-Endorsed Protein Bars
Unofficial Whole30 Compliant Bars
To understand more about the difference between officially endorsed Whole30 protein bars vs. unofficial, but still compliant, bars, read our complete guide to Whole30 protein bars.
Whole30 Pre-Made Meals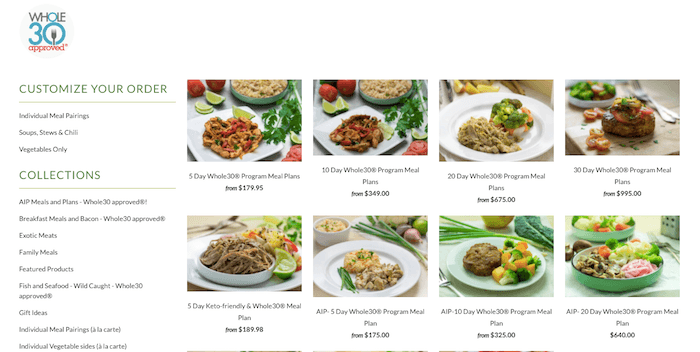 True Fare offers fully cooked Whole30 compliant meals, with offers of breakfast, lunch, and dinner. Buy anywhere from 5 to 10 days of delicious, healthy Whole30 meals!
Where to Get It: You can order True Fare meals online through their website or on Amazon.