Meal bars are great for when you're on the go – sometimes with our crazed and hectic lives, there just isn't time for a sit down meal!
However, finding the right kind of bars can be a bit tougher on Whole30 – not just any old bars will do of course, since you'll need to seek out protein bars that don't have any added sugar or strange additives (and sadly, for many "health" bars, sugar and additives are the norm).
There are actually a few different Whole30 bars that you can use on your program, and we'll detail them here to help with your program (plus show you where you can order them).
Official Whole30 Bars
These protein bars are officially endorsed by Whole30. These protein bars actually have meat as a base, making them more appropriate for the Whole30 program.
1. Epic Bars
Epic makes Whole30 compliant protein bars, along with jerky sticks, and bite packs (packs of protein bites), that are responsibly sourced from farmers who raise animals that are vegetarian fed, humanely treated, hormone-free and antibiotic.
The Epic foods are gluten-free, soy-free, dairy-free, no added nitrates, low glycemic.
Their commitment to healthy snacks has earned them a spot as an official Whole30 partner, and they're a great option for Whole30-ers who want some quick and tasty protein bars to get them through their program, guilt-free.
Epic Bars even offers a Whole30 starter kit! This starter kit is packed with 16 varieties of jerky, protein bars, and bites that are Whole30 approved to jumpstart your program and ensure that you always have some emergency foods on hand!
Note that while most Epic bars are Whole30 compliant, a couple of the bars contain brown sugar, which makes them not allowed on the program. The bars that contain brown sugar are the Bison Bacon Cranberry and the Wild Boar Bacon – so avoid those! Always double-check ingredient lists to be safe, as ingredients may change.
Whole30-Compliant Epic Bars (Updated for January 2020):
Epic Bars Not Allowed on Whole30:
Bison, Bacon & Cranberry
Wild Boar Bacon
Bacon & Egg Yolk Bar (Contains Maple Sugar)
Smoked Maple Bacon Bar
Where to Get Them: You can purchase Epic bars and snack bites on the Epic website, Amazon, or for 25% off at Thrive Market.
2. Wild Zora Bars
Wild Zora Bars are meat and veggie protein bars that are officially endorsed by Whole30. Wild Zora Bars feature 100% natural meat (grass-fed beef with no antibiotics or hormones).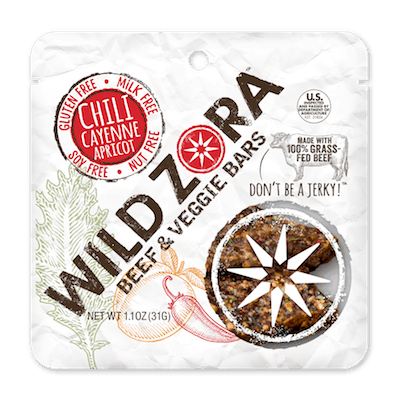 These tasty sugar-free, Whole30-friendly bars are available in many flavors such as Chili Beef with Kale and Curry Masala Turkey with Spinach and Dates.
Where to Get Them: You can purchase Wild Zora Bars on the Wild Zora website, online on Amazon, or for 25% off at Thrive Market.
3. DNX Bars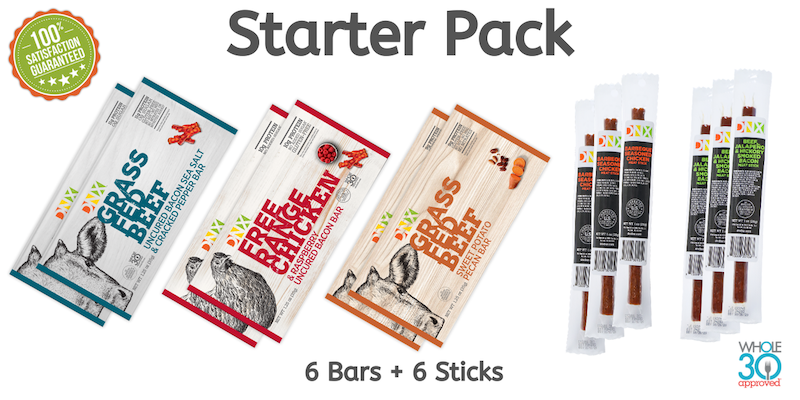 DNX Bars are another meal bar company working as official partners with the Whole30 team! DNX Bars provides healthy protein bars made of grass-fed beef & bison, and free-range chicken, along with organic fruits and vegetables.
DNX Bars even has a Whole30 Starter Pack, offering a deep discount on their most popular Whole30-compliant bars and sticks. The pack contains 6 bars (2 of each) and 6 sticks (3 of each) in the following flavors:
Grass Fed Beef Uncured Bacon Sea Salt and Cracked Pepper Bar
Free Range Chicken Raspberry Uncured Bacon Bar
Grass Fed Beef Sweet Potato Pecan Bar
Grass Fed Beef Jalapeño & Uncured Bacon Stick
BBQ Free Range Chicken Stick
Unofficial Whole30 Bars
We've covered the Whole30 protein bars that are officially endorsed by Whole30.
The following protein bars are Whole30 compliant, but are not endorsed officially by the Whole30 program. The reason for this is that – while these bars are made with the highest quality, real, and authentic ingredients – they do make themselves susceptible to eating abuse.
The problem is that some of these bars are dried fruit and nut bars, and taste sweet – almost dessert-like. They don't have any sugar that isn't fruit, so they are Whole30 compliant, but some people end up inadvertently using these sweet fruit bars to quell their sugar cravings.
Whole30 program organizers saw that individuals were defaulting to these fruit and nut bars to satisfy their sugar dragons, and so they took ALL fruit and nut bars off the official approved partners list.
On the opposite end of the protein bar spectrum, the officially endorsed Whole30 bars mentioned above use meat as the protein base and have very little, if any, fruits. They aren't a sweet snack, and therefore are less likely to be abused as a sugar substitute. That's why the above bars remain as officially endorsed Whole30 snacks.
However, just to be clear, the bars listed below – Larabars, RxBars, Beaver Bites, and Yawp Bars – are still Whole30 compliant. You can absolutely buy and eat these on Whole30. Just don't abuse them by becoming reliant on them for a sweet fix. Only use these bars as an emergency food.
Now that we've made all that clear, let's cover the rest of our Whole30 protein bars.
4. Larabars
Larabars are tasty Whole30 compliant bars, using organic fruit and nuts to create a delicious, healthy protein bar.
Larabars are one of the more popular Whole30 bars, likely due to the fact that they are easier to find in stores (they are common in health food stores, Whole Food grocery stores, and Trader Joe's).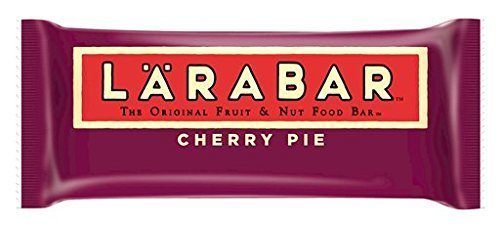 These bars are GMO free and made with only real recognizable ingredients.
However, it's important to note that while many Larabars are Whole30 compliant, not all are. See our guide to Whole30 compliant Larabars for more info.
Where to Get Them: You can find Larabars at several physical locations or on Amazon or discounted at Thrive Market.
5. RxBars
RxBars are authentic paleo protein bars with no BS ingredients – in fact, RxBars never have more than 7 ingredients, which already sets them apart from the vast majority of "protein" bars.

RxBars use simple, clean, whole ingredients with no whey, no soy, no dairy, no GMO, no gluten, no added sugar, and no other additives.
Each Rx Bar contains 15 grams of protein from dried egg whites, making RxBars basically a complete mini-meal. Each bar also contains around 30 grams of carbohydrate from fruit, and between 7 and 14 grams of fat from coconut meat and oil.
RxBars come in numerous tasty flavors, and it's awesome how the ingredients are listed right on the package – no tricks or deception here.
Some RxBars are quite controversial, most notable the bars that include chocolate as an ingredient. While these bars are compliant from an ingredient standpoint, many Whole30-ers do not use them and even consider them against Whole30 since they can easily be used to feed your sugar dragon and satisfy your sweet cravings, rather than help you overcome them.
We recommend having a few RxBars on hand for emergencies only, and generally avoiding them when possible.
The good news is that the chocolate in RxBars is ground cacao nibs, with no sugar added, so it is indeed a compliant ingredient, as shown from this tweet by an RX rep below:
Whole30-Compliant Rx Bars (Updated for January 2020):
Rx Bars Not Allowed on Whole30:
Peanut Butter
Maple Sea Salt
Peanut Butter Chocolate
Peanut Butter & Berries
Where to Get Them: You can order RxBars online
6. Pressed By Kind Bars
Pressed By Kind bars are produced by Kind, but are simple fruit and nut bars, which are Whole30 compliant.
Apricot Pear Carrot Beat: Pear, apple, carrot, apricot, beet.
Pineapple Coconut Chia: Pineapple, apple, coconut, chia seeds.
Pineapple Banana Kale Spinach: Pineapple, banana, apple, kale, spinach.
Mango Apple Chia: Mango, apple, chia seeds.
Cherry Apple Chia: Cherry, apple, chia seeds.
Strawberry Apple Chia: Apple, strawberry, cherry, chia seeds.
Where to Buy: Available online and in stores. Grab this variety pack of Pressed by Kind bars on Amazon to try a mix of these tasty flavors!
7. Thunderbird Bars
Thunderbird makes paleo-friendly fruit and nut bars that can serve as great emergency eating items. Many Thunderbird bars are Whole30 compliant, including:
Cherry Hemp Tumeric (Dates, Walnuts, Hemp Seeds, Sweet Potato, Cherries, Cinnamon, Turmeric, Hawaiian Black Lava Salt)
Almond Apricot Vanilla (Apricots, Almonds, Vanilla, Hemp Seeds, Himalayan Sea Salt)
Cashew Fig Carrot (Dates, Cashews, Figs, Carrots, Nutmeg, Vanilla, Himalayan Sea Salt)
Apple Pie (Dates, Apples, Pecans, Almonds, Pineapple, Cinnamon, Nutmeg)
Fruit Punch (Prunes, Dates, Sunflower Seeds, Cherry, Papaya, Apricots, Pineapple, Apple, Orange Extract, Himalayan Sea Salt)
Hemp Sunflower Pumpkin Seed (Dates, Macadamia Nuts, Almonds, Pumpkin Seeds, Sunflower Seeds, Hemp Seeds, Macadamia Nut Butter, Coconut Shreds, Extra Virgin Coconut Oil, Cinnamon, Himalayan Sea Salt)
Peach Pecan Vanilla (Peach, Dates, Pecans, Cashew, Pumpkin Seed, Dehydrated Apple, Freeze Dried Apple, Cinnamon, Vanilla, Himalayan Sea Salt)
Pecan Goji Pistachio (Dates, Pecans, Almonds, Pistachios, Himalayan Sea Salt, Goji Berries, Dried Golden Berries)
Pineapple Mango Papaya (Prunes, Hemp Seeds, Raisins, Papaya, Pineapple, Mango, Hawaiian Black Lava Salt)
Other Thunderbird bars are technically Whole30-compliant ingredient-wise, but I think many will take issue with the mix of cacao and fruit, resulting in a very dessert-like taste. These are most certainly considered SWYPO (Sex With Your Pants On) and should probably not be enjoyed until after your initial 30 days:
Chocolate Almond Butter Sea Salt (Dates, Almonds, Cashews, Cacao, Himalayan Sea Salt)
Cherry Almond Chocolate (Dates, Almonds, Cherries, Cashews, Cacao, Himalayan Sea Salt)
Chocolate Cashew Coconut (Dates, Almonds, Coconuts, Cashews, Cacao, Extra Virgin Coconut Oil, Himalayan Sea Salt)
Chocolate Rasberry Espresso (Dates, Almond, Cashews, Walnuts, Cacao, Freeze Dried Raspberries, Coffee, Vanilla, Himalayan Sea Salt)
Hazelnut Coffee Maca (Dates, Almonds, Hazelnuts, Hazelnut Butter, Cacao Butter, Cacao Powder, Fair Trade Coffee Beans, Chia Seeds, Maca Root Powder, Vanilla Extract, Himalayan Salt Salt)
Chocolate Chip Cookie (Dates, Cashews, 100% Dark Chocolate Chips, Himalayan Sea Salt)
Chocolate Mint Walnut (Dates, Walnuts, Cacao, Coconut, Hemp Seeds, Chia Seeds, Himalayan Sea Salt, Peppermint Extract)
Where to Buy Them: Thunderbird bars are available in some stores as well as on Amazon – check out their variety pack!
Do you know of any awesome Whole30-friendly protein bars we left out? Share your favorites in the comments (or tell us your favorite flavor of the bars listed here)!