Almond butter is a tasty spread Whole30-ers adore (especially since the all-American favorite peanut butter is out on Whole30)!
We're highlighting some known Whole30 compliant almond butter brands, plus showing you how to make your own at home (it's super easy – you just need almonds and a food processor).
Whole30 Almond Butter: Compliant Brands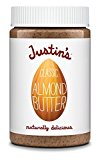 We're highlighting a few brands of Whole30 compliant almond butter you can find in stores and online.
Barney Bare Almond Butter. Made with almonds and palm fruit oil. [find it online]
Justin's Classic Almond Butter. Made with dry roasted almonds, palm fruit oil. [find it online]
California Almond Butter. Made with just dry roasted California almonds. [find it online]
Kirkland Almond Butter. Made with just almonds. [find it online]
Trader Joe's Almond Butter. Made with just almonds. [available at Trader Joe's]
Whole30 Almond Butter Ingredients
When it comes to finding Whole30 compliant almond butter, you'll want to look for almond butter with minimal ingredients.
Ideally, you want almond butter that contains just one ingredient – almonds!
However, many brands of almond butter contain dry roasted almonds as well as palm fruit oil. Palm fruit oil is Whole30 compliant, so don't let that ingredient scare you off!
Make Your Own DIY Whole30 Almond Butter: Quick & Easy Recipe
Making your own almond butter is fairly easy – all you need is a bag of almonds and a reliable food processor!
Whipping up some almond butter DIY style is also a lot cheaper than buying it, so why not give it a go?
Ingredients & Supplies:
2 cups raw almonds
food processor
pinch of salt (optional)
Spread almonds evenly on baking sheet and roast in the oven at 250 degrees for about 15 minutes. Note: roasting the almonds is actually an optional step – you don't have to do it, but roasting will help the almonds release their oils more quickly.
Pour almonds into food processor and process for about 10-15 minutes. Don't get discouraged if at first your processed almonds just look like a powdery pile – almonds take longer to release their oils than peanuts do. Keep at it and you'll get to that creamy, buttery texture eventually!
Towards the end, feel free to add a pinch of salt. If you want a chunkier texture, chop an additional 1/4 cup of almonds roughly by hand and add to your food processor at the end – just pulse a few more times after adding.
There you have it – fresh, nutty almond butter that's Whole30-friendly! For more nut-tastic DIY recipes, see our homemade Whole30 almond milk recipe too!
Whole30 Almond Butter FAQ
Is almond butter allowed on Whole30?
Yes – just make sure to choose an almond butter that has an ingredient list composed of simply almond butter (or – almond butter and palm fruit oil, which is Whole30 compliant)
Is Trader Joe's Almond Butter Whole30 compliant?
Yes – Trader Joe's Almond Butter is Whole30 compliant! Both crunchy and smooth are Whole30 approved.
What is the difference between raw almond butter and regular almond butter?
Raw almond butter is made with almonds that have not been dry roaster. Some prefer to not eat foods that have been dry roasted and prefer the added nutrients associated with raw nuts. Raw almond butter tends to have a nuttier, richer taste.
Have you made your own almond butter? How did it go? Share your experience in the comments!