For many, Amazon has become a way of life. The convenience and speed (especially from Prime members) is unbeatable. For those who aren't so crazy about braving crowded supermarkets, many key Whole30 essentials are available online from Amazon.
In this guide we're highlighting some of the best Whole30 Amazon items available for you to order. All products mentioned here can be purchased on Amazon, and we've arranged them into various categories, from essentials to handy-to-haves.
Whole30 Essentials: Must Have Ingredients
These items are nearly necessities for those looking to start their Whole30 program. A large number of Whole30 recipes that we've seen use one or several of these ingredients, so stock up now through Amazon to make sure you won't run out!
Organic Valley Ghee. Ghee is clarified butter and is often used for cooking on the Whole30 program. The Organic Valley Ghee can be found online at Amazon, is non-GMO, and comes highly rated.
Raw Almonds 3lb Pack. Raw nuts are a huge source of protein on Whole30, so go ahead and buy the mega-size pack of almonds on Amazon. You'll likely put a good dent in them, especially if you plan on making your own compliant almond milk.
Thai Kitchen Organic Coconut Milk. Coconut milk is a major staple for Whole30, and you'll likely be using quite a bit of it during your program.
Make sure to only use compliant brands though, as many products contain preservatives and additives that aren't allowed.
Cartons of coconut milk are especially guilty, so aim for cans and check labels. The Thai Kitchen brand is one that's Whole30 compliant, and it can be ordered on Amazon!
Coconut Secret Organic Raw Coconut Aminos. Coconut Secret's Coconut Aminos is another popular ingredients used in many Whole30 dishes. While traditional soy sauce isn't allowed on Whole30, coconut aminos serves as a handy substitute, used in many seasonings and salad dressings.
Carrington Farms Organic Extra Virgin Coconut Oil. Coconut oil is one of the core essential ingredients you'll need on the Whole30 program. It serves as your main Whole30 cooking fat, used for everything from cooking up eggs to flavoring your coffee! This Carrington Farms bottle is 54 ounces, making sure you'll never be short of coconut oil!
Whole30 Required Reading
These books are (practically) required reading for aspiring Whole30-ers.
You're not in school, and we're not your teacher – no book reports will need to be turned in at the end of the summer, so of course you don't have to read these Whole30 books, but many Whole30-ers have benefited tremendously from these books, so we suggest you take a read though!
It Starts With Food. This book provides important background on the why of Whole30 as the program creator's Melissa Hartwig breaks down how whole eating heals your body. This deeper understanding of the science behind whole eating is cited by many as a huge aid in sticking to the program, as readers find they can stay steadfast when they better understand just how damaging processed, sugar-laden food is to the body.
The Whole30 Book. The Whole30 is a cookbook created by Melissa Hartwig herself, giving readers step-by-step guides for creating delicious, Whole30 compliant meals. No 2nd guessing here when the recipes come from the program's very own creator!
Whole30 Handy: Not Required, But Definitely Helpful
These Whole30 Amazon items aren't essential for the Whole30 program – you can get on just fine without them. However, they're certainly nice to have on hand. Many of these Amazon items save time by providing Whole30 compliant products that you'll end up having to make by hand otherwise.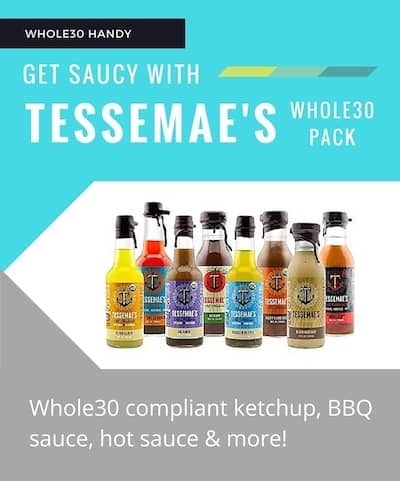 Epic Bars. Epic Bars are officially Whole30-endorsed protein bars that are perfect for compliant meals on the go. It's always smart to keep at least a few of these on hand in case of a hunger emergency. While there are plenty of other Whole30 compliant bars on the market, Epic Bars is one of the few brands that is officially endorsed by Whole30.
Tessemae's All Natural Pack. For those who don't have time to slave away creating their own DIY Whole30 salad dressings and sauces, Tessemae has a life-saving pack of Whole30-friendly items, including compliant mustard, BBQ sauce, ketchup, lemon garlic dressing, hot buffalo sauce, and southwest ranch.
This item is a must-have for those looking to do Whole30 with minimal cooking prep time.
Nutpods Dairy Free Creamer. Nutpods is a great Whole30-compliant dairy-free creamer made from almonds and coconuts. These carrageenan-free, Whole30-endorsed creamers are perfect for those looking for ways to flavor up their morning Whole30 coffee.
Primal Kitchen Paleo Approved Avocado Oil Mayo. This avocado oil mayo is Whole30-friendly and spared you the trouble of making your own Whole30 mayo by hand at home.
Whole30 Kitchen Tools: Accessories You'll Want to Have
These kitchen tools will definitely be important to have during Whole30. You may already own them, but if you don't, we recommend picking up these key gadgets on Amazon which will make cooking on Whole30 much easier.
Paderno World Cuisine Vegetable Spiral Slicer. Spiralizers are incredible assets during Whole30, used to noodle-ize vegetables in place of pasta. The Paderno World Cuisine Spiral Slicer comes with three different sets of blades that can be used to cut veggie noodles into a variety of shapes and sizes.
OXO Good Grips Salad Spinner. You'll likely be eating a lot of salads on Whole30, and a salad spinner will serve as a valuable weapon in your arsenal for creating delicious, veggie-packed salads. We suggest the OXO Good Grips Salad Spinner which you can easily grab from Amazon.
Programmable Slow Cooker. Crock Pot's are huge fan favorites when it comes to Whole30 cooking. Whole30 crock pot recipes are often some of the easiest ones out there, letting you simply throw in your ingredients, take off for work, and come home to a tasty, ready-to-eat meal.
We suggest starting with this programmable slow cooker from Hamilton Beach – programmable means you can simply set it and forget it, which is a major perk.
Cuisinart Mini-Prep Food Processor. Food processor are another handy tool for Whole30 eating. Since processed products are out, you'll be making many sauces, salad dressings, and marinades by hand. Many of these creations will inevitable involve a food processor.
Set yourself up for success with the Cuisinart Mini-Prep Food Processor, which is convienent enough size to be hidden away when not in use. Plus it comes in some pretty nifty colors!
Did we leave out any awesome ingredients or tools you've found on Amazon? Leave your favorite picks in the comments section below!