Ready to start your Whole30 program? We're so excited for you!
Before you start pouring milk and yogurt down the drain, we suggest reading these essential Whole30 books.
Why should you read them? Understanding the science and facts behind the Whole30 program will help you stay more committed and provides a personal, passionate connection to the journey you will embark on.
It's easy to say "don't eat this, don't eat that," but when you really understand why you shouldn't eat certain foods, you will be given additional incentive that helps strengthen your commitment.
Many Whole30-ers have noted that reading the relevant material listed here greatly affects the success of their program.
Whole30 Books: What To Read
We've compiled a list of the essential, must-read books for your Whole30 program. Read these books for a more effective, easier, and successful Whole30!
It Starts With Food is the original Whole30, must-read book.
In it, Whole30 creator Melissa Hartwig goes in-depth to explain the science behind the Whole30 program. Learn how different foods physically alter your body, and how diet and nutrition affects all areas of life.
After reading this book, you'll gain a better understanding of why you should commit to Whole30, as well as a more nuanced understanding of the program's benefits.
Many Whole30-ers have found that reading this book contributes significantly to their program success, providing added motivation to stick to Whole30's rules.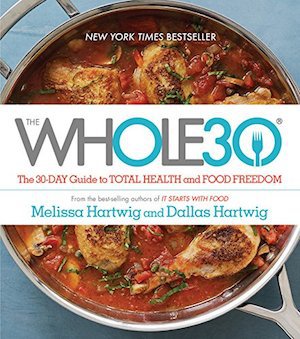 Where It Starts With Food explains the nutritional science behind the program, The Whole30 is a book that lays out a step-by-step plan for following through on the Whole30 program.
This book contains a variety of resources, including:
Recipes. Over 100 recipes developed by professional chefs, such as Chimichurri Beef Kabobs and Citrus Ginger Halibut.
Success Stories. Get inspired by reading success stories from real Whole30-ers.
FAQ Section. Get answers to the most frequently asked Whole30 questions.
Community Resources. Tips and tricks for how to succeed at Whole30 and change your life for the better.
This book is a great mix of recipes, resources, and Whole30 shopping guidelines, complete with a collection of beautiful photographs. We recommend this as a great book for those new to Whole30.
Whereas the book above is a mix of success stories, general program guidelines, and recipes, The Whole30 Cookbook is all about recipes.
+150 Recipes. This Whole30 cookbook is packed with over 150 recipes for main dishes, sides, salads, dressings, & more.
Prepping Help. Provides tips and advice for Whole30 meal planning and prepping ahead.
Get The Most Out Of Your Meals. Shows how to turn one meal into two or three, ensuring you get the most variety with minimal time in the kitchen.
Have you read any of these Whole30 books? What did you think of them? Did they help you with your program? Share your thoughts in the comments!