Whole30 success is all about preparation and planning. Having a Whole30 meal plan will ensure that your program will go smoothly and that you'll complete your goals!
There are some great Whole30 meal planning resources around the web: here's a roundup of the best.
Whole30 Meal Planning Software
Real Plans is a creme de la creme meal planning app that offers specific recipes and informational aids for Whole30-ers.
Real Plans includes a handy browser extension for importing your favorite Whole30 recipes from across the web, along with hundreds of built-in Whole30-compliant recipes from popular sites like the official Whole30 website, Nom Nom Paleo, Paleo OMG.
Recipes can be added to your digital scheduler, and Real Plans will even make a custom shopping list for you!
They even have reintroduction assistance and recipes designed specifically for the reintroduction phase!
If you love using apps to plan your week, Real Plans is probably the best and most comprehensive meal planning app out there!
Try Real Plans out for your Whole30 program!
Plan to Eat is an online menu planner that makes it easy to find and save recipes from around the web. Plan to Eat then makes a shopping list for you based on the recipes you've bookmarked, saving you tremendous amounts of list-making time.
Plan to Eat is free for 30 days, then just $5/month.
Whole30 Meal Planning Resources On the Web (Free)
1. Official Whole30 Meal Plan Template. Whole30 has an official meal planning guide that shows how much protein, vegetables, fruit, and fats to allow for each meal. It's a good resource to get a general idea of what your Whole30 meals should be composed of.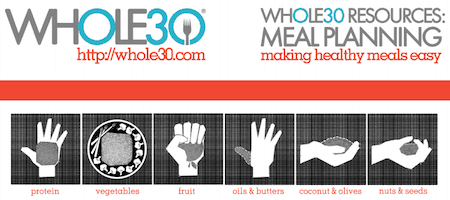 2. Good Cheap Eats Whole30 Meal Plan. Good Cheap Eats offers a great 30-day meal plan menu with a collection of Whole30-friendly breakfast, lunch, and dinner recipes.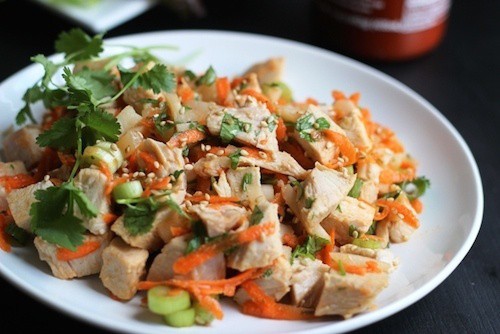 3. The Clothes Make the Girl Whole30: Week 1 Meal Plan. This great Whole30 meal plan for week one comes from The Clothes Make the Girl.
This site has tons of great Whole30 diet recipes and prep advice. This meal plan takes you through all the shopping, prep, and strategy for good Whole30 eating.
4. The Nourishing Home Free Whole30 Meal Plans. Another amazing collection of of Whole30 weekly meal plans to keep you on target.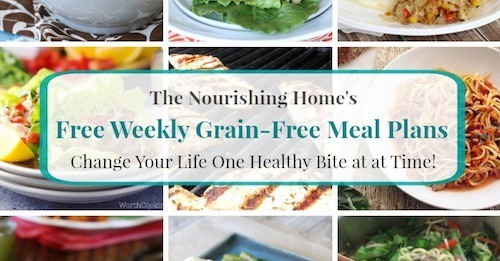 The Nourishing Home doesn't offer just one week of meal plans, not even four weeks, but 9 WEEKS of amazing, free Whole 30 meal plans!
5. Nom Nom Paleo 30 Days of Whole30 Meals. Nom Nom Paleo is a must-bookmark site for Whole30 and Paleo eating.
Here you'll find 30 days of Whole30 meal plans, with step-by-step recipes and gorgeous, drool-inducing photos.
6. Our Paleo Life Whole30 Week 1 Meal Plan. Our Paleo Life brings us another fantastic Whole30 meal plan template.
This meal planning guide gives prep tips and recipes for your first week of Whole30 eating. It also includes a shopping list and great photos, so you know exactly what you're cooking.
7. Everyday Maven Jump Start Whole30 Meal Plan. Everyday Maven is another site offering a helpful Whole30 meal plan template.
This meal plan actually comes in a Google Doc, which is pretty handy in that it can be automatically saved to your Google Drive account. You'll find it at the bottom of this post.
8. Dawn Nicole Designs Whole30 Week 1's Complete Meal Plan. Dawn Nicole Designs also offers a Whole30 meal planning menu. Dawn Nicole takes you bite by bite through 7 days of meals for your first week of Whole30.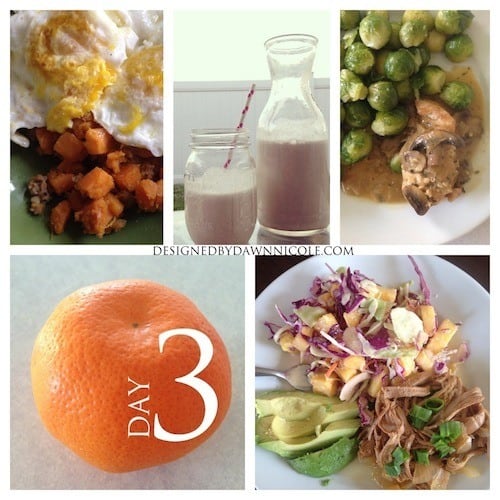 In addition to Whole30 breakfast, lunch, and dinner suggestions, Dawn Nicole also includes pre and post workout snack ideas, making her guide a great choice for gym rats.
9. Kitchen Stewardship Whole30 And Anti-Cavity Meal Plans. Kitchen Stewardship provides a loose meal guide for Whole 30 eating, catering to both adults and kids. You'll find lots of photos to help get you excited!
Whole30 Meal Planning Kits & Paid Programs
If all this prep and shopping seems like too much for you, don't worry, there are some awesome tools out there to make Whole30 eating as easy as humanly possible.
1. Sun Basket
Sun Basket is a meal service where pre-crafted recipe cards and ingredients are delivered to you (think Blue Apron or Hello Fresh).
All ingredients are certified organic, sustainably sourced, and GMO-free!
The amazing thing about Sun Basket is that they are one of the few meal delivery services that provide a paleo option!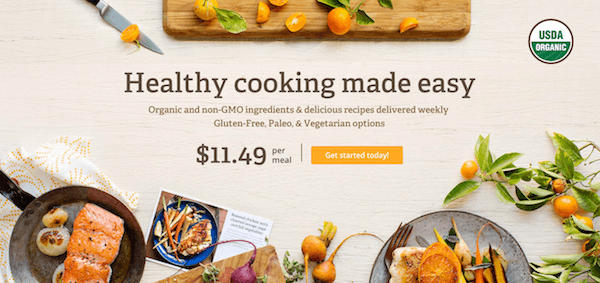 While paleo and Whole30 aren't exactly the same thing, they're pretty darn close. The only core difference is that Whole30 doesn't allow even natural sweeteners like honey or maple syrup, while paleo does.
This means that paleo meals you get from Sun Basket will be either 100% Whole30 compliant or – in some cases – 90% compliant, and you'll just have to make sure to leave out honey or maple syrup if the recipe calls for it.
It's also nice because when you use Sun Basket, you'll acquire a set of recipes you can continue to use throughout your Whole30 program – sweet!
You can get $35 your first Sun Basket order, so we suggest giving them a try if you could use a few helpful pre-crafted meal plans during your Whole30!
2. True Fare
True Fare is a fantastic source of pre-made, Whole30-compliant meals.
These meals are actually already made, so all you need to do is heat them up and chow down!
While Whole30 premade meals aren't always practical for an entire family, they're usually worth it for a single individual or couple doing Whole30 together, especially if you're short on time and don't want to spend hours cooking each week.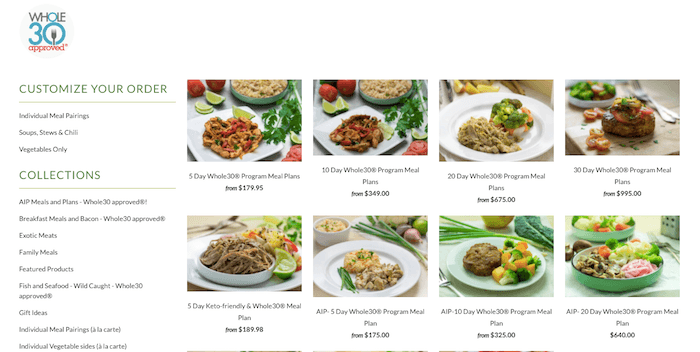 I personally love to use a week or two of pre-made Whole30 meals when I'm halfway through the 30-day program and starting to get a bit cranky and lazy around day 15.
Being able to just enjoy an already-made compliant meal after work without worrying about dishes can really help get you to the finish line, especially if you don't usually spend a ton of time in the kitchen.
3. The Good Kitchen
The Good Kitchen is a meal delivery service that can deliver a set number of 100% Whole30 certified meals to your home each week.
You don't have to lift a finger – these meals are all pre-prepared. All you have to do is throw them in the microwave and you're ready to eat!
The Good Kitchen meals all use antibiotic-free, hormone-free, grass-fed, and pasture-raised meat.
You can pick and choose however many meals you want each week (you're also able to do one-off orders if you just want to try the service out one time).
Whole30-approved meals are easy to spot – they're the ones with the Whole30 logo in the bottom right-hand corner!
We also have a partnership with The Good Kitchen that lets Life Health HQ readers get 15% off! Just use code LIFEHEALTHHQ at checkout to get 15% off your The Good Kitchen order!
That about covers it for our Whole30 meal planning recommendations. Share your own favorite Whole30 meal plan resources in the comments below!