You're all about Whole30, but you need breakfast inspiration! We understand. Let us break down Whole30 brekky for you:
Eggs. The standard go-to breakfast for most Whole30-ers. That is, until you're egged out.
Grain-free Oatmeal. You can find grain-free oatmeal at some higher-end grocery stores and online (our favorite is Wildway Vegan Granola). It's basically a bunch of chopped up nuts you can pour almond milk over for a makeshift cereal.
Smoothies. Some folks decide to go the smoothy route for breakfast when they've had it with eggs, but we don't really recommend this, as smoothies just won't fill you up as well as other breakfast options.
PRO TIP: Sick of standard eggs for breakfast? There are tons of ways to make eggs a more exciting start to your day. We detail tons of fun egg recipes below, but a basic way to spice up standard eggs is to simply heat up some leftovers from last night's dinner and add eggs to that.
Keep reading for tons of delicious Whole30 breakfast ideas and recipes, or jump ahead to:
We've got Whole30 breakfast ideas for eggs and no eggs alike! Here we go!
Whole30 Breakfast Without Eggs
When you're on Whole30, you're bound to have some breakfasts where you're just plain sick and tired of eggs. Don't worry – we've got you covered with these Whole30 breakfast without eggs recipes!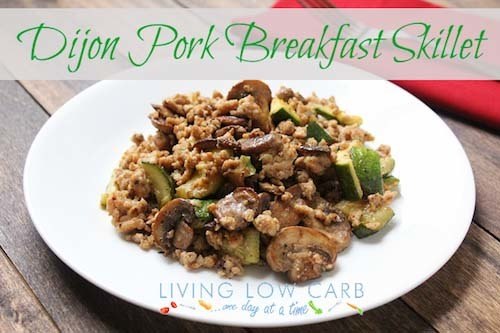 This easy breakfast recipe from Holistically Engineered combines meat, veggies, and spices for a tasty egg-free meal.
This recipe comes from Guts By Nature, and it's another Whole30 egg-free favorite. This simple and easy recipe can easily be whipped up for a Whole30 brekky.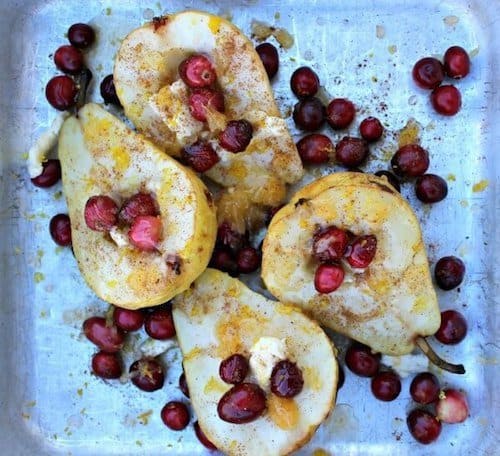 Next we have another great Whole30 breakfast without eggs recipe from Primally Inspired. Technically considered a dessert, it can still pass for a breakfast when you need something sweet. For this recipe, leave out the cream and honey to make it Whole30 friendly!
This egg-free Whole30 recipe comes from iBreathe I'm Hungry. Cook up your own delicious sweet potato and zucchini pancakes!
This oatmeal-style hot cereal comes from Bakerita and is grain-free! Featuring chopped nuts, coconut, flax seed, chia seeds, and fruit it's a lovely breakfast dish sure to warm you up!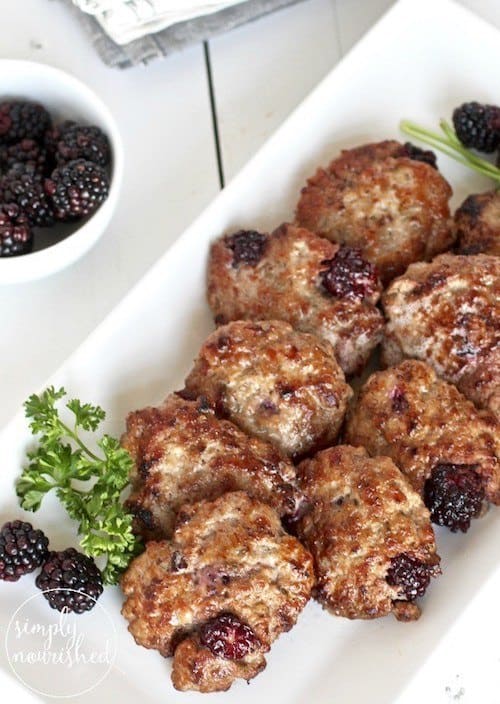 This breakfast sausage recipe from The Real Food Dieticians features ground pork, spices, and blackberries for a bit of sweetness!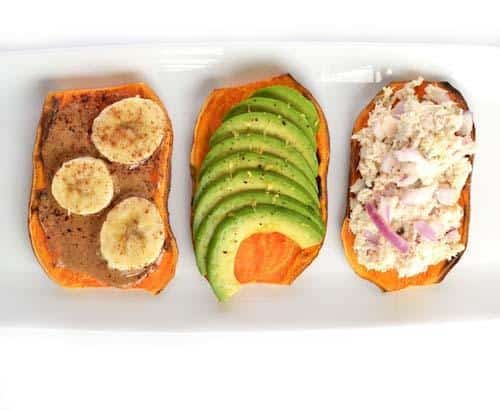 These sweet potato variations from Little Bits Of are perfect for breakfast, lunch, or dinner! We'd say the most breakfast-worthy would have to be the almond butter and banana variation, but the avocado toast style and the tuna version also look amazing!
This is another great recipe from The Real Dieticians, featuring a warm morning dish of baked sweet potatoes and apple!
This tasty pudding recipe comes from Our Paleo Life – smooth, tasty, and egg-free!
This breakfast hash comes from Rubies & Radishes. No eggs here!
Who needs bread when it can be substituted for bacon? This recipe comes from Fit Bomb – check it out!
Have your eyes deceived you? No! It's a meat bagel! This "bagel" is more or less meatloaf, shaped to resemble a bagel and to be utilized in lieu of sandwich bread. This should definitely be a fun one! This egg-free Whole30-friendly dish comes from Ditch The Wheat.
This epic breakfast hash comes from I Heart Umami. Quick and easy, this hash can do double duty as a breakfast, lunch, or dinner dish!
This meaty breakfast comes from Paleo Leap, featuring bacon-wrapped sausages roasted to perfection for a serious AM protein boost!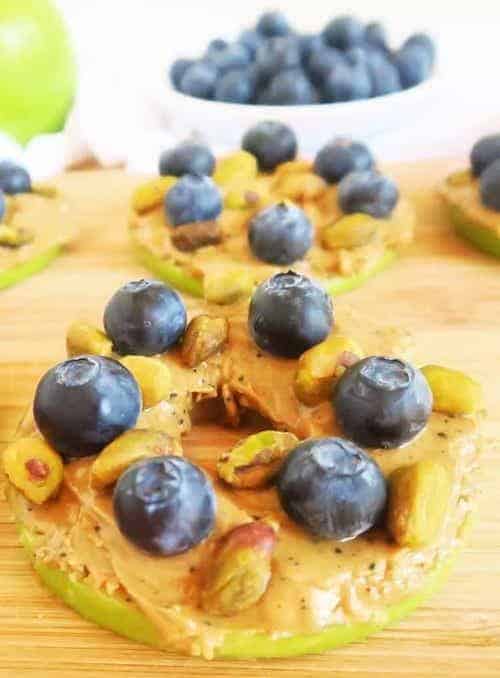 This fruit-and-nut-based breakfast is a quick and easy meal to whip up in a hurry! The recipe comes from Wholesum Yum.
This breakfast sausage is something special – with mango as an ingredient, it's sweeter than most of its breakfast sausage buddies. Check out the full recipe at Heartbeet Kitchen!
These one-of-a-kind breakfast fritters come from Paleo Running Momma. Sweet and savory, this sounds like a killer combo!
This Whole30 breakfast smoothie from A Transparent Life combines coconut milk, almond butter (check ingredients), banana, spinach, flax seed, blueberries, and orange juice!
Whole30 Breakfast With Eggs
I know what you're thinking – I'm SO OVER EGGS! Well despite your new found disdain for eggs, give these recipes a try. They do contain eggs, but they aren't the main focus – these creative brekky dishes rely primarily on other ingredients, so give them a go!
These twice-baked sweet potatoes from Plaid and Paleo are topped with bacon and eggs for a filling and hearty start to your morning!
This Whole30 breakfast idea comes from Meatified. They show us how to make the perfect bacon (Whole30 compliant bacon that is) and egg sandwich, with egg used instead of bread! Sure looks tasty – have a try!
From Good Food Eating comes an awesome Whole 30 breakfast recipe with eggs – a delicious breakfast frittata! The recipe list on this one is pretty light, making it an easy one to whip up.
This is another great Whole30 breakfast idea from Good Food Eating. Here we get a recipe for baked tomatoes stuffed with eggs! This one requires around 30 min for baking, but after than you can take them on the go! Make a bunch and save some for future meals.
This breakfast bowl recipe from Bravo For Paleo features apples, coconut flakes, bananas, almond butter, and eggies!
Whole30 Breakfast Casserole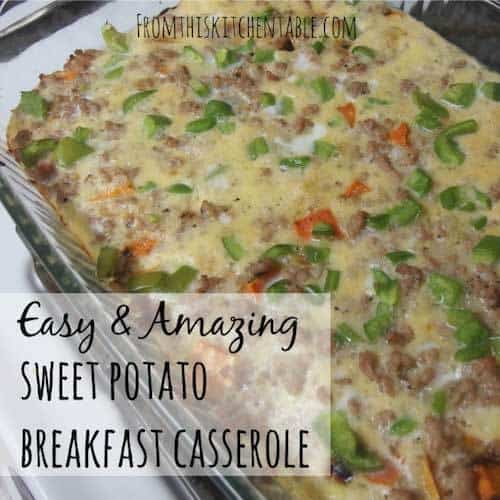 This sweet potato breakfast casserole comes from From This Kitchen. The recipe uses ground pork, potatoes, eggs, and some veggies to create a yummy Whole30 breakfast casserole you're sure to enjoy!
This recipe comes from Mark's Daily Apple, showing us how to cook up some tasty sausage and egg breakfast bites that are Whole30 breakfast friendly! These tasty bites can be batch baked and eaten over the next few days. Plus, they're super portable.
Loving the casserole concept? Check out our full collection of Whole30 breakfast casserole recipes!
We hope you've enjoyed these Whole30 breakfast ideas. For more meal prepping and recipes, check out our post digging into Whole30 meal plans which can be used to kickstart your diet.
Whole30 Breakfast FAQs
Can you eat oatmeal on Whole30?
No, you can't have grains on Whole30, so therefore you cannot eat oatmeal on Whole30. However, you can use an oatmeal look-a-like, such as chopped up nuts.
Are eggs allowed on Whole30?
Yes, eggs are allowed on Whole30.
What can I eat for breakfast on Whole30?
Eggs are an easy one, but besides that you can have baked fruit, grain-free granola, sweet potato latkes, breakfast sausage, hash, smoothies, frittatas, and more! Check out the recipes in this article to learn more.
Any favorite Whole30 breakfast recipes we left out? Add your top picks to the comments below!