Short on spare cash but still want to do Whole30? Never fear – you don't need to be rich to make Whole30 work for you.
Today we're showing how to do Whole30 on a budget, uncovering which ingredients to cut lose, where to shop, and what foods will get you the most fuel for your Franklin.
Whole30 On A Budget: What To Go Without
When you're on a budget, you can't have it all – and that's OK! Here's what we suggest cutting out if you're doing Whole30 on a tight wallet.
Don't Worry About Organic. Consuming organic meat is highly endorsed by Whole30 (the program puts a big emphasis on cutting out any and all additives), but you can do the program without spending those big organic bucks. While going organic and grass-fed is preferred, it's definitely not required, so don't sweat it if you can only afford classic cuts of meat.
Lose The Non-Essential Ingredients. In our Whole30 shopping list, we talk a lot about the fun recipes you can make with Coconut Aminos and grass-fed ghee. However, you don't need all the ingredients we list to win at Whole30 – you can get by just fine with the basics. We suggest splurging on a few items you know you'll use a lot (like Whole30-compliant almond butter), but don't feel like you need to stockpile every ingredient Whole30-ers mention.
Buy Frozen Over Fresh. Frozen foods are usually cheaper and will last longer than fresh produce, which means you won't be wasting as much food (and money) when you toss out that salad mix that was sitting on the bottom of the fridge for 2 days (sometimes it seems those bags of lettuce wilt mid checkout).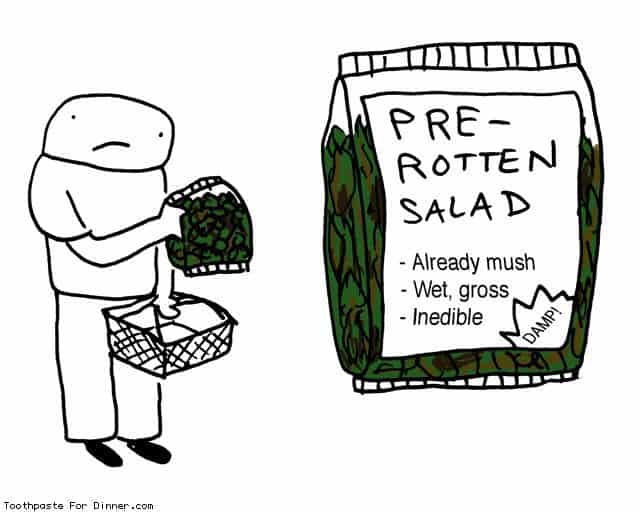 Where to Shop When On A Whole30 Budget
Stretch your dollar by shopping at stores that provide the highest-quality foods at the lowest cost. We suggest visiting these spots!
Try Trader Joe's. Speaking of affordable health food stores, Trader Joe's is a big Whole30 favorite for providing very reasonably priced Whole30 snacks, meats, and more. If there's one near you, don't miss out!
Costco. Bulk stores like Costco or Sam's Club don't make much sense for single eaters, but if you're feeding a family (or even just a hungry pair – whether that's a couple or you and a roommate), it can save big money. Look for Whole30 staples you know you'll need a lot of, like frozen veggies or meat.
Hit Up The Farmers' Market. Farmers' markets can provide you with high-quality, fresh produce that's often organic. Farmer's market produce is often less expensive than grocery stores, but it still isn't always cheap. For a bonus tip, try visiting towards the end of market hours. If you head over towards the end of a farmer's market (last 30-20 minutes), vendors are often desperate to get rid of produce rather than truck it back home. Don't be afraid to try cutting a deal!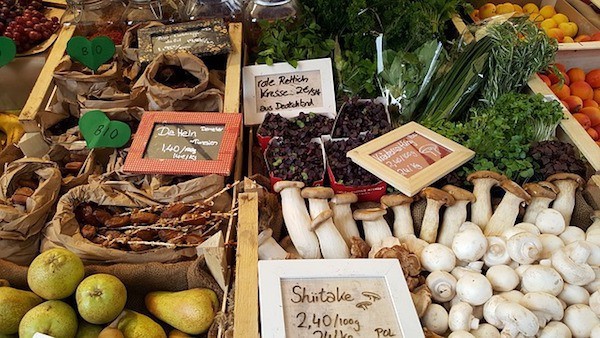 Take A Whole Foods Hiatus. Of course, Whole Foods (nicknamed "Whole Wallet") is an easy place to spend a ton when on Whole30. Instead, try more cost-effective healthy food stores (try searching around for what's local). Even scouring traditional grocery stores can usually help you find at least some Whole Food-esque snacks that are Whole30 compliant and won't break the bank.
Best Foods to Buy On A Whole30 Budget
These foods pack the most protein without costing a fortune. Sure, Whole30 bacon makes mouths water, but it's pricey. Stick to energy sources that are effective and cost-efficient.
Meat: If You Can't Go Organic, Just Go Lean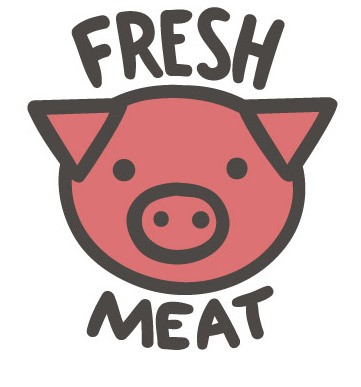 As we discussed earlier, while organic is ideal, it's not mandatory.
If you can't afford organic, try buying lean meats. As Whole9 explains, the reason why Whole30 encourages you to buy high-quality meats is that most of the nasty, unhealthy bits you are trying to avoid on Whole30 (like antibiotics, hormones, toxins, etc) live in meat's fat content. Cut down on the fat numbers and you're doing your body a solid.
Fish: Try Frozen To Chill Out Costs
Fish is often a great and relatively cheap protein source, making it ideal for those doing Whole30 on a budget.
You can save even more when you buy frozen fish over fresh fish. Cod and scallops are two top picks that cost considerably less when frozen. Toss in the freezer and defrost for dinner – or check out our list of Whole30 fish recipes for inspiration!
Eggs: Cheap, Filling, & Easy To Cook!
Eggs are a great cheap source of protein, and even the most hesitant cooks can likely cook up some decent scrambled eggs.
Organic eggs are probably the least expensive organic anything you'll find, so this isn't a bad place to splurge an extra few bucks.
Produce: Keep It Simple & Save
You don't need your cart to be piled high with dragonfruit and Yugoslavian red heirloom lettuce to have an awesome Whole30. Stick to cheap, simple produce that's easy to prepare, such as:
Carrots
Yams
Squash
Potato
There are a plethora of fancy Whole30 recipes online, but don't let them overwhelm you. You can make Whole30 as simple and easy as you want. For example, you might try one day consisting of:
Breakfast: Eggs + Veggies
Lunch: Stew / Chili / Leftovers
Dinner: Grilled Meats & Steamed Veggies / Stir Fry
When on a budget, keep it basic to avoid getting over your head.
Other Whole30 Budget Tips & Tricks
Visit The Grocery Store Early. Hit up the grocery store early (around 7am) to get first dibs on discounted meat. Grocery stores mark down meat (sometimes as much as 50% off) when it needs to be sold quickly. This meat will need to be frozen or cooked that day, but as long as you can make use of it ASAP, you can get great meat deals this way!
Plan Ahead. Did you know that as much as 1/3 of food produced for human conception is wasted each year? If you're cooking a lot more than you're used to, or cooking new dishes, it's easy to over-buy. We've all felt that guilt throwing away fresh vegetables and fruit that we thought we'd use, but forgot about.
Planning your meals ahead of time goes a long way to reducing waste and cutting down on grocery costs. Try to cook dishes with similar ingredients in a single week, ensuring that you don't end up with leftover produce. Making a soup that calls for kale? Make a sauteed kale side dish two nights later with your Whole30 chicken entree, or bake up some kale chips for movie night on Friday!
Read The Sale Flyers. Shop smart and buy what's on sale! If you're budget conscious, you probably already do this, but it's worth remembering that even higher end natural grocery stores can run great sales that will help you save on pricier Whole30 splurges.
Amazon Pantry For Staples. Amazon Pantry can provide some pretty great bargains on Whole30 favorite staples like almond butter, coconut oil, coconut milk, and more. Once you add 5 items to your pantry box, it ships for free! Pretty sweet deal.
Buy What's In Season. Buying fruits and veggies that are appropriately in season means that you're accessing the freshest and most affordable goods (since when an item is in season, it's more plentiful, and therefore cheaper). Plus your food is less likely to have a horrific carbon footprint.
Whole9 also has a great guide on seasonal fruits & veggies, while also showing which produce gives the most nutrient bang for your buck.Do you have any tips for doing Whole30 on a budget? Share your secret techniques in the comments!