Looking to cook up something that swims in the sea? Check out our list of 8 tasty Whole30 fish recipes!
1. Firecracker Tuna Salad
This firecracker tuna salad recipe comes from Well Fed, featuring various hot peppers, mayo (make sure it's the Whole30-friendly mayo), and tuna.
For the canned tuna, make sure to hunt out tuna that doesn't contain soy. It's not super common to find soy-free tuna, but you should be able to find at least a few brands that are compliant (Wild Planet, for one).
2. Coconut Chili Lime Shrimp
This tasty coconut chili lime shrimp recipe comes from Stupid Easy Paleo – an amazing recipe resource! It's a simple, easy recipe using shrimp, coconut flour and coconut flakes, lime zest, chili powder, and egg.
3. Grilled Calamari With Lemon and Orange
This grilled calamari recipe comes straight from Paleo Leap. For those who are brave enough to eat calamari sans breading, this is a fun, easy, and delicious dish! It relies simply on calamari, lemon, lime, orange, and a couple of minor spices.
4. Coconut Shrimp & Mango Salsa Salad
Another tasty shrimp recipe from Paleo Leap, this coconut shrimp & mango salsa salad is a perfectly light and refreshing dish. Make extra mango salsa and use it to top other Whole30 dishes!
5. Whole30 Red Curry Mussels
Don't miss out on these Whole30 red curry mussels from Grits & Chopsticks! This recipe results in truly magnificent mussels, along with zucchini noodles to compliment the curry!
6. Whole30 Grilled Salmon With Avocado Salsa
This Whole30 grilled salmon w/avocado salsa recipe comes from The Cookie Rookie. This succulent salmon is topped with a dollop of avocado salsa that can be used to compliment other dishes as well, so make an extra large batch!
7. Oven Fried Salmon Cakes
These incredible oven fried salmon cakes are straight from Well Fed. Breading is made with almond flour and other spices, allowing you to make crispy cakes you'll adore.
8. Paleo Fish Tacos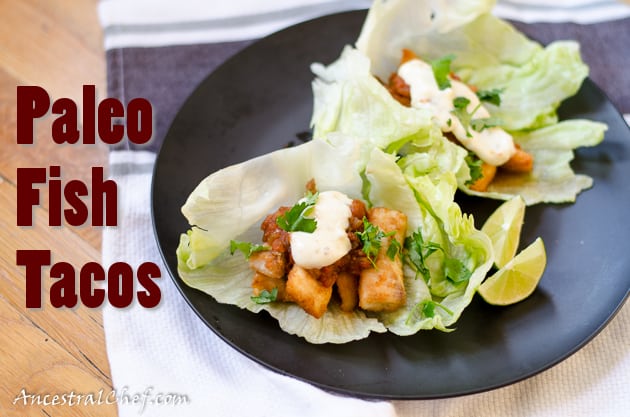 Not ready to give up on Taco Tuesdays? You don't have to with this paleo fish tacos recipe from Paleo Magazine! Lettuce is used as a taco tortilla. Just make sure you are using compliant mayo and leave out the honey. If you loved this recipe, you might also want to check out our Whole30 taco salad recipe too!
Do you have any favorite Whole30 fish recipes you want to contribute? Share your personal picks in the comments!