Whole30 Ketchup: Where to Find It
Whole30 compliant ketchup is tough to come by, as is any tomato-based product that is sugar free! However, you may be able to find it if you hunt around and check labels diligently.
Want a Whole30 ketchup that's promised to be compliant? One of the few known compliant ketchup brands is Tessemae's Organic Ketchup.
Ingredients include: Organic Tomato Paste (Organic Tomatoes, Salt), Organic Date Puree (Organic Dates, Water, Organic Lemon Juice), Organic Apple Cider Vinegar, Water, Sea Salt, Organic Lemon Juice, Organic Onion Powder, Organic Garlic Powder
You can even grab it as part of the Tessemae's Whole30 Condiment Pack, which includes the compliant ketchup along with compliant dressings, BBQ sauce, hot sauce, and more!
Alternatively, you can go the DIY route and make your own Whole30 friendly ketchup (perfect for baked sweet potato fries and burgers).
Whole30 Ketchup Recipe: Make Your Own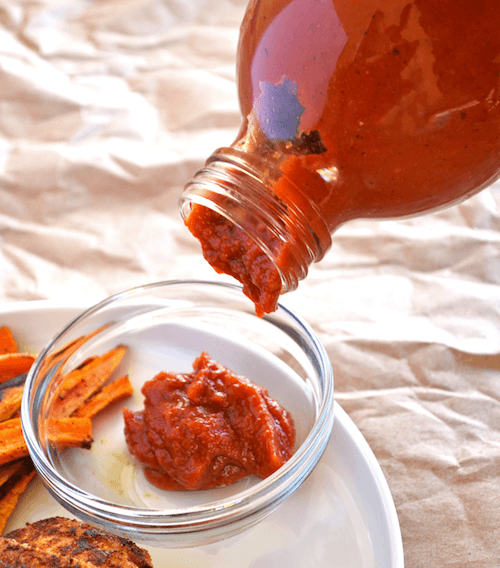 From: Little Bits Of
Ingredients:
1/2 cup chopped pitted date
1 6oz. can tomato paste
1 14 oz. can fire roasted chopped tomatoes
2 tablespoons apple cider vinegar
1/2 cup water
1 teaspoon garlic powder
2 teaspoons salt
1/4 teaspoon cayenne powder
1/4 teaspoon smoked paprika
Directions: Combine all ingredients in a sauce pan over medium heat and let simmer for 20 minutes, stirring occasionally.
Then pour the mixture into a blender and blend until smooth. Season to taste if needed!
Get more info from Little Bits Of, where this recipe came from!
Other Whole30 Ketchup Recipes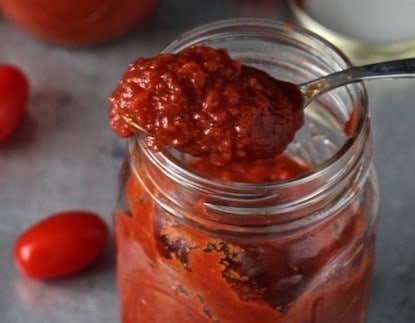 From: Jay's Baking Me Crazy
Uses: dates, tomato paste, apple cider vinegar, onion powder, garlic, cayenne pepper, diced tomatoes
From: Holistically Engineered
Uses: tomato paste, apple cider vinegar, onion powder, garlic powder, mustard powder
From: Well Fed
Uses: tomato paste, cider vinegar, figs, coconut oil, mustard powder, ground cinnamon, ground cloves, ground allspice
Now that you're all set with your Whole30 complaint ketchup, check out our collection of sweet potato recipes, many of which should pair perfectly with your new ketchup!