Meatloaf meals have been popular childhood favorites for many years, and they often come with the added advantage of being quick and easy to cook on a budget (often a respite for moms everywhere)!
Meat-packed meals can fit quite well with the keto diet – see some of the best keto-compliant meatloaf recipes here for filling dishes that can often last for days!
1) Low-Carb Bacon Wrapped Meatloaf
Bacon strips on top lend this Meatloaf from Buns In My Oven that extra bite of crunch and bacon-based perfection. (Net Carbs = 3g)
2) Slow Cooker BBQ Meatloaf
Prepared with low-carb almond flour, this keto version of BBQ Meatloaf from All Day I Dream About Food is a clear winner in terms of taste. (Net Carbs = 3.51g)
3) Keto Cheeseburger Meatloaf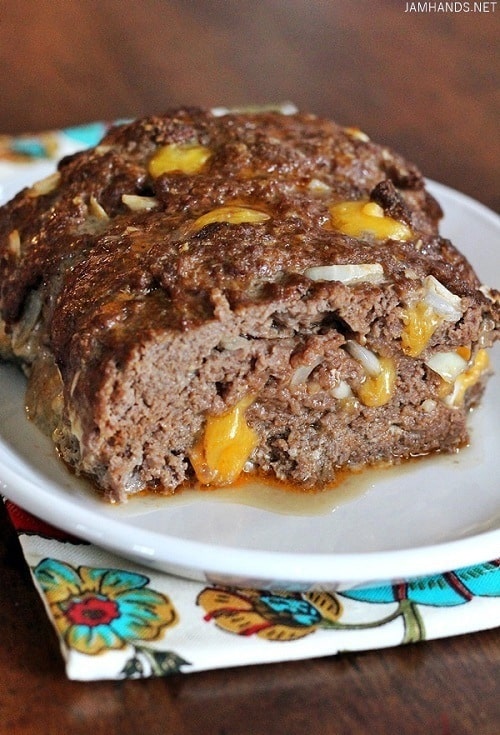 Look at that molten cheese oozing from the core! With basically no traces of flour, this Cheeseburger Meatloaf from Jam Hands is practically zero in carbs. (Net Carbs = 2g)
4) Veggie Ranch Turkey Meatloaf
This Turkey Meatloaf from Paleo Running Momma is a fabulous dinner option and is just as juicy as beef meatloaves. Plus, a drizzle of that tangy ranch sauce makes it all the more enticing. (Net Carbs = 5g)
5) Mexican Chili Meatloaf
Bold and spicy, this Mexican Chili Meatloaf from My Life Cookbook is a tantalizing blend of beef and pork, cooked with an array of aromatic spices. (Net Carbs = 3.9g)
6) Crockpot Italian Zucchini Meatloaf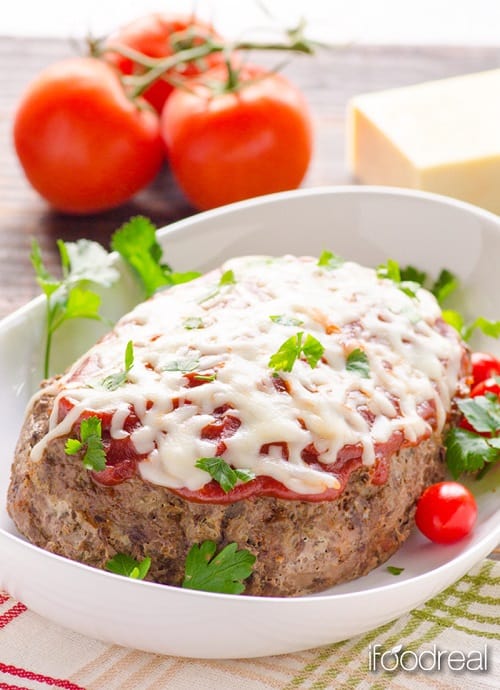 This flavor-packed Crockpot Zucchini Meatloaf from Healthy Seasonal Recipes has a brilliant secret – crushed zucchini added to it, which not only adds nutrition but also aids in holding the shape better. (Net Carbs = 3.3g)
7) Pepperoni Pizza Stuffed Meatloaf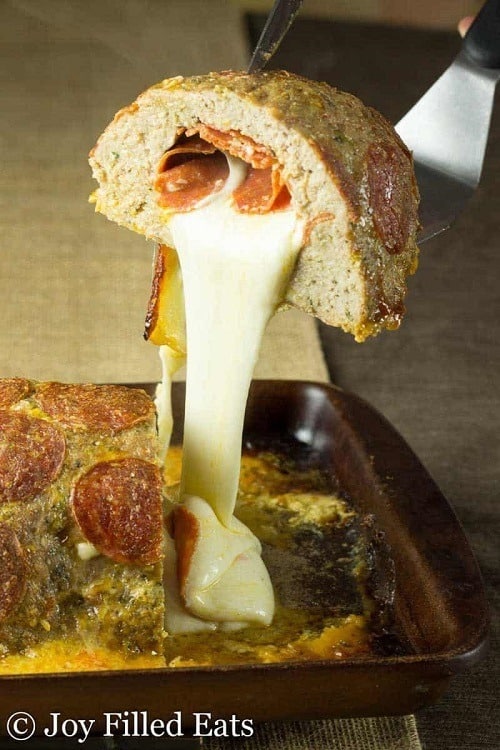 Pizza or meatloaf – which wins your heart? Joy Filled Eats has ended the tug-of-war and combined the best of both! This meatloaf has a super-cheesy core and the top is decked with pepperoni for a pizza effect. (Net Carbs = 2g)
8) Keto Meatloaf with Eggs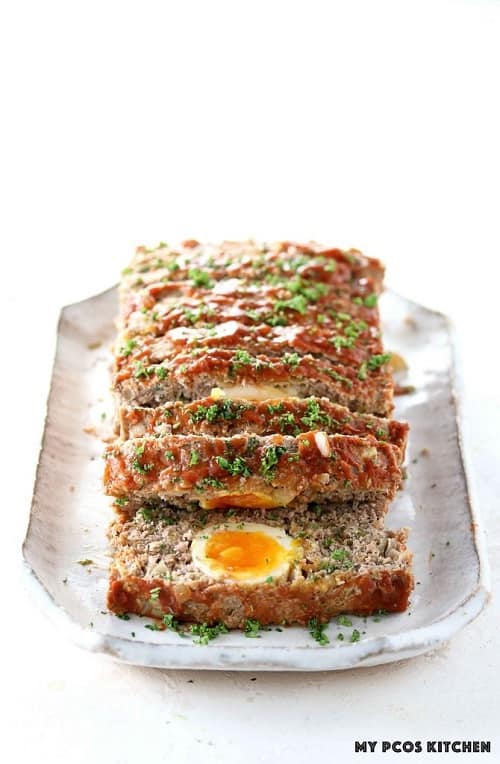 This delicious Keto Meatloaf from My PCOS Kitchen comes with a surprise element – a gooey slice of egg decking up the center – a protein surprise! (Net Carbs = 4.25g)
9) Ground Beef Meatloaf
This easy Beef Meatloaf from Ketovale has been modified with keto-compliant ingredients and takes less than an hour to come out fresh and piping hot from the oven. (Net Carbs =3.1g)
10) Balsamic-Glazed Keto Meatloaf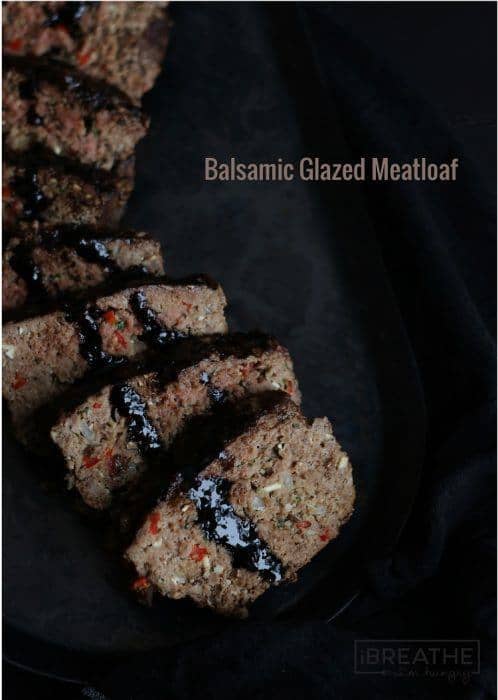 Hungry for a flavor-rich meatloaf that is also easy to prepare? This Meatloaf from I Breath I'm Hungry is served with a sugar-free balsamic glaze for some added oomph. (Net Carbs =3g)
11) Cheese and Capsicum-Stuffed Meatloaf
Stuffed with a drool-worthy combination of parmesan, gouda, and cheddar cheese, this Meatloaf from Keto Diet App is luxuriously cheesy and perfect for serving at parties. (Net Carbs = 4.6g)
12) Buffalo Chicken Meatloaf with Coconut Flour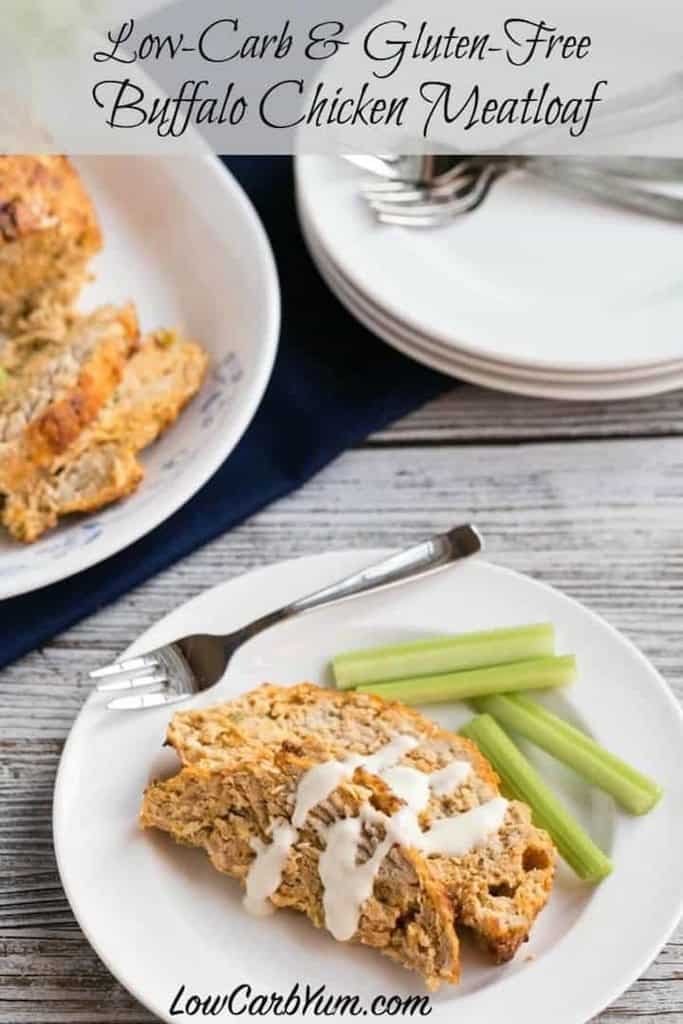 Low Carb Yum has a fantastic recipe for chicken meatloaf that's just as tasty as beef meatloaf, only with fewer carbs to fit your keto needs. (Net Carbs = 2g)
13) Cheddar Jalapeno Skillet Meatloaf
Meatloaf on keto? Possible – as we've already proven from so many recipes! Meatloaf cooked in a skillet? Well, that's possible too, as shown by this innovative Meatloaf recipe from All Day I Dream About Food. It's an easy dump-all recipe that will be ready to serve within 45 minutes. (Net Carbs = 1.3g)
That concludes our list of keto meatloaf recipes. Did we miss your favorite keto-ized meatloaf masterpiece? Share your top picks in the comments!