Love chili? Who doesn't! During a fall or winter session of Whole30, a good compliant chili is just the thing to warm your bones.
Since legumes aren't allowed on Whole30, black beans and kidney beans that usually make an appearance in chilis are out for these recipes. Instead, most of these Whole30-friendly chili recipes feature ground turkey or beef along with carrots, potatoes, sweet potatoes, and other mouth-watering veggies.
Getting hungry? Keep reading to check out our collection of delicious Whole30 chili recipes for you to cook up during your Whole30 program!
1. All Meat Veggie Chili (Paleo & Whole30)
Servings: 8
Time: 40 mins
Difficulty: Easy
Recipe from: Laura Fuentes
Ingredients:
1½ pounds ground beef
2 cloves garlic, chopped
2 tablespoons (30 ml) oil
1½ cups onion, diced, about 1 large onion
½ cup chopped celery, about 1 stalk
1½ cups carrots,peeled and diced, about 4 medium carrots
2 tablespoons chili powder
1 teaspoon ground cumin
1 teaspoon oregano
1 teaspoon salt
¼ teaspoon cayenne pepper (optional)
4 cups zucchinis, diced, about 2-3 medium zucchinis
1 15-ounce can tomato puree or tomato sauce
1 15-ounce can diced tomatoes
Instructions:
1. In your seasoned skillet or 5-6 quart large cast iron pot, brown beef and garlic. Cook over medium heat until beef is thoroughly cooked and browned. Drain off excess fat, set aside.
2. Add oil, onions, celery, carrots, and seasonings to the skillet and cook until translucent over medium-high heat, about 5-7 minutes. Once onions are golden and veggies are midway cooked, add zucchini and cook for 2 minutes, making sure you stir everything well.
3. Add cooked beef, tomato puree/sauce, and tomatoes into the pot and stir well. Bring everything to a boil, stirring frequently, reduce heat and simmer for 20 minutes.
4. Check on the amazing mixture every so often and stir. Serve immediately.
Additional Note: This is a very thick chili recipe. Add up to 1 cup of additional liquid (tomato sauce or water) to thin out the sauce if you prefer.
2. Chocolate Chestnut Chili
Ingredients:
2 pounds grass-fed ground beef
1-2 onions diced
8 cloves garlic minced
1 tsp dried oregano
2 tbsp chili powder
1 tbsp ground cumin
1 pinch cayenne
1 pinch salt
1 1/2 tbsp cocoa powder
1 6oz. can tomato paste
2 (14.5 oz.) cans fire-roasted diced tomatoes
3.5 cups beef broth
roasted chestnuts for topping
Instructions:
In a large pot, brown ground beef in its own fat with onions & garlic.
Add oregano, chili powder, cumin, cayenne, salt & cocoa powder to beef, stirring & allowing spices to become aromatic.
Add tomato paste, fire-roasted diced tomatoes, & broth to pot, stirring well.
Allow chili to simmer on low for two hours, stirring occasionally.
When chili is done, top each individual bowl with a few chopped chestnuts and stir in. If you're not a chestnut fan, try some slices of avocado!
3. Chicken Vegetable Chili
Difficulty: Easy
Recipe From: User @healthfest via Whole30
This Whole30 crockpot chili is a breeze to cook up!
Ingredients:
3 lbs chicken breasts, cut into cubes
2 small chopped zucchini
3 chopped carrots
1 can fire-roasted tomatoes
1 chopped onion
1/2 bunch chopped cilantro
1 chopped jalapeño, deseeded
2 chopped red peppers
1 15ish oz jar salsa verde (double check ingredients)
1 15ish oz jar regular salsa (double check ingredients)
4 cups vegetable or chicken broth
3 cloves minced garlic
Seasonings to taste: chili powder, salt, cumin, coriander, pepper
Guacamole
Lime
Instructions: Combine everything in a large crockpot and season to taste. Cook on low for 6-8 hours. Serve with guacamole and a lime.
4. Crockpot Paleo Beef Chili
Recipe from: Whole30
Ingredients:
2 Tbps extra-virgin olive oil
1 lb ground beef
1 yellow onion, diced
2 green bell peppers, sliced
1 14.5oz can of tomato sauce
1 14.5 oz can of diced tomatoes
4 garlic cloves, minced
1 Tbsp chili powder
1 tsp salt
1 Tbsp cumin
1 jalapeno, sliced thin with seeds removed
Instructions:
Place a large skillet over medium-high heat. Add oil to the skillet and swirl to coat.
Add beef and saute until browned, breaking the ground beef into small pieces. When cooked through, add beef to crockpot.
Add peppers and onions to skilled and saute for about 5 minutes, until soft.
Add garlic and saute for an additional minute. Move the veggies to the crockpot.
Add tomato sauce, diced tomatoes, jalapeno and spices to the crockpot.
Cook on low for 6-8 hours or on high for 3-4 hours.
5. Slow Cooker Sweet Potato Chili
Servings: 4
Difficulty: Easy
Recipe From: Boys Ahoy
Ingredients:
1 lb ground beef
1 clove garlic, minced
1/2 medium white onion, diced
1 red pepper, seeds removed and diced
1 green pepper, seeds removed and diced
1 large sweet potato, peeled and diced into cubes
1 (14 oz) can diced tomatoes, drained
1 cup beef broth
1/2 cup coconut milk (or regular milk if not on whole30)
3 tsp adobo seasoning
1/4 tsp cinnamon
1 tsp cumin
1/2 tsp salt
1/2 tsp pepper
1 tbsp coconut oil (or extra virgin olive oil)
Instructions:
Heat oil in a large skillet over medium heat. Add garlic and onions and sauté until translucent. Add ground beef and 1 tsp adobo seasoning and cook until cooked through.
Place ground beef, peppers, and sweet potatoes, tomatoes in the slow cooker.
Add broth, coconut milk, remaining 2 tsp adobo seasoning, cinnamon, cumin and salt and pepper and stir everything together.
Cook on high for about 3 hours or until sweet potatoes are tender.
Serve with sliced avocado or guacamole.
6. Pumpkin Turkey Whole30 Chili
Recipe from: Whole30
Ingredients:
2 Tbsp coconut oil
1 lb ground turkey
1 tbs fresh sage, chopped
1 onion, diced
4 cloves of garlic, minced
1 can of pumpkin puree
1 red bell pepper, diced
1 14.5 oz can of diced tomatoes
¼ tsp crushed red pepper flakes
1 Tbsp chili powder
½ tsp onion powder
1 tsp salt
1 tsp ground black pepper
1 tsp turmeric
Instructions:
Place large skillet over medium-high heat and add oil. Swirl to coat the pan.
Add the turkey and brown until cooked through, about 7 minutes.
Add in the onion and sage and saute with turkey until onions are soft, about 5 minutes. Move the turkey and onion mixture to the crockpot.
Add the diced tomatoes, garlic, bell pepper, pumpkin and spices to the crockpot. Stir to combine.
Cook on low for 6-8 hours or on high for 3-4 hours.
7. Paleo Chili
Servings: 4
Time: 50mins
Difficulty: Medium
Recipe from: allrecipes
Ingredients:
Instructions:
1. Soak chipotle pepper in boiling water until softened, about 10 minutes. Remove pepper from water and mince.
2. Melt coconut oil in a large pot over medium heat. Cook and stir onion, green bell pepper, and red bell pepper until tender, 5 to 10 minutes. Stir garlic and minced chipotle into onion mixture and cook until fragrant, about 1 minute.
3. Stir bison and Whole30 compliant sausage into onion mixture. Cook and stir until meat is browned and crumbly, 10 to 12 minutes.
4. Stir chili powder, cumin, oregano, and cocoa powder into the bison mixture; add crushed tomatoes, salt, and pepper and stir. Bring to a boil, reduce heat to low, and simmer until flavors are blended, 10 minutes.
8. Easy Whole30 Chili From Kitchn
This quick-and-easy bean-free chili recipe from Kitchn is a simple compliant chili that even cooking newbies can handle. Plus, we love that this recipe includes unsweetened natural cocoa powder for the win, along with a mix of peppers and onions!
9. Whole30 Chili With Cauliflower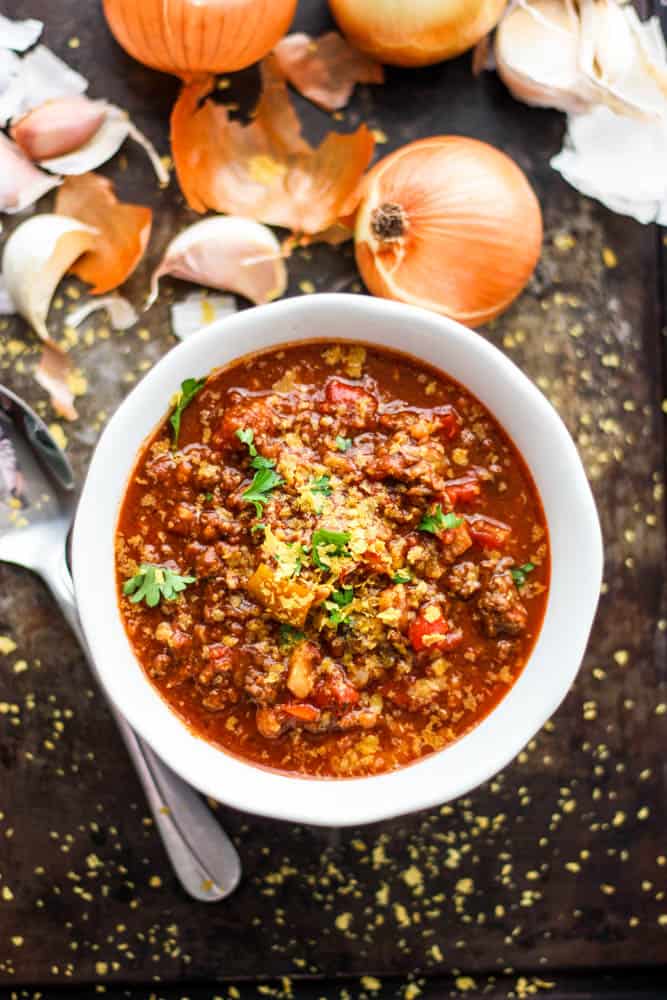 While we haven't tried it ourselves, we think this chili from Miss Allie's Kitchen looks like a real winner. This chili is especially unique in that it includes cauliflower for healthy carbs over the standard potatoes. Very cool!
Do you have any of your own Whole30 chili recipes you want to share? Post your favorites in the comments section!