Veggie noodles are a Whole30 lifesaver.
They're extremely versatile to use as a vehicle for sauces, meatballs, chili, proteins, you name it! Not to mention…these "noodles" are entirely made of vegetables.
On Whole30, it can be difficult to find new food options to replace the meals you are used to turning to. Remember when a lazy weeknight dinner was as easy as opening a box of pasta and boiling some water?
Unfortunately, Whole30 can be a little tougher. But it doesn't always have to be! Veggie noodles to the rescue! They make a great pasta replacement and keep sometimes overwhelming Whole30s manageable. Where to even start?
Vegetable Noodle Options
What kinds of veggies can you even make into a noodle-like consistency? More than you might think, actually!
Chances are if it's a firm, solid vegetable (think squash or starchy veg), it can be noodle-ized.
Veggie noodles are a really great place to get creative with your Whole30 cooking. See a recipe for a dish that calls for zucchini noodles but can't stand zucchini? Try your hand at making some noodles out of butternut squash or sweet potato instead. The mix-and-match options are endless!
1. Spaghetti Squash
This is probably the most obvious choice—spaghetti is literally in the name of this vegetable!
Spaghetti squash is easy to prepare and makes a great vehicle for classic pasta recipes like tomato based meat sauces.
Since there's no fancy kitchen tricks involved in preparing spaghetti squash, you don't even need to invest in any gadgets to get these noodles cookin'!
The video below from The Kitchn shows how to cook up a spaghetti squash just right!
popular whole30 spaghetti squash recipes
2. Zucchini Noodles
Arguably the most popular of all the Whole30-approved noodles, zucchini noodles (or zoodles) took the Whole30 world by storm a couple years ago and haven't dropped in popularity since.
Their light texture and mild flavor lends themselves well to pretty much any dish, from zoodles and meatballs to Asian noodle dishes like Pad Thai. Yum!
Not sure how to make them? Check our our larger guide to whole30 zucchini noodles here!
More of a visual learner? Check out Melissa Joulwan's video below on how to make these bad boys. I personally recommend a spiralizer over a julienne peeler, but either will do!
popular zucchini noodle recipes
3. Sweet Potato Noodles
Yet another way to eat the beloved sweet potato: as a heaping bowl of noodles!
Sweet potatoes do have a pretty distinct flavor, so this noodle variety is for true fans of the sweet potato.
popular sweet potato noodle recipes
4. Butternut Squash Noodles
Butternut squash make another great veggie noodle—their texture holds up well to sauces and tends to stay more firm than soggy, making it a great base for countless Whole30 meals!
The video below can show you exactly how it's done!

popular butternut squash noodle recipes
Less Popular Veggie Noodle Options (That Are Still Worth Trying)
Like we said before, you can make veggie noodles out of almost anything.
It's amazing how creative people are, making noodles out of parsnips, carrots, eggplant…even broccoli stalks!
Spiralizing is a great way to make use of odds and ends like cauliflower or broccoli stalks that you might not use otherwise. It's also a great way to try new veggies or reinvent recipes with some new ingredients!
Try using a mandolin slicer to make eggplant "lasagna noodles" and add thin slices in place of pasta in a lasagna recipe.
Spiralize some carrots and eat them raw with a tahini dill dressing for a refreshing summer side salad. At the risk of sounding like a broken record…the options really are endless!
Tools of the Veggie Noodle Trade
Spiralizers are arguably among the most fun kitchen gadgets—they let your turn all these amazing veggies into noodle bases! How cool is that?
They're fairly inexpensive and easy to use…not to mention many of them come with different attachments so that you control the size of your noodle. Here are a couple of our favorites to work with…
BEST BUDGET CHOICE: Oxo Good Grips Handheld Spiralizer
This spiralizer is simple—no fancy bells and whistles about it—but a solid choice for under $20 that will get the job done.
Easy to use with a variety of veggies, all you do is place the vegetable against the blade, stick the spikes on the handle into the other end to hold it in place, and twist to get gorgeous, uniform noodles. Easy!
Sale
OXO Good Grips Handheld Spiralizer, Green
Cuts uniform, curly noodles from zucchinis, cucumbers, sweet potatoes and more
Great for curly fries, frittatas, salad garnishes, low-carb entrees and desserts
Non-slip grip for easy spiraling
Compact size is perfect for individual portions
Comfortable food holder keeps hands safe, doubles as cap for storage
BEST HANDS-OFF: Gourmia Electric Spiralizer
This electric spiralizer does all the work for you and is much faster (and potentially less messy!) than its manual counterparts. It comes with three blade sizes to fit a variety of dishes. Need dinner quick? This spiralizer cuts down your prep time even more!
MOST VERSATILE: Paderno World Cuisine 4-Blade Slicer
This spiralizer comes with four blades for different veggie noodle thickness and style and, out of all the spiralizers we've seen, gives you the most interesting results.
Ever had hasselback potatoes? This spiralizer makes the perfect slices for any drool-worthy hasselback potato recipe – among others! The variety of thickness options means you can also make thinly-sliced strips for veggie lasagna or even veggie wrap spring rolls, in addition to noodles.
If you want total customization over the style and thickness of your veggie noodles, this is your best bet!
Paderno World Cuisine 4-Blade Folding Vegetable Slicer / Spiralizer Pro, Counter-Mounted and includes 4 Different Stainless Steel Blades
Easily and quickly slice and spiralize large quantities of fruits & vegetables instead of using a knife.
Includes: 1 x Vegetable spiralizer / slicer plus 4 blades: 1 x Straight blade (1/8") for ribbons and accordion cuts, 3 x Julienne blades (1/8", 1/4" & 3/32") for vegetable strands & zucchini noodles.
Smart design. Spiralizer takes up minimal space while stored due to folding design and a separate holder which houses the extra blades.
Suction Base. Mount to any clean & non-porous surface with absolute ease due to its powerful suction base.
Patented design. Made of heavy-duty BPA-free ABS plastic. Dishwasher safe on top shelf.
Make it Even Easier with Pre-Made Veggie Noodles
Fancy kitchen gadgets not your jam? Luckily, the veggie noodle trend has caught on enough that stores are selling pre-noodled veggies, making Whole30 easier than ever.
As of last year, Whole30 officially partnered with Veggie Noodle Co, a company that sells pre-packaged noodles made out of zucchini, butternut squash, beet and sweet potato as well pre-riced cauliflower and broccoli!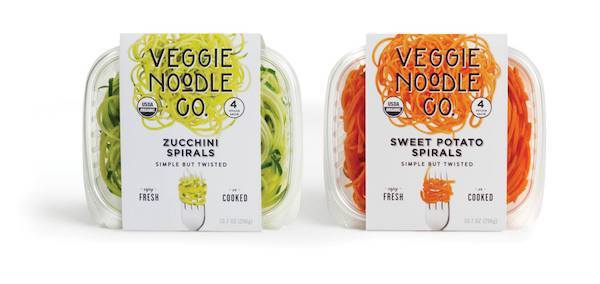 They can be found at many Target, Whole Foods, and Kroger stores around the US. Keep an eye out for them for instant veggie noodles, no work required!
Another place to search for a pre-made solution is Trader Joe's—they stock both zucchini and veggie spirals in the freezer section for optimum convenience.
You can cook these straight from frozen and use them in your favorite alternative noodle recipes without having to make them yourself or invest in a spiralizer. Awesome!
What did we miss? Have any recipes with veggie noodles you're just dying to share? Leave us a comment and let us know! We'd love to hear from you.
Last update on 2023-09-26 / Affiliate links / Images from Amazon Product Advertising API