Looking for some quick and easy Whole30 lunches? We've got you covered with this hefty list of meals that will keep you full all afternoon. We tried to stick with Whole30 lunch ideas that are fairly quick and easy to make, as well as relatively easy to transport (for those office dwellers).
We tried to stick with Whole30 lunch ideas that are fairly quick and easy to make, as well as relatively easy to transport (for those office dwellers). Take a look and tell us what you think!
1. Mason Jar Salads
These mason jar salads from Paleo Mamma are super easy to prep and have at the ready for when lunch time hunger strikes.
Want the quick low down on how to make a mason jar salad? Dressing goes at the bottom, then fresh veggies that will benefit from marinating (onions, mushrooms, squash, zucchini, etc.).
Next, put a layer of cherry tomatoes or other heart veggies, then your greens. The tomatoes will help create a moisture buffer between the wetter veggies and the greens (don't cut the tomatoes unless they are at the bottom of the mason jar). Ta da! You've got a mason jar salad!
2. Ginger Beef with Broccoli and Portobello Mushrooms
This tasty classic asian dish is re-inspired at Whole30 and paleo friendly over at Popular Paleo. This Whole30 lunch dish features steak, garlic, coconut aminos, ginger, scallions, broccoli, coconut oil, and mushrooms.
3. Paleo Pad Thai
This Paleo Pad Thai recipe from Well Fed is a Melissa Joulwan favorite, featuring chicken, snap peas, onions, and spaghetti squash for that noodle-like texture. Of course you'll need some of Melissa's tasty sunshine sauce as well!
4. Paleo Chicken Lime Kabobs
These Paleo Chicken Lime Kabobs from Paleo Newbie are great for Whole30 lunches since you can make a giant batch of them and then store them for lunch throughout the week! They'll just require a bit of initial grilling, but after that you're good to go.
5. Mushroom Onion Quiche Bites
These mushroom onion quiche bites from Grok Grub are made with onions, chicken, mushrooms, ghee, eggs, coconut milk, and spices. Since you bake them in a muffin tin, they're a great lunch food – just toss a few into a baggie and your lunch is ready to go!
6. Kale, Potato, & Chicken Soup
Soup makes for a great lunch that can be stored in a container and heated up at work. We found ourselves drooling over Green Lite Bite's Kale Potato & Chicken compliant soup. If soup sounds like something up your alley, make sure to check out our collection of Whole30 soup recipes!
7. Thai Pork & Zoodle Salad
This Thai Pork & Zoodle Salad recipe from The Iron You is a tasty and creative way to make use of left over zoodles. For this recipe, use coconut aminos instead of soy sauce, ditch the Siracha (or try using Frank's Red Hot instead), and for the fish sauce, make sure to use the Whole30 compliant Red Boat brand.
8. Chicken Torilla-Less Soup
This toasty, tortilla-free soup is just the thing for cold winter days when you're freezing by the time lunch rolls around. Grab the recipe from Fast Paleo and devour it down!
9. Jalapeno Turkey Burgers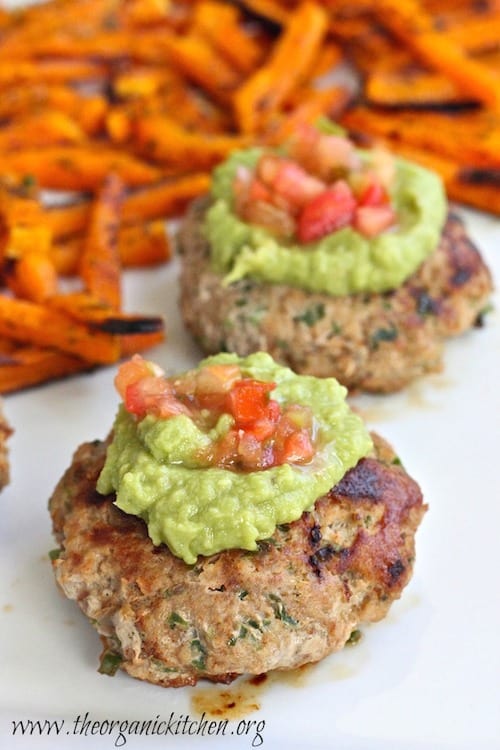 This ain't your Grandma's burger – these Jalapeno Turkey Burgers come from The Organic Kitchen have a nice kick to them! They're sure to give you a nice kick in the pants before your afternoon slump.
10. Tomato, Bacon, and Arugula Quiche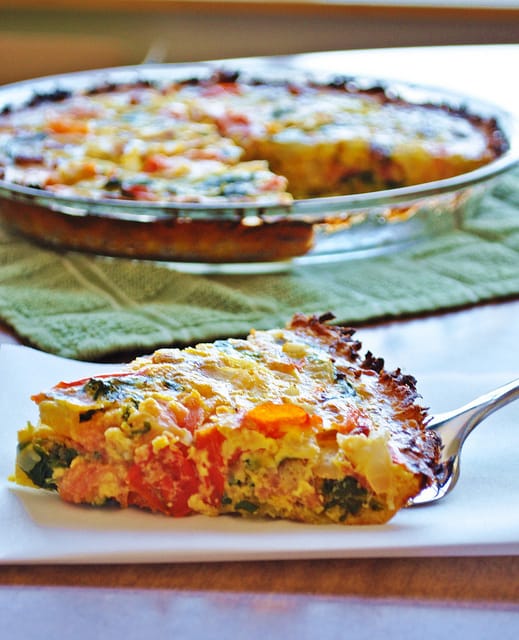 This Tomato, Bacon, and Arugula Quiche With Sweet Potato Crust comes straight from The Freckled Foodie. The awesome thing about quiches is that they can be used for breakfast or lunch, and are super easy to pack and transport.
11. Zucchini & Sweet Potato Latkes
There's nothing like a solid potato pancake for lunch, and this Zucchini and Sweet Potato Latke recipe from I Breathe I'm Hungry fits the bill. Cook up a batch of these tasty pancakes and chomp them down all day! Can't get enough of 'dem sweet potatoes? Check our our giant list of Whole30 sweet potato recipes!
12. Slow Cooker Chipotle Pork With Pineapple Slaw
This Slow Cooker Chipotle Pork With Pineapple Slaw comes from Primally Inspired, and it's one fantastic Whole30 slow cooker recipe. Just toss in the ingredients, run some errands, and let it stew so you can come home to a steaming warm lunch!
13. Whole30 Winter Salad
This Whole30 winter salad recipe comes from Foraged Dish, made with kale, daikon radish, beets, apples, squash, and pepitas.
14. Chicken Club Sweet Potato Sandwich
Good news – you can have your club and eat it too! That's right, this unique Whole30 lunch "sandwich" uses sweet potato as a bun to create a not-so-classic club sandwich! Just roast your sweet potatoes and add your fillings like roasted chicken, Whole30 guacamole, lettuce, tomato, and some compliant bacon – or whatever you'd like!
15. Zesty Chicken Bites
These Zesty Chicken Bites from Lexi's Clean Kitchen are fun finger-like morsels that are perfect for a Whole30 lunch on the go. They're made with almond flour, seasoning, eggs, and chicken!
16. Whole30 Chicken Salad
Chicken salad is a classic lunch dish, and we're happy to say that it's easy to do the Whole30 way! Just use what you would normally use in your chicken salad recipe, but make your own mayo (don't worry, it's not so hard).
This paleo chicken salad lunch recipe comes from Paleo Leap, made with chicken, grapes, kale, celery, onion, lemon juice, and DIY mayo.
17. Prosciutto & Egg Roll Up
This easy Whole30 lunch idea comes from Nom Nom Paleo. These prosciutto and egg roll ups are super quick and easy to make – perfect to pack for lunch when you're tight on time. All you need are eggs and some Whole30 compliant prosciutto!
Whole30 Lunch Sides
As far as Whole30 lunch sides go, possible considerations include:
Apple slices

Carrot sticks

Berries

Handful of nuts

Hardboiled egg
Do you have any Whole30 lunch ideas we missed? Share your top picks in the comments!