Having a hard time with finding tasty pork recipes that are Whole30-friendly?
Worry not – we've got you covered with plenty of pork-tastic recipes here in this list. Get 'em and eat up!
1. Orange Rosemary Roasted Pork Tenderloin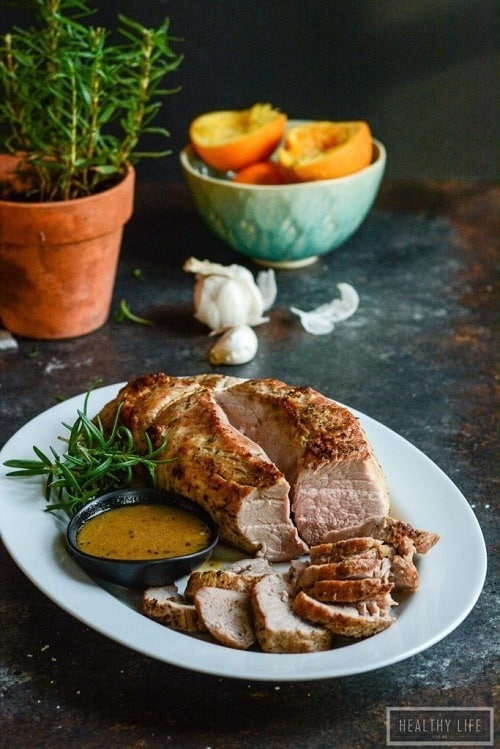 Super-easy and hassle-free, this recipe from A Healthy Life For Me is a cool one-pot preparation. Married with flavors of rosemary and orange, it will be an instant hit and a good start to your whole30 journey.
2. Puerto Rican Instant Pot Pulled Pork

A Saucy Kitchen cooks up this dish marinated with garlic, oregano and lime juice.
3. Pork and Apple Breakfast Sausage
A few dashes of spices, shredded apple, and ground pork are all you need to prepare this protein-packed breakfast sausage to jump-start your day. This quick recipe from Every Last Bite is a serious game changer when it comes to replacing your monotonous breakfast eggs with something more meaty.
4. Crockpot Pork Chops with Apples and Onions

A comforting dish for when it's freezing outside, this recipe from A Clean Bake is perfect for your lazy nights. Although it uses barbecue sauce, feel free to explore the website for their paleo version to customize as per your Whole30 needs (or check out our guide to finding compliant Whole30 BBQ sauce here).
5. Cuban Pork Roast

Smoky on the outside and juicy inside, this pork roast from Noshtastic is perfect for your parties and get-togethers. It can even be prepped ahead of time, making it a favorite for short-on-time cooks.
Filipino Pork Belly Roast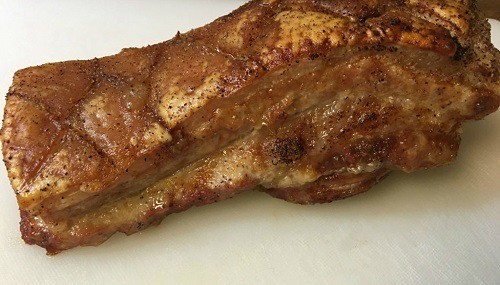 With a few sprinkles of pink Himalayan salt and garlic powder, this pork belly roast recipe from Mostly Paleo Always Delicious is sure to impress.
Crockpot Coconut Pork Curry

Juicy chunks of pork simmered in a coconut milk and tamarind-infused curry will make this dish from What The Forks For Dinner your go-to recipe for sny weekend lunch. Just swap that bowl of white rice with cauliflower rice to make it Whole30-friendly.
Creamy and Smoky Chipotle Pork Chops

Cooked in a divine blend of Chipotle sauce smothered with coconut cream, these pork chops from Wholesomelicious are spot-on delicious.
Jamaican Jerk Pot Roast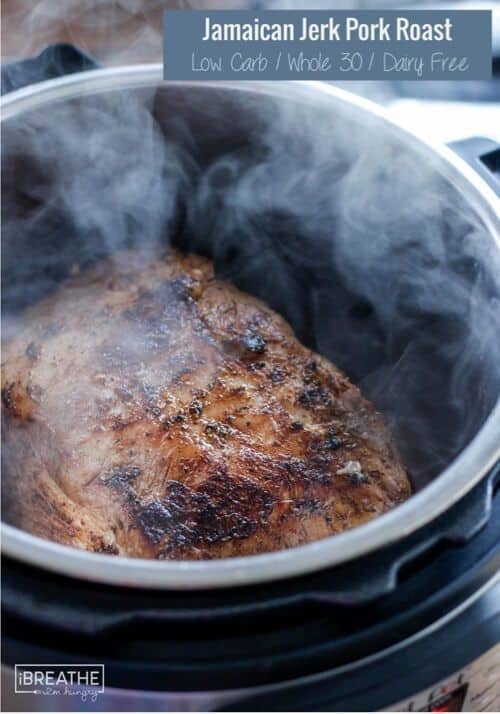 I Breathe I'm Hungry brings us this awesome Jamaican jerk roast recipe that's a breeze to cook and can be served in a bunch of exciting ways (lettuce wraps, over cauliflower rice, in a burrito bowl, you name it).
Pork Egg Roll in a Bowl with Creamy Chili Sauce

Miss your favorite egg roll while being on the Whole30 diet? 40 Aprons brings you a better and tastier version by stripping-off the carb-loaded wraps. This mouthwatering combo of saucy ground pork and tender greens also doubles up as a healthy option for lunch or dinner – your choice!
Slow Roasted Pork Shoulder

This recipe from Our Paleo Life is a great option when you want to feed a crowd. Loaded with carrots, this dish is also a great way of giving your kids a boost of veggie nutrition along with some protein.
Crockpot Ancho Pork

Cook Primal Gourmet has come up with this simple, dump-it-all-in-the-crockpot recipe that's fuss-free and big on flavors. Serve it with a squeeze of lime and cauliflower rice for a hearty meal.
Slow Cooker Pineapple BBQ Pork Lettuce Wraps

Fresh tropical flavors make this recipe from Fit Mitten Kitchen a summer favorite. The fancy presentation with lettuce will ensure that it finds a winning place in your kids' lunch boxes too.
Pulled Pork Stuffed Potatoes

A sweet potato packed recipe for when you feel the urge to indulge in something satisfying, this recipe from Paleo Leap is perfect for the pro-potato people out there!
Pork Apple Meatballs with Spaghetti Squash

Subtly sweetened with apples, this meatball recipe from The Star can be served with a bowl of spaghetti squash for a well-rounded satisfying meal that doesn't take much elbow grease to whip up.
With that, we come to an end of this list of delicious whole30 pork recipes! Think you've got more to-die-for ideas or we missed some of your favorites? Let us know in the comments below to share your top picks!