Try these Whole30-friendly meatball recipes for some great Whole30 eating!
1. Whole30 Meatballs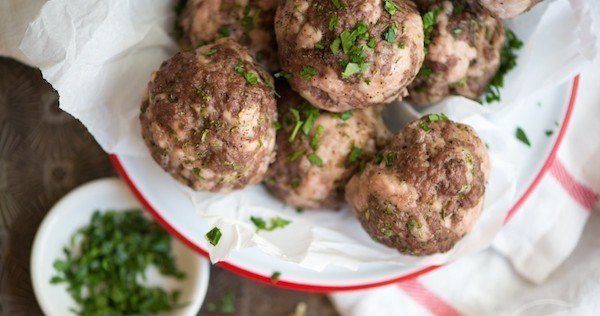 This Whole30 meatball recipe comes from Stupid Easy Paleo (a great resource for those looking for Whole 30 recipes). Author Steph also provides tips on how to incorporate your meatballs into other Whole30-friendly dishes like frittatas or soups.
Ingredients:
1 lb (454 g) grass-fed ground beef
1 lb (454 g) ground pork
2 tbsp dried parsley
1 tsp garlic powder
1 tsp onion powder
1 tsp sea salt
¾ tsp black pepper
Instructions:
1. Preheat your oven to 400F (204C). Line a baking sheet with foil or parchment paper.
2. Combine all the ingredients in a large bowl, and mix with clean hands to combine. Don't overwork the meat because it'll end up making for tougher meatballs.
3. Use a rounded ⅓ cup measure to portion out the meat. Gently roll into a ball and place on the baking sheet. Repeat this with the rest of the mixture.
4. Bake for about 15 to 20 minutes or until the meat is cooked through.
Steph refers to these as "Emergency Meatballs" – perfect for batch freezing and whipping out for when you need a quick and easy meal ASAP.
2. Easy Whole30 Turkey Meatballs
These turkey meatballs come from Fashionable Foods, featuring the wonderful protein we all love – turkey!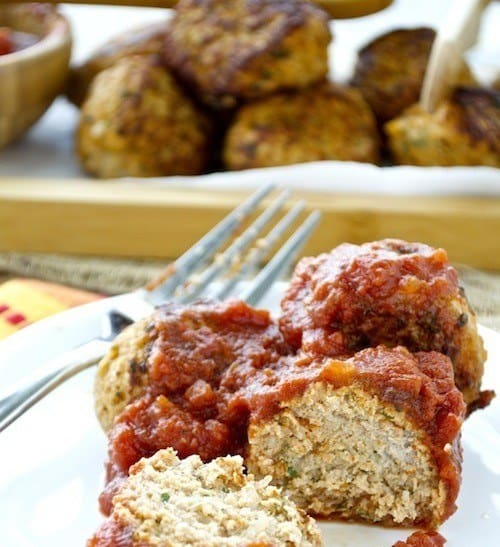 Ingredients:
1 Egg, beaten
2 Tablespoons Tomato Paste (find one with no additives or sugar)
1 Onion, peeled and grated
3 Cloves Garlic, finely minced
¼ Cup Fresh Parsley, finely chopped
1 Teaspoon Dried Oregano
Salt & Pepper
¼ Cup Almond Flour
1 Tablespoon Coconut Flour
1 lb Ground Turkey
Extra-Light Olive Oil
Tomato Sauce, for serving (again, no additives or sugar)
Instructions:
1. Combine the beaten egg, tomato paste, grated onion, garlic, parsley, oregano, salt, pepper, and almond flour. Mix well and then mix in the meat.
2. Preheat the oven to 400º.
3. Heat a nonstick skillet over high heat and enough of the olive oil to coat the skillet. Using a medium or large ice cream/cookie scoop, scoop out the meatballs and drop them directly into the pan (note: a cookie scoop is a real must since these meatballs are much more sticky than classic meatballs). Let them cook for about 30 seconds or until brown, then flip them over using a spoon. Cook them until brown on the other side, about 30 seconds, and then transfer to a baking sheet lined with parchment or foil. Repeat with remaining meat – you'll end up with about 15 meatballs using a large scoop, and about 24 using a medium.
4. Transfer the meatballs to the oven and bake for about 20 minutes for the large size, or 15 minutes if you used a medium-sized scoop. The meatballs will be firm to the touch when finished.
5. Serve with tomato sauce.
3. Easy Whole30 Meatballs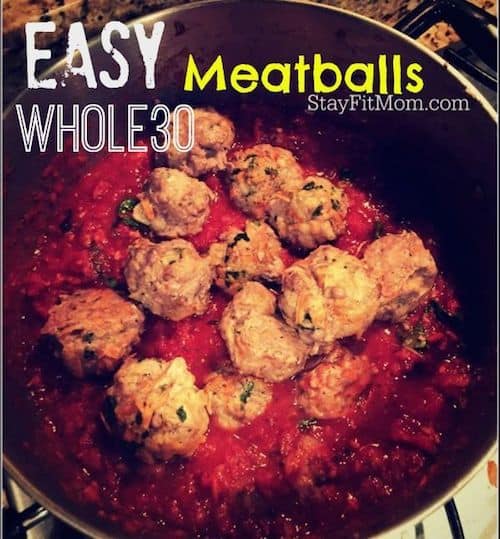 Another Whole30 meatballs recipe comes from Stay Fit Mom, combining beef and pork.
Ingredients:
1 lb Ground Beef
1 lb Ground Pork
1 Teaspoon Garlic Powder
1.5 Teaspoons Oregano
1 Onion, diced
3 Garlic Cloves, diced
1 cup Fresh Basil
3 Carrots, peeled and shredded
Instructions:
Combine ground beef, ground pork, garlic powder, and oregano.
Chop onion, garlic, and fresh basil; and shred carrots in food processor.
Combine veggies and spices with meat mixture.
Roll into golf ball-sized meatballs.
Bake 350 for 30 minutes.
Place meatballs in sauce on the stovetop for 10 minutes and then serve.
4. Paleo Pumpkin Meatballs
Looking for some meatballs that are a bit more off the beaten path? Try these paleo pumpkin Whole30 meatballs from Clean Eating Veggie Girl!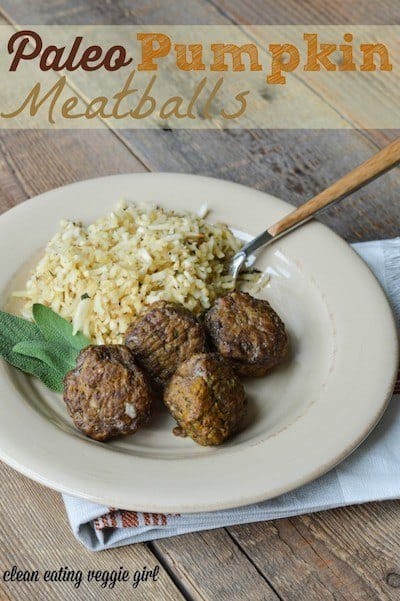 Ingredients:
1 pound grass-fed, organic ground beef (or ground turkey or chicken)
1/2 cup pumpkin puree (not pumpkin pie mix)
12 leaves of fresh sage
4 sprigs of fresh thyme
4 cloves of garlic, peeled
2-inch piece of fresh ginger, grated
1/2 tsp fine sea salt
1/2 tsp freshly ground black pepper
Instructions:
1. Combine sage, thyme, garlic, and ginger in a food processor. Process for approximately 20 seconds, or until finely diced.
2. Using your hands, mix together the beef, pumpkin puree, processed herb mixture, and seasonings in a large bowl. Refrigerate for at least 30 minutes.
3. Preheat oven to 350 degrees F. Line a baking sheet with parchment paper or a silicone baking sheet.
4. Form beef mixture into evenly sized meatballs. You should end up with approximately 12 meatballs.
5. Bake meatballs for 15 minutes. Flip carefully. Bake for an additional 15 to 20 minutes, or until golden brown.
Creator Hannah recommends pairing these pumpkin paleo meatballs with some delicious parsnip rice (Whole30 friendly).
5. Whole30 Chicken Meatballs With Spicy "Peanut" Sauce
These tasty Whole30 meatballs from Green Lite Bites relies on chicken for protein and a tasty peanut-like sauce to add some unique flavor!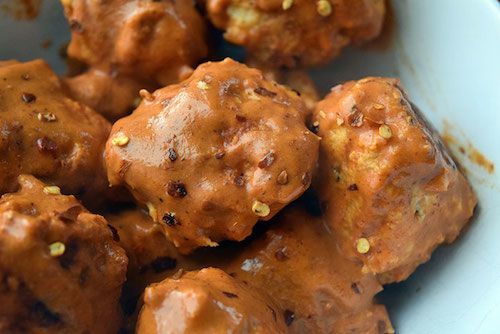 Ingredients:
1 lb ground chicken breast (ground turkey would work also)
2/3 cup ground flax
1 tbsp olive oil
2 tbsp almond butter
1 tbsp apple cider vinegar
1 tsp sesame oil
2 tbsp tomato paste
1 tsp red pepper flakes
Instructions:
1. Combine the chicken and flax with your hands. It will be very sticky (ground chicken can be frustratingly sticky).
2. In a large nonstick skillet over medium-high, heat the oil. Form the chicken mixture into small balls (around 15) and add them to the skillet.
3. Turn the meatballs to seal on 2-3 sides as they brown. (I wish I took a pic of this but my hands were just too messy! )
4. Once the meatballs are set, lower the temperature to medium-low and cover so they begin to cook through.
5. While the meatballs are cooking, whisk together the almond butter, vinegar, sesame oil, tomato paste, and red pepper flakes. It will be on the thick side. A splash or two of water is fine to add to loosen it up.
6. Pour the sauce over the meatballs and roll around to coat. You can continue to cook for a minute or two but the sauce will thicken even more.
7. Pour the meatballs into a bowl and top with additional red pepper flakes to taste.
6. Chicken Tikki Masala Meatballs
This Whole30 meatballs recipe comes from Apron Strings, featuring another chicken protein with Indian-inspired spices.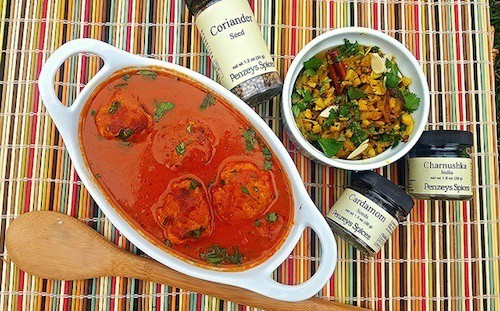 Meatballs:
2 pounds ground chicken (preferably dark meat)
1 egg
1/2 cup almond meal
zest of one lemon (save juice for sauce)
1 teaspoon ginger paste
2 teaspoons ground cumin
1 teaspoon garlic powder
1/2 teaspoon cinnamon
1/4 teaspoon cayenne
1/2 teaspoon salt
Sauce:
1 tablespoon coconut oil
1/2 onion, diced
3 cloves garlic, minced
1 1/2 teaspoons garam masala
1 teaspoon cumin powder
1/2 teaspoon ground coriander
juice of aforementioned lemon
1 28 ounce crushed tomatoes
1 14 ounce can coconut milk
1. For the meatballs, mix all ingredients together by hand until well-incorporated. Save the lemon for the sauce! You can leave the mixture for several hours or overnight, until you're ready to proceed with the rest. Once you're set to go, form the mixture into golf ball sized balls.
2. Heat a large skillet over medium high and add the meatballs, turning every few minutes, until lightly browned all around (They won't be cooked through, and that's okay). Remove and set aside.
3. On to the sauce! Add coconut oil and diced onion. Saute for a few minutes, then add garlic and spices. Cook for several more minutes, until onion is starting to brown. Add the lemon juice and deglaze the pan a bit (getting all the yummy brown bits off the bottom of the pan), then stir in the crushed tomatoes and coconut milk.
4. Bring to a boil, then reduce to a simmer and add the meatballs back in, cooking for about 25 minutes uncovered, so the sauce reduces and thickens a bit while the meatballs cook through.
7. Buffalo Ranch Chicken Meatballs
These buffalo ranch chicken meatballs from Holistically Engineered are perfect for big game days when you're on Whole30!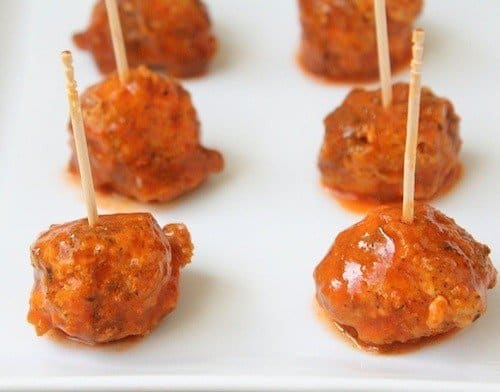 Meatballs:
1 lb ground chicken
1 tsp real salt
1 tsp black pepper
1 tsp garlic powder
Sauce:
3/4 cup chicken broth
1/2-3/4 cup hot sauce (check ingredients)
2 1/2 Tbsp dry ranch seasoning
Instructions:
In a medium sauce pot, combine the chicken broth, hot sauce, and ranch seasoning (place on the stove for later use)
Mix together the ground chicken and spices until combined
Form into meatballs (approximately 20 small meatballs)
Heat 1-2 Tbsp of oil in a large skillet, over medium-high heat
Sear the meatballs for 6-8 minutes, turning the meatballs for an even sear
While the meatballs are searing, bring the hot sauce mixture to a boil and allow to cook until it has reduced by half and thickened (about 6-8 minutes)
Add the sauce to the meatballs after they have been seared and cook for another 3-4 minutes or until the meatballs are cooked through.
Pasta Substitutes
Traditionally, we love our meatballs accompanied by a nice pile of pasta, but on Whole30 that's of course a no-go. Instead of pasta, try these substitutes for your Whole30 meatballs instead:
Zoodles: Cooking up a nice batch of zucchini vegetable noodles!
Cauliflower Rice: Cauliflower rice is another popular Whole30 staple that paris well with meatballs.