Often seen decked with a rainbow of vegetables and fruits, kabobs come in every possible combinations and variety.
Starting from the land of kabobs (the Middle East) to the far west, we bring to you a collection of delicious Whole30-compliant kabobs that will brighten up any and all party plates without punching a hole in your program!
1. Hawaiian Kabobs
Juicy and fragrant, these Hawaiian kabobs from Spend With Pennies is just the thing for breezy beach holidays. Opt for a Whole30-friendly BBQ sauce and dry rub to prepare this super simple and colorful entrée.
2. Kebob Koobideh
Persian Mama reveals the secret to making succulent and flavor-packed kebob koobideh (an Iranian favorite).
Brush with ghee instead of butter and serve with a side of bright grilled vegetables (white rice replaced with cauliflower rice) to indulge in this hot-favorite from the streets of Iran.
3. Greek Lemon Chicken Kabobs
A big squeeze of fresh lemon juice and dashes of oregano and rosemary imbue distinct flavors and aroma to these otherwise simple chicken kabobs. These gorgeous kabobs from A Saucy Kitchen are perfect for serving up in parties or a chatty family dinner.
4. Grilled Steak, Potato, Mushroom Kabobs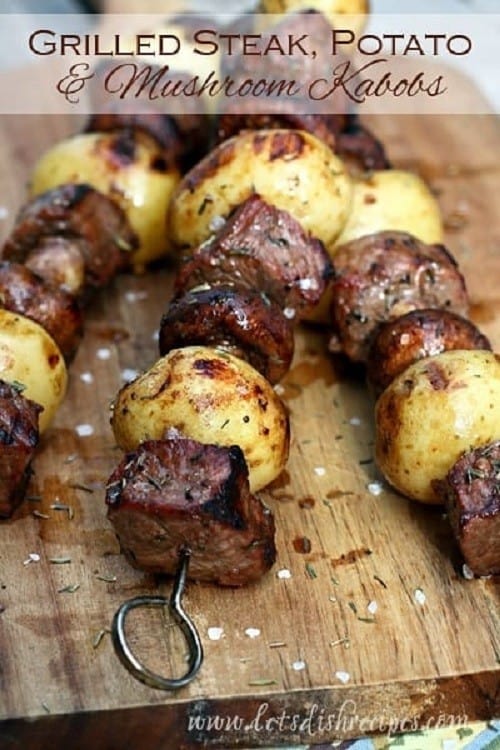 These hearty kabobs, made from a combination of juicy steak cubes, potatoes, and mushrooms come from Let's Dish Recipes.
5. Spiced Lamb Kebabs

These flavorful Middle-Eastern savory kebabs brought to you from Saveur are made from spicy minced meat mixtures wrapped around skewers and grilled to perfection.
6. Strawberry Basil Chicken Kabobs

This recipe from My Mommy Style is a kid-approved dish that will delight more mature foodies too! Formed by alternating luscious strawberries and basil, these kabobs boast fresh, summery flavors.
7. Lemon Shrimp Kabobs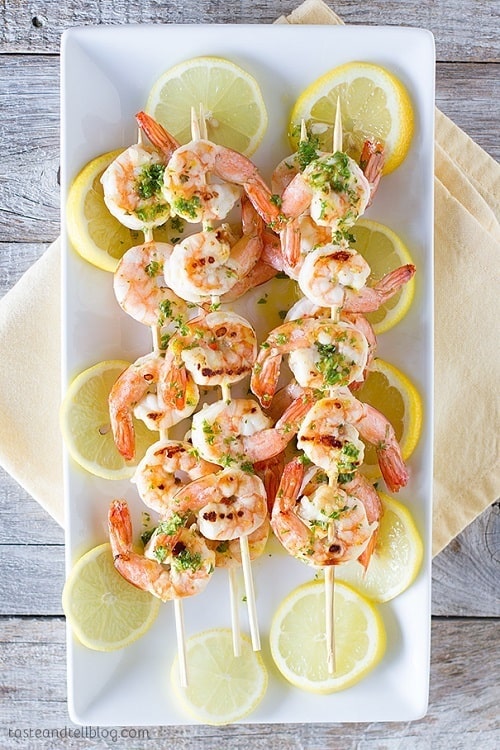 Easy and breezy as it can get, these awesome jumbo shrimp kabobs from Taste And Tell Blog just need a dash of fresh lemon juice and chopped parsley to get all decked-up and ready to serve.
8. Jerk Chicken and Pineapple Kabobs

Flavored with classic Mediterranean spices and marinated in sweet and tangy pineapple juice, these jerk chicken kabobs from Food Faith Fitness ooze tropical vibes.
9. Grilled Salmon Kabobs with Lemon

These mouthwatering salmon kebabs, with slices of lemon in between, are easy to prepare yet super delicious. Recipes Food And Cooking suggests usage of dual skewers to prevent the salmon chunks from continuously turning while grilling.
10. Rainbow Grilled Veggie Kabobs

Emily Kyle Nutrition brings us a cheerful combination of veggies, threaded through skewers for a fresh summer meal. Packed with nutrition, these rainbow grilled veggie kabobs will keep you fueled for the day.
11. Shish Kabob
A plethora of ground spices adds character to these delectable lamb kabobs. A popular Turkish dish, this variation from Saveur is just the perfect one to gorge on your Whole30 diet.
12. Asian Beef Kabob

Streaks of colorful veggies pack loads of nutrition into these easy-to-cook kabobs that are great alternatives to traditional steak dinners. These kabobs from The Bewitchin Kitchen use brown sugar, so just make sure to leave that out in order to make this meal Whole30-compliant.
13. Grilled Garlic Herb Shrimp Skewers
Three minutes on the grill is all you need to prepare this gastronomic delight of threaded shrimp and veggies. A bit sweet and a tad tangy (from the orange and lime juice marinade), these flavor-packed shrimp skewers are great for summer lunches.
Plus, the Isabel Eats blogger recommends that you can also prepare this great recipe in a 450-degree oven even if you don't have a grill at hand.
That concludes our array of mouthwatering kabobs to provide summer fuel during your Whole30. Let us know your favorite compliant kabobs in the comments if you have a top pick we missed!