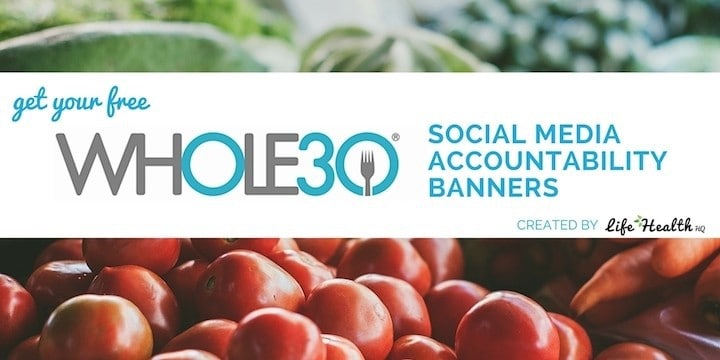 Many Whole30 success stories note that keeping yourself accountable is key to getting through the program without any slip ups.
Individuals often post on social media sites like Facebook, Twitter, and Instagram to announce to friends and family their intention to begin Whole30. Knowing that friends and family will be checking up on you and asking about your new 30 day clean eating mission is often a big motivator for keeping Whole30-ers on track.
We want to help YOU stay accountable and make it easy for you to get support from your network as you begin Whole30. That's why we've created these custom Whole30 social media banners!
Use them as your cover photos to share with the world your commitment to clean eating!
Click here to download all Whole30 social media image
Facebook Whole30 Profile Cover
Upload these photos to Facebook and use them as your Facebook profile cover photos to share your Whole30 mission with the friends and family!

Twitter Whole30 Profile Cover
Upload these images as your Twitter cover photos to let the world know that you've begun Whole30!

Instagram Whole30 Post Image
Save this image and post it on Instagram to let the world know that you've committed yourself to Whole30!
How has social media affected your ability to complete the Whole30 program? Share you stories in the comments!