Mustard is a very polarizing condiment. Some people love it, some people can't stand it.
We happen to be on the "love" side of the argument—it's not only a great thing to dress up Whole30-compliant hot dogs, but it's an amazing ingredient to add to sauces, glazes, and salad dressings.
Lucky for us, mustard is allowed on Whole30! There are, as always, some exceptions to this and ingredients that are commonly incorporated in mustards you need to look out for. We'll get to those later – for now, let's talk about how amazing mustard is!
Mustard: An Unassuming Superfood
Because mustard stays fresh pretty well on its own, there is little need for weird preservatives and mystery ingredients, making it refreshingly simple to find a compliant mustard for your Whole30. Occasionally, you will see sulfites thrown in for freshness, but usually, the ingredients are fairly standard.
That's not where the mustard awesomeness ends, though. Not only is most mustard pretty simple and inoffensive ingredient-wise, it is also thought to be an excellent cancer-fighting food. Because of the allyl icothiocynate (or AITC) present in mustard seed, the main ingredient in mustard, this wonderful condiment appears to not only inhibit some cancer cell growth, but also blocks some carcinogens present in sodium nitrite—an ingredient often found in processed foods like hot dogs.
You know that spicy feeling in the depths of your sinuses you experience from eating a particularly strong Dijon? That's AITC! By eating mustard, you may actually be helping to reverse any negative health effects from some of less-than-perfect the foods you eat (such the occasional hot dog). How cool is that?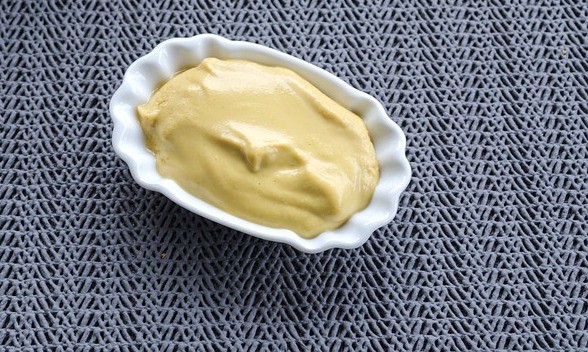 Many Mustards Are Great – But Read Your Labels!
Don't forget arguably the most crucial Whole30 tip: being a conscientious label-reader is a must. While we mentioned that mustards are generally Whole30-compliant across the board, there are always going to be those exceptions with sneaky ingredients.
Varieties of mustard that you might encounter (along with their Whole30 compliance status) include:
Classic Yellow Mustard

(Yes)

Dijon Mustard

(Most Likely)

Honey Mustard

(No)

Spicy Brown

(Yes)

Whole Grain Mustard

(Yes)
Of this list, the only one that is automatically out of the question is honey mustard—honey (or any other sugar) is never allowed on Whole30 and, since the key ingredient in honey mustard is honey, it is automatically disqualified from the running of eligible choices.
Other mustard varieties sometimes have sugar added as well, but honey mustard is the only one where a sweetener is a guarantee. Among the other types, the non-compliant ingredients are a little subtler.
Dijon mustard, for example, is a food whose ingredient list you should keep an eye on. Traditionally many Dijon mustards—both ground and whole grain—include white wine as an ingredient. Since no alcohol is allowed on Whole30 (even as an ingredient!), some Dijon varieties will not be allowed.
Most other mustards will likely be compliant, just keep an eye out for sulfites as they are sometimes added as a preservative and are one of the off-limits additives that are outlined in the Whole30 guidelines.
Our Favorite Whole30 Mustards
We have some of our go-to mustard choices picked out just for you! Take out some of the guesswork, forget the label reading and grab one of these definitely compliant and exceptionally tasty condiments.
Make Your Own Mustard!
Feel like making your own? Some mustard seeds, vinegar, water and a good quality salt is all you need to throw together a delicious mustard that you can be certain you can enjoy on your Whole30!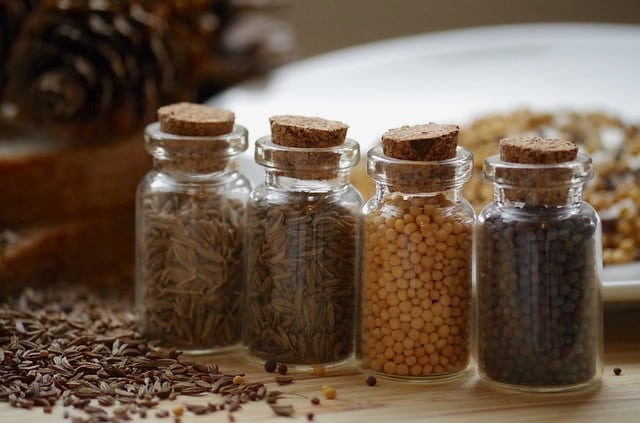 Grind your mustard seeds with a spice grinder or mortar and pestle.
Add the mustard seeds to a glass jar with the rest of the ingredients to let everything integrate.
Mustard gets better the longer you leave it, so make sure you give it plenty of time at room temperature for the flavors to develop!
Feel free to add other spices to mix it up as well. Check out this super easy recipe from Detoxinista for more mustard-making details.
Whether you make your own or you are a die-hard French's fan, mustard is an awesome and flavorful addition to keep things interesting on your Whole30. Are you a mustard-lover like we are? How do you like to use mustard? Let us know in the comments!