We know Whole30 can be a tough gig, but these Whole30 mocktails are sure to cheer you up. These compliant cocktails are just the thing for a night out on the town!
Easy Paleo Vinegar Mocktail
4 large ice cubes
1 oz flavor-infused balsamic vinegar
4 oz sparkling water
Herbs or fruit to garnish
Instructions: Start by placing ice cubes in a 6oz glass, then pour in the vinegar. Next, slowly pour the sparkling water on top. If you do this carefully, you should be able to create a vinegar layer at the bottom, with the sparkling water sitting in a layer above. This makes the makes the drink more flavorful as you drink it. Or, if you'd rather, just stir it all up!
Lastly, add a garnish with your choice of fresh fruit or herbs. For the pros, try experimenting with different amounts of vinegar and see how you like it!
Recipe comes from Stupid Easy Paleo
Pomegranate Mint Spritzer
Ingredients:
3-4 mint ice cubes per glass (recipe below)
Seeds from ½ pomegranate (about ½ cup)
1 bottle seltzer water
For the mint ice cubes:
½ cup packed mint leaves, chopped
about 16 oz filtered water
Instructions: To make the ice cubes, chop up the mint and spread it evenly throughout your ice cube tray. Fill almost to the brim with your mint water. Stick ice cube tray in the freezer for about 3 hours, or until set.
When the ice cubes are ready, get out your 4 glasses. Put 3-4 ice cubes in each glass with 1-2 Tbsp pomegranate seeds, and top it all off with seltzer water! Cheers – you've done it, a Whole30 mocktail!
Recipe from Real Food With Dana
Strawberry Mango & Lime Sparkler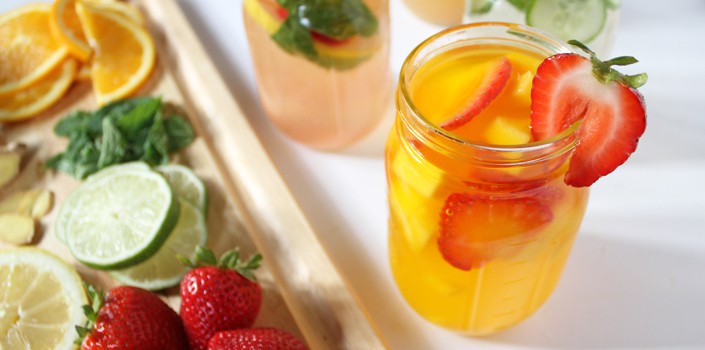 Ingredients:
4 sliced Strawberries
½ cup diced Mango
1 tbsp Lime Juice
1 cup Sparkling Water
Ice
Instructions: Layer mango, strawberries + lime juice in a glass and smash until the mango has released most of its juice. Pour sparkling water over the mix + add a couple of ice cubes on top for good measure!
Recipe from Chaarg
More Visual Mocktails
These drool-enducing Whole30 mocktails come from Whole 9 Life. We recommend pinning these to your Whole30 Pinterest board!
Do you have any suggestions for compliant Whole30 drinks or mocktails? Share your favorites in the comments!