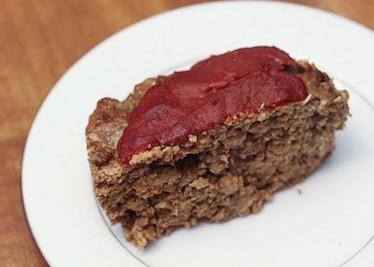 This Whole30 meatloaf is packed to the brim with ground beef and veggies, providing a healthy and filling meal!
This hefty meatloaf uses ground beef as well as mushrooms and zucchini to provide plenty of hearty goodness.
This recipe also relies heavily on a food processor to cut down on shopping and shredding time, making it a quick & easy dish to serve up.
Ingredients:
3 lbs ground beef
1 egg
1/2 an onion
3 gloves of garlic
8oz mushrooms
1/4 cup coconut flour
1 zucchini
1 tsp of thyme
1 tsp of salt
1 tsp pepper
1 tsp oregano
2 tsp coconut aminos
3 tsp parsley
1/2 cup Whole30 compliant ketchup
Instructions:
In food processor, pulverize garlic and mushrooms. Add onion and zucchini and stop when finely shopped (not totally pulverized).
In large bowl, mix parsley, oregano, salt, pepper, thyme, coconut aminos, egg, coconut flour, and ground beef. Add onion, zucchini, garlic, and mushrooms. Mix together, then add 1/2 cup of ketchup.
Put into two meat loaf dishes and bake on 350 for 1 hour. Add another 1/2 cup of ketchup on top of the meatloaf and bake for another 10-20 minutes, or until meat thermometer reads 160°F. Let cool for 5-10 minutes, then serve.
BONUS: Quick & Easy Ketchup Whole30 Recipe
While you have your food processor handy whip up this batch of Whole30 ketchup.
3 dates, chopped
1 can tomato paste (6 oz)
1/4 t dry mustard
2 tsp apple cider vinegar
1/4 cup water
1/4 tsp pepper
1/4 tsp salt
1/2 tsp garlic powder
Pulverize in the food processor and use in your meatloaf! If you're having a hard time fully pulverizing the dates, try letting them sit in the food processor with the tomato paste, as this can help the dates break down.
Have you ever made Whole30 meatloaf? What's your secret strategy? Share your thoughts in the comments!