Note: This article contains affiliate links. Learn about what that means here.
Meat is pretty essential for Whole30. I mean sure, you can do it as a vegetarian, but filling up on healthy protein is an essential aspect of Whole30, and for most of us, that means focusing a fair bit on meat.
Now you don't need to do grass-fed beef or pastured raised chicken to do Whole30 – regular meat is allowable. However, most Whole30-ers prefer to do the program with quality meats.
We've talked before about whether or not grass-fed meat is essential for Whole30. When it comes down to it, grass-fed and pasture-raised meat tastes better and is healthier for you, so if you can afford it, it's definitely your best option.
While grass-fed and pasture-raised meat is the obvious choice, it can be hard to get your hands on the good stuff if you're not on a first name basis with your local butcher.
Luckily, there are a few companies that specialize specifically in delivering healthy, grass-fed meat to your door. All the services listed here are officially endorsed by Whole30, so you don't need to doubt their authenticity.
Try one of these meat delivery services and see just how much better good meat tastes!
Note: This article concerns fresh meat. Read our article here for information about Whole-friendly deli meat.
1. ButcherBox
ButcherBox offers a selection of healthy, organic, humanely raised, 100% grass-fed/pastured fed beef, pork, and chicken.
Officially endorsed by Whole30's Melissa Hartwig, you know you're in good hands. Each ButcherBox delivery includes 8-11 lbs of delicious, organic meat. It's also pretty affordable, breaking down to less than $6 per meal (at least for the meat portion)!
Other notable features about ButcherBox include:
Humanely raised 100% grass-fed meat
New assortments of meat each month
Meat from small, family-run farms
Portioned cuts of meat along with recipe cards
Free shipping to the continental US
With each order, you can also include add-ons, with items like paleo/whole30 bacon or burgers!
2. Western Grassland Beef

Western Grassland Beef is another official Whole30-approved partner that offers deliveries of fresh, healthy meats to your home without the hassle of scouring the supermarket.
Western Grassland Beef specialized in holistic grazing and humane treatment. They promise that their animals "are treated with dignity and respect throughout their entire lives as our process demands no less."
They have an entire section devoted to Whole30-friendly meats, with selections including burgers, stew meat, kabob meat, steaks, and bone broth.
3. U.S. Wellness Meats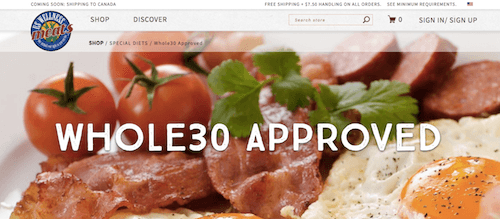 We've long sung the praises of U.S. Wellness Meats – after all, they are one of the rare and few purveyors of Whole30 approved bacon!
Really though, U.S. Wellness Meats offers much more than just bacon – they also sell a wider selection of sugar-free and additive-free meats. In fact, they have an entire section devoted to Whole30-friendly meats!
Their selection includes:
Roasted shredded beef
Bison chorizo sausage
Breakfast sausage sliders
Jerky sticks
Polish pork sausages
Whole30 bacon
and more!
U.S. Wellness Meats ensures that the animals are not given any hormones, antibiotics, or stimulants. While U.S. Wellness Meats follows organic practices, they are not officially certified due to the fact that the state of Missouri has a private certifier run the organic labeling, and this organization requires 3% of the business's profits to maintain the organic label – something many businesses simply can't afford to do.
4. Honest Bison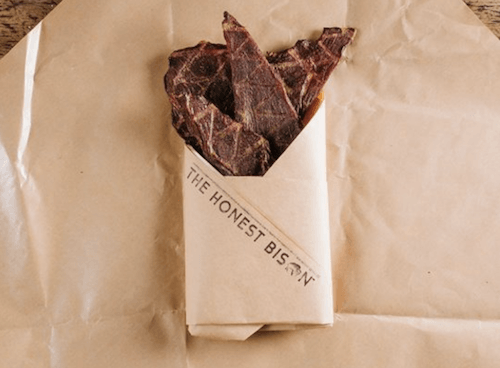 The Honest Bison offers packs of 100% grass fed bison meat, delivered right to your door! If you're game for trying bison, this is the way to do it – The Honest Bison promises humanely, sustainably raised, minimally processed meat from a holistically-oriented ranch in Rice Lake, Wisconsin.
The Honest Bison functions through one-off shipments, so you won't need to worry about keeping up with monthly deliveries.
Honest Bison offers:
bison burgers
bison hot dogs
bison steaks
ground bison
brisket
bratwurst
bison jerky
and more cuts and style of bison meat!
They also include great bison meat recipes! We are head over heels excited about trying this Garlic Herb Roast of King's Landing – eat in style like Cersei (although we don't recommend mirroring her drinking habits)!
5. Pre
Pre offers a high-quality selection of grass-fed, pasture-raised beef with no added hormones or antibiotics. All meat is vacuum sealed with transparent, chemical-free packaging so you know exactly what you're getting!
They have a wide variety of cuts, from ribeye and sirloin to ground beef and patties. All their meat is officially Whole30 approved as well!
Pre doesn't sell their meat on their own website, but you can find Pre products on Amazon Fresh or Jet, as well as some brick and mortar locations.

6. Verde Farms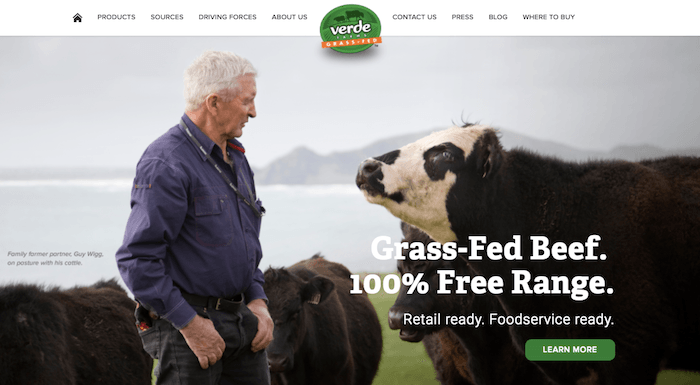 Verde Farms is another business that offers free-range, grass-fed beef with no added hormones. They have a focus on environmental sustainability, working with a global network of farmers who respect and care properly for the animals they raise.
Beef is ethically sourced from North America, Austrailia, and New Zealand. They provide a variety of options based on your budget and a selection of cuts.
You can order Verde meat on Amazon Fresh or Jet.

7. Tribali Farms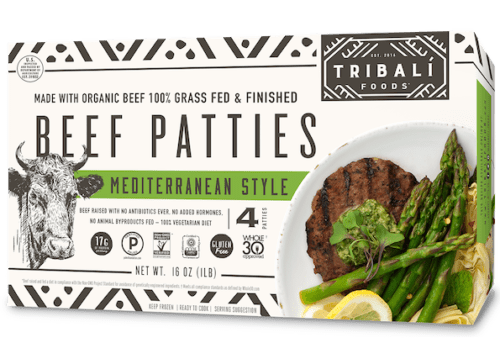 Tribali Foods offers frozen meat patties that can be easily kept in the freezer for storage before whipping them out for a quick and easy meal.
All meat is 100% organic and officially Whole30-approved, with grass-fed beef and free-range chicken. Tribali Foods have several meat options, including:
Meditteranean Style Beef Patties
Chipotle Chicken Patties
Umami Beef Patties
You can find Tribali's frozen meat patties on their website or at The Simple Grocer.
8. Pederson's Natural Farms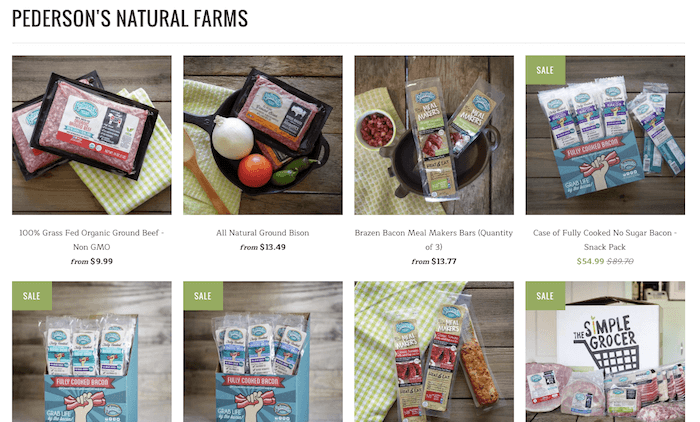 Pederson's Natural Farms is an officially-endorsed Whole30 partner, and they've got the meats to show it!
Pederson's has a tremendous selection of Whole30-compliant meats – definitely one of the larger offerings out there. Some products in the Whole30-compliant section include:
No Sugar Bacon
Smoked Uncured No Sugar Bacon
Uncured No Sugar Beef Hot Dogs
Uncured No Sugar Half Ham
Uncured No Sugar Smoked Kielbasa
Uncured No Sugar Turkey Bacon
Fully cooked Whole30 bacon
Ground Bison
Grass Fed Organic Ground Beef
No Sugar Chorizo
No Sugar Ground Italian Sausage
You can shop Pederson's Natural Farms products on The Simple Grocer, who Pederson partners with.
9. SizzleFish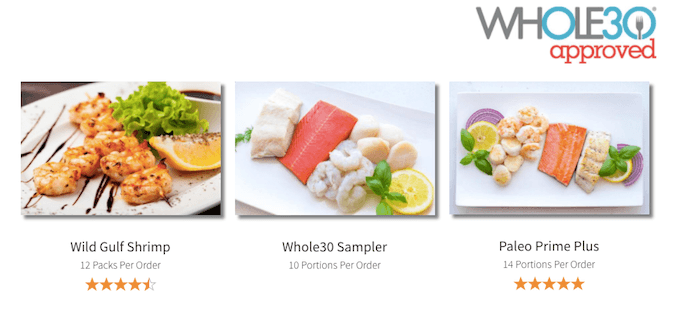 SizzleFish is an officially endorsed Whole30-approved provider of natural fish cuts that can be delivered directly to your doorstep.
They even have a Whole30 approved section to make shopping easy. Choose from a variety of selections including everything from Wild Gulf Shrimp, Sea Scallops, and Lobster Tails to King Salmon, Haddock, and Alaskan Halibut.
10. Loki Fish

Loki Fish is another provider of Whole30-friendly seafood, offering sustainably harvested, wild-caught salmon fromSoutheast Alaska and Puget Sound with just a small crew of 4 boats.
Loki Fish has their own Whole30 section, where you can choose from sockeye, coho, wild king, or wild pink salmon.
11. Naked Bacon
Naked Bacon is a Whole30-approved bacon vendor that offers a handful of compliant bacon items perfect for the pig lover in us all. In addition to purchasing online, you can find Naked Bacon locally in some parts of Missouri.
Whole30-friendly varieties include:
Sugar Free Jalapeno
No Sugar Added Bacon
Sugar Free Chipotle
Sugar Free Breakfast Sausage
***
So is grass-fed meat worth it? I think so.
After all, Whole30 is all about breaking away from the preservatives and toxins that burden most of our meals. And there's simply no denying that most of our meat is not only processed poorly and full of antibiotics, but also – depending on your perspective – has a spiritual burden as well, being raised in a manner that many consider cruel and irresponsible.
Let me be honest here – I mostly eat non-organic meat. However, when I can afford it, I try to opt for the humanely raised meat. Grass-fed meat is better for you and tastes a lot better – it's a win-win!
Have you ever tried any of the Whole30 meat providers seen here? What was your experience like? Share in the comments!