While Whole30 may seem limiting at times, it also can be incredibly eye-opening to be forced to search for flavor in places where you might not be accustomed to look.
Restrictive does not mean bland or boring–far from it! To prove it, we've rounded up a bunch of our favorite marinades for anything-but-plain proteins. Get your spice cabinet ready, because we're about to create some amazing flavors.
Chicken Marinades
This marinade from Unsophisticook is simple to make and only takes half an hour to work its magic!
Featuring balsamic vinegar and some classic pantry staple spices like Italian blend and pepper, this recipe yields some sweet, juicy chicken.
Jay's Baking Me Crazy brings us this recipe that makes great chicken…but is also wonderful on seafood, pork or beef!
A personal favorite of the blogger, this marinade is made with orange and lemon juice, coconut aminos and plenty of herbs for a sweet and savory flavor.
Looking for spice? Farmstead Chic has the answer! This zesty recipe uses lime for freshness, coconut aminos for the umami flavor, and kicks up the spice with fresh jalapeno and red chili flakes. This one makes a great game-day recipe for Whole30-friendly wings!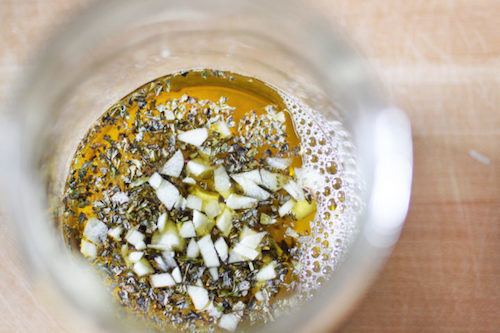 This basic marinade is a staple–with classic flavors like basil, oregano, lemon, and plenty of fresh minced garlic, this is a go-to recipe that you can turn to over and over again. Primal Palate recommends this with chicken, but it also goes great with salmon, steak, you name it!
Holistically Engineered's uses lots of lime juice, coconut aminos and coconut oil to add some tropical flavors to dinnertime. This marinade makes for juicy, succulent chicken in no time!

"Easy" and "no-fail" are exactly the kind of things we want to hear when food prepping! Inspired Taste's marinade combines some good quality extra virgin olive oil with crushed garlic cloves, lemon, Dijon mustard (check your labels!) and chili flakes for an extremely versatile and straightforward recipe. The recipe creator even recommends this blend with grilled veggies!
Seafood Marinades
Is there a better way to serve shrimp than with lime and a little kick of spice? The Recipe Critic throws together a quick marinade of lime, olive oil, chili powder, garlic, cumin, paprika and salt to pump up the flavor on some tasty shrimp. (If you want to make the creamy cilantro avocado sauce that is also featured in this recipe, make sure to sub Greek yogurt with something Whole30 compliant like coconut cream!)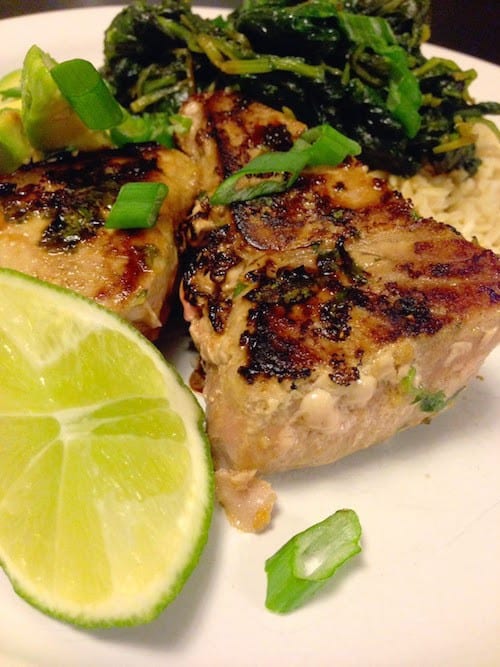 Barbell in the Kitchen puts a Whole30 twist on a ginger-soy marinade with tons of fresh ginger paired with Coconut Aminos Teriyaki, fresh cilantro and garlic. The author also notes that this marinade is also great with a bit of orange juice and zest added. Delicious!
Paleo Priests makes tasty salmon on cedar planks with a marinade made with lemon, dill, dijon mustard and garlic. Be sure to omit the optional honey in this recipe to keep things Whole30-friendly!
Pork Marinades
Forget dry, tough pork chops, The Freckled Foodie has a recipe that changes the pork game for good. A quick marinade in some apple cider vinegar, spicy brown mustard, coconut aminos and hot sauce make these pork chops tender and juicy.
This pork tenderloin from Wholesomelicious requires a little bit of forethought (the marinade needs 6-24 hours to sit!) but is certainly worth the wait. Plenty of fresh lime juice, fresh chopped cilantro, vinegar, cumin and garlic make this pork an amazing summer meal.
Another recipe that makes fresh herbs the star, Tastes of Lizzy T uses only olive oil, chopped garlic, lemon and lots of basil for a simple and sure-to-please pork chop marinade. Throw these on the grill for an added smokey flavor!
Steak Marinades
Feeling like steak? What A Girl Eats has the perfect thing! This steak marinade is packed full of flavor with parsley, cilantro, jalapeño and garlic for a chimichurri vibe. Whipped together in a food processor/blender, this marinade is as beautiful as it is tasty.
This "basic" marinade is simple to make…but tastes anything but basic! Oregano, garlic, rosemary and balsamic vinegar come together for a classic flavor combination. Just don't forget to omit the honey if you're on Whole30! The balsamic will be plenty sweet on its own here.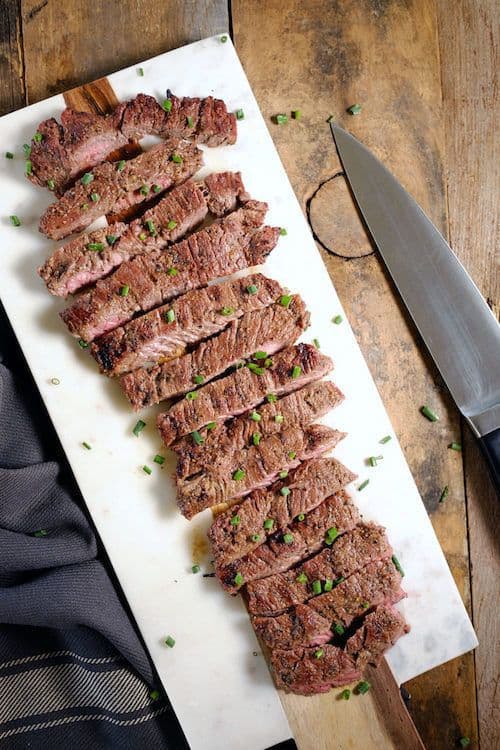 This go-to recipe from Real Simple Good is recommended for adding some extra oomph to tougher, less flavorful cuts of steak like flank or skirt steak. A soak in some apple cider vinegar, coconut aminos, garlic, onion and paprika give this steak new life!
There you have it! 15 awesome variations on Whole30 marinades for a variety of proteins and veggies alike.
Feel like taking a break from making your own? There are a couple of store-bought marinades you can turn to in times of need, such as The New Primal and Tessemae's.
Have your own go-to recipe to make your meals extra flavorful? Fill us in on your favorite marinade ingredients below!