There's nothing quite like the smells and flavors of Indian food–those spices make for some amazing culinary experiences!
While it's kind of hard to eat Indian food at a restaurant during Whole30 as most things are cooked with cream or yogurt, not to mention all the non-compliant oils, there are tons of ways to bring all your favorite Indian flavors to your own kitchen.
With the right spices, you'd be surprised at how simple it can be.
Where to even begin? Well, we've scoured the internet for some of the best Whole30-friendly Indian food recipes out there so you can make your favorite recipes right at home. Check them out below!
Appetizers and Sides
Missing those scrumptious little pyramid-shaped hand pies on Whole30? Opt instead for the deconstructed version from Nom Nom Paleo!
Ground beef, lamb or goat cooked with a blend of spices like garam masala, garlic, turmeric and cilantro for a flavorful bite. Serve in lettuce wraps to keep things Whole30!
Bored of plain cauli rice? This recipe from The Primal Desire spices things up by adding cumin, almonds and golden raisins to the mix. Serve alongside one of the curry recipes later in the post!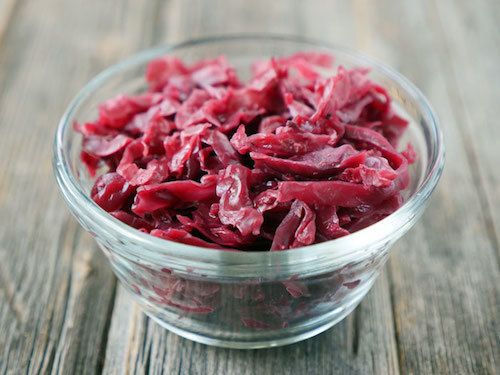 Keep your gut flora and your palate happy with this Indian-spiced sauerkraut recipe from My Heart Beets. If you've never fermented your own sauerkraut, now is a great time to try!
Red cabbage sits in a brine with spices like fenugreek, fennel, coriander, cumin, pepper and cardamom for 1-3 weeks for a new take on a classic ferment.
The Primal Desire gives us this great recipe for a side to serve with your curry protein mains. Featuring eggplant, spinach, onion, coconut milk, and plenty of Indian herbs and spices, this recipe fills your plate with veggies in the spirit of Whole30 while keeping with the Indian food theme.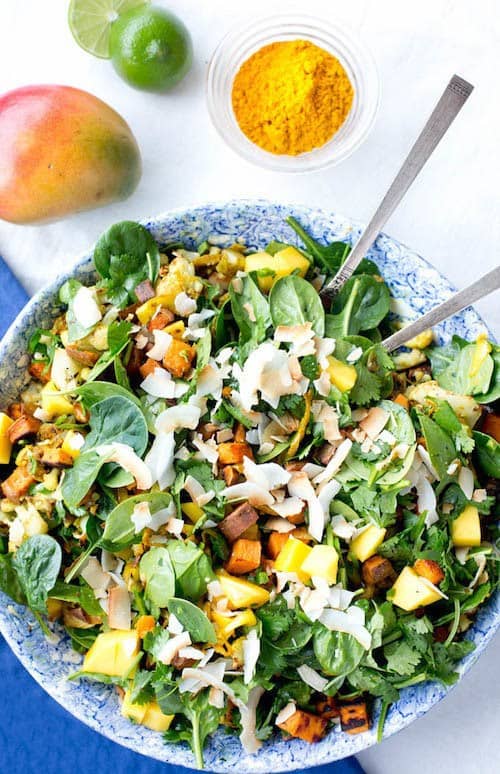 Craving those Indian flavors, but looking for something a little lighter? This salad from Our Four Forks is just the thing! Not the most authentic recipe…but the Indian spices in the sweet potato here really make the meal. Don't forget to omit all sweetener (honey and sugar) to keep this recipe Whole30-friendly!
Mains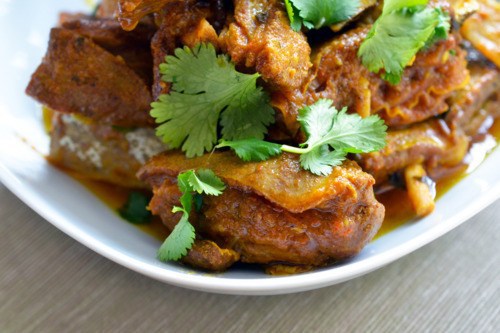 Nom Nom Paleo gives us another amazing recipe, this time for curried lamb spare ribs with a gorgeous sauce that you can throw together with your pressure cooker in under an hour! With tomatoes, garlic, curry powder, cilantro and scallions, this entree is packed with flavor.
Biryani is a wonderful Indian rice-based dish filled with a variety of ingredients. Since rice is not allowed on Whole30, Wholesomelicious created a cauliflower rice version to enjoy while on the program! Plenty of onion, garlic, and curry spices come together with cauliflower rice and chicken breast to make this satisfying all-in-one meal.
My Heart Beets is an expert when it comes to Whole30-ified curries, and this southern-Indian-inspired recipe is no different!
Fish cooked with coconut milk, lots of onions, turmeric, ginger and plenty of other herbs and spices come together in this beautiful main dish. Serve with cauliflower rice to complete the meal!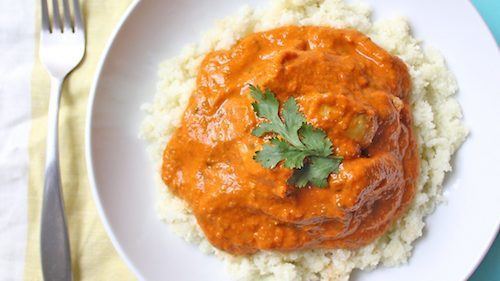 Olive You Whole brings us an incredible Whole30 version of this extremely popular Indian dish.
Chicken breasts cooked in a tomato based sauce packed with spices and made creamy with luscious coconut milk make this succulent dish that'll warm you from the inside out. Top with cilantro for a fresh addition!
Despite its name, this butter chicken recipe is Whole30-friendly and seriously comforting. Using ghee, chicken thighs, tomatoes, coconut milk, and all those Indian herbs and spices we love so much, 40 Aprons gives us this killer recipe that rivals takeout.
Craving Indian but looking for a recipe that's a little more hands-off? The Kitchn saves the day with this tikka masala recipe. Make sure to opt for the coconut milk rather than heavy cream and skip the optional "marinate in yogurt" step to keep things Whole30!
Looking for some veggies to add to your Indian recipes repertoire? My Darling Lemon Thyme has just the thing!
Cubed eggplant cooked with ghee, onion, ginger, and plenty of other Indian spices makes this melt in your mouth eggplant dish that gets even better as leftovers sit. Serve alongside a protein with a hearty helping of cauliflower rice.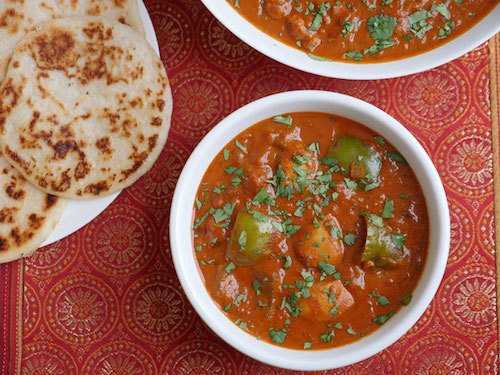 Another butter chicken recipe…because it's just too good to not share! My Heart Beets makes a beautiful marinade from coconut cream, lemon juice, and plenty of spices like coriander and garam masala to make this chicken juicy and tender.
Cooked in a tomato sauce with onion, bell pepper, and a kick of spice from Kashmiri chili powder, this recipe is as authentic as a paleo version can be!
Pantry Staples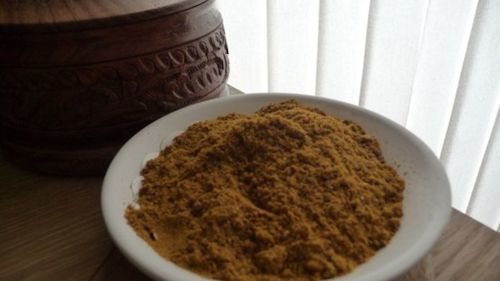 Chances are if you're working your way through this recipe list, you've reached for your curry powder a lot. Now you can make your own spice blend with this Genius Kitchen recipe!
Blend together whole spices like peppercorns, cinnamon, cardamom, and cloves (among many others!) to make a super fresh and super customizable homemade spice blend for all of your curries.
Ghee is used in all sorts of Indian food recipes and is a great pantry staple to have on hand for your Whole30. Learn how to make your own here and, if you're feeling like taking your ghee to the next level, try A Calculated Whisk's DIY recipe for chai-spiced ghee from scratch.
Use your spiced ghee on a baked japanese yam or blend it with some black tea and cinnamon for a Whole30 take on a chai latte!
So there you have it, 15 Indian food Whole30 hits to add some spice to your program. Did we forget your favorite? What's your favorite Indian spice? Tell us in the comments below!