Curry is a staple in many countries, especially Asian countries and in India. Often cooked with a variety of aromatic spices, many curry recipes are naturally Whole30-compliant (except for the ones which use dairy and soy-based ingredients). Even those curries that need a little fiddling can often easily be made compliant with some fine-tuning and coconut milk substitutions.
Listed below are curry recipes from different countries that are modified with Whole30-friendly ingredients. So take a look and let us know which ones you picked as your family favorites!
And of course, while rice is out on Whole30, cauliflower rice is a go!
1) Coconut Chicken Thai Curry
With this Whole30-compliant Coconut Chicken Thai Curry recipe from Tastes Lovely you won't even miss your favorite Thai takeout spot.
2) Kaccha Keema Curry
Curry Trails' Kaccha Keema Curry is a sumptuous recipe of juicy keema balls cooked in a creamy curry of grated coconut, mint leaves, coriander leaves, and an array of spices.
3) Scrummy Coconut Lamb Curry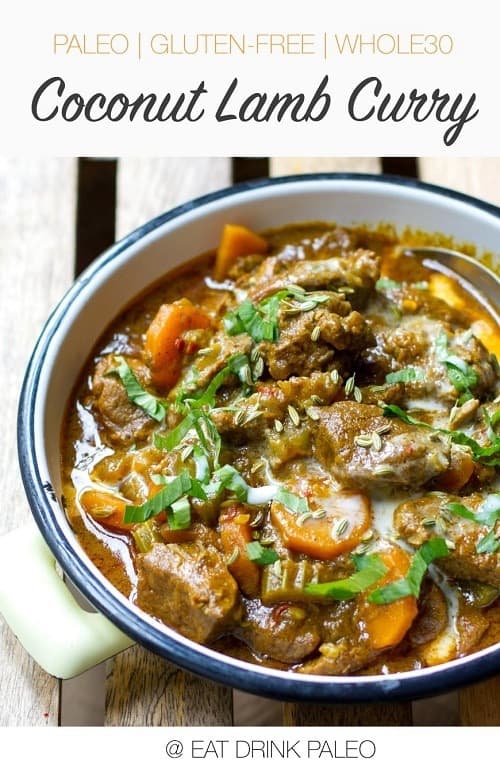 Great alongside cauliflower rice, this Lamb Curry from Eat Drink Paleo is cooked with coconut milk for a rich, creamy texture that's simply irresistible.
4) Chicken Panang Curry with Cauliflower Rice
This Malaysian-favorite from Paleo Grubs calls for fish sauce, so make sure that you opt for a fish sauce brand that's Whole30-compliant and good to go for this diet.
5) Kerala Egg Curry
As per Sandhya Hariharan's recipe of Kerala Egg Curry you will simply have to sauté the spices for the curry paste and then simmer the boiled eggs in the curry for a few minutes to get a side dish that's full of flavor and awesomeness.
6) Instant Pot Chicken Curry
This 1-Pot Chicken Curry Recipe from Jay's Baking Me Crazy has a perfect balance of warmth and flavors from the tomato, ginger, and coconut milk.
7) Slow Cooker Mango Chicken Curry
Great for the summer, this refreshing Mango Chicken Curry from Food Faith Fitness uses coconut milk, a handful of colorful veggies, and mango juice for a tropical twist.
8) Lamb Rogan Josh
Lamb Rogan Josh is known for its juicy chunks of meat cooked in a spicy, flavor-intense curry and this Whole30-compliant recipe from Slimming Eats is one to treasure for your program.
9) Curry Cabbage
This meatless Curry Cabbage from Healthier Steps is a great lunch or dinner option for vegetarian or vegan Whole30 followers.
10) Butternut Squash Chicken Curry
This Slice Of Jess's recipe with chunky pieces of butternut squash and chicken is cooked with curry powder and coconut milk for an Asian twist.
11) Shrimp Curry in Creamy Coconut Sauce
Cooked with coconut aminos, cashew butter, and coconut milk, this Whole30-modified Shrimp Curry from One Lovely Life will be your go-to seafood dish for family gatherings.
12) Curry Meatballs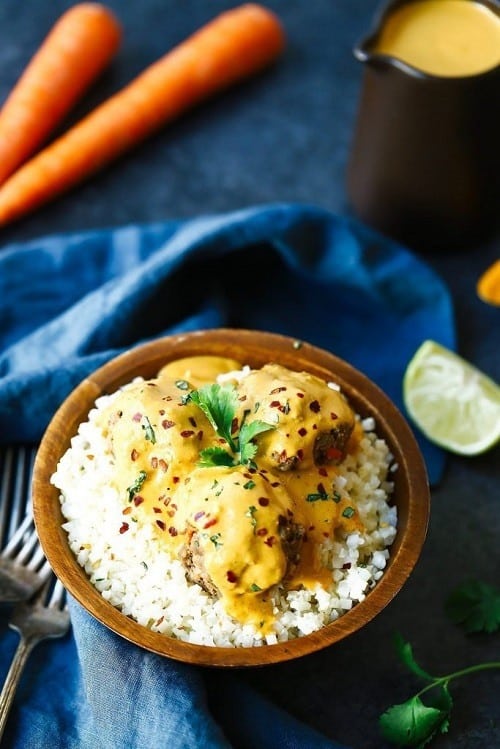 Inspired from Thai red curry, this Curry Meatballs recipe from The Movement Menu uses flaxseed meal and cauliflower rice for a boost of nutrition.
13) Thai Pineapple Paleo Chicken Curry with Coconut Milk
This creamy Paleo Pineapple Chicken Curry from Food Faith Fitness is cooked with coconut milk and will soon be a family favorite.
14) Chicken Tikka Masala
This Whole30-version of Chicken Tikka Masala from 40 Aprons is super yummy and creamy, even without the dairy products.
15) Easy Curry Beef Bowls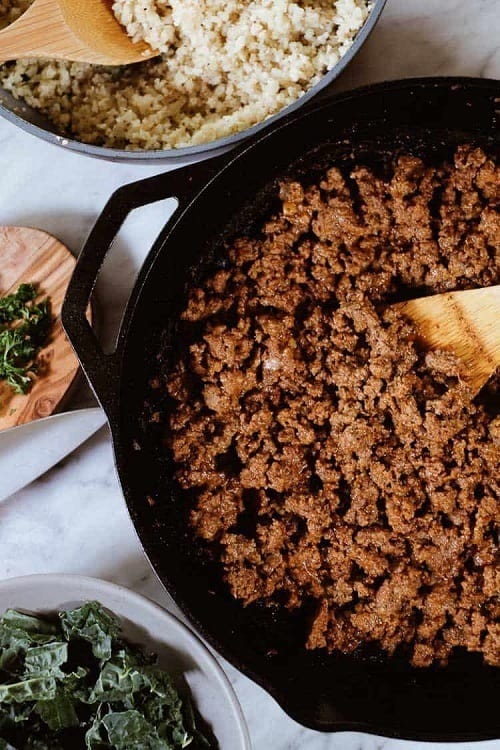 This Curry Beef Bowl recipe from Real Simple Good features a quick toss of ground beef and cauliflower rice in curry powder and a handful of spices.
16) One-Pot Chicken and Lemongrass Coconut Curry
Lemongrass adds a hint of tang to this creamy One-Pot Chicken and Lemongrass Coconut Curry recipe from Paleo Bailey.
That concludes our list of Whole30 curry recipes. We hope these curries warm you inside and out! Did we miss any of your favorite Whole30-friendly curries? Share your picks in the comments!