Who doesn't love a good burger? They're a great source of protein and a wonderful base to build a meal around.
Throw a burger on a salad or whip up a "bun-less" option and serve with some roasted sweet potato wedges to keep it Whole30-friendly.
The wonderful thing about burgers is that they're incredibly customizable. Not a fan of the classic beef, but love lamb? Don't eat red meat, but can't get enough fish? You can make a burger out of pretty much any protein…and even if you're a vegetarian, there are options for you!
In this post, we've rounded up a bunch of our favorite Whole30-friendly burger recipes made from a variety of ingredients…there's something for everyone in here. Let's get cooking!
Classic Beef Burgers
This "perfect" recipe from Stupid Easy Paleo is a beef burger topped with avocado mousse and pan-fried parsnip shoestrings. Sounds perfect to us! (Just don't forget to make sure the Dijon mustard you use in this recipe is compliant.)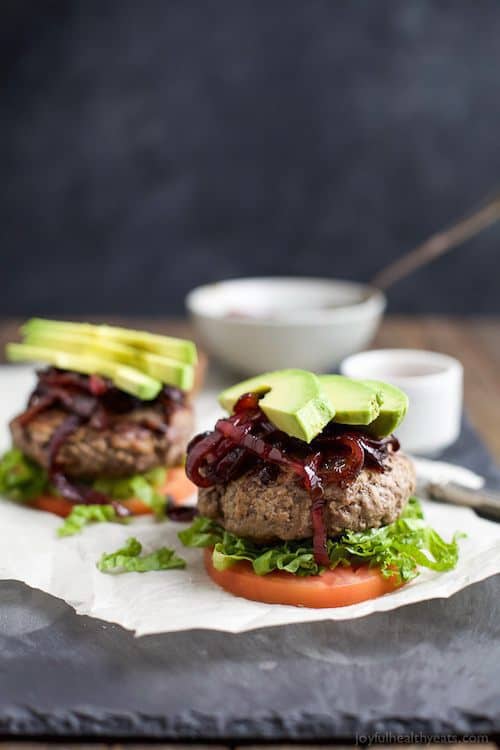 Put caramelized onions on pretty much anything and we're in. The onions on this burger from Joyful Healthy Eats truly add an incredible savory sweetness, balanced beautifully with the fresh flavor of avocado. Delicious!
Olive You Whole's jerk-spiced burger seriously packs a flavor punch. With over ten different herbs and spices, this beef burger is anything but boring. Top it with a ring of pineapple for some added sweetness and tropical flair!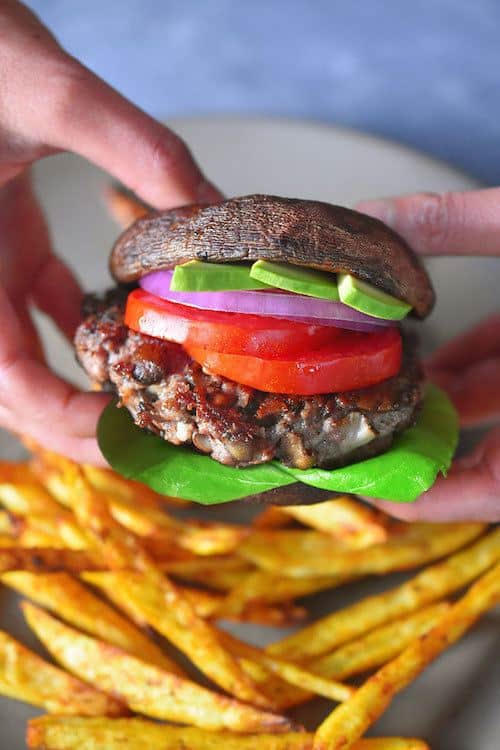 Bacon and mushrooms in these incredible Nom Nom Paleo burgers load up on the umami flavor. Wrap in lettuce or roast a couple of portobellos for some no-bun buns.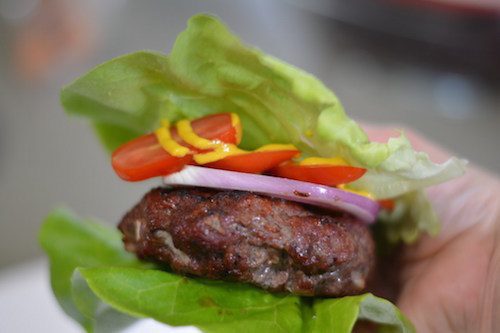 This classic burger recipe from Modern Primal Kitchen features diced onions and coconut aminos for some extra yum-factor. Serve wrapped in lettuce and topped with some good-quality tomatoes and your favorite compliant condiments.
Whole30 Poultry Burgers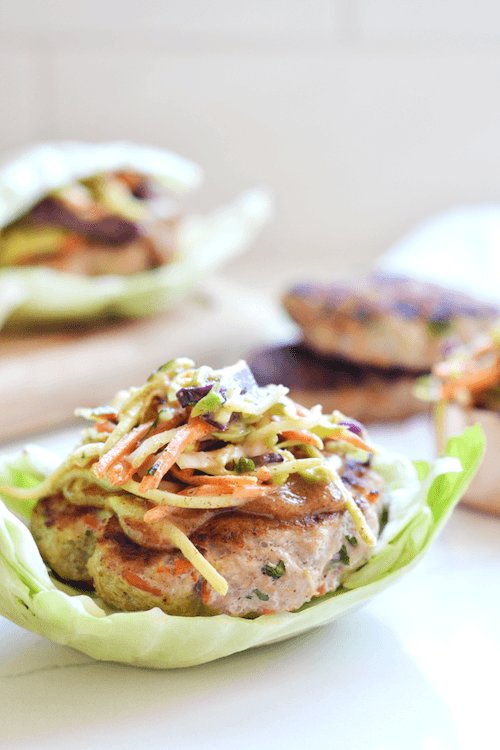 Little Bits Of brings an Asian twist to the turkey burger by adding cilantro and ginger and topping it all off with a Thai-style almond butter sauce and coleslaw. Make sure you eat this one with a fork and knife—the toppings might not make it to your mouth if you try this one by hand!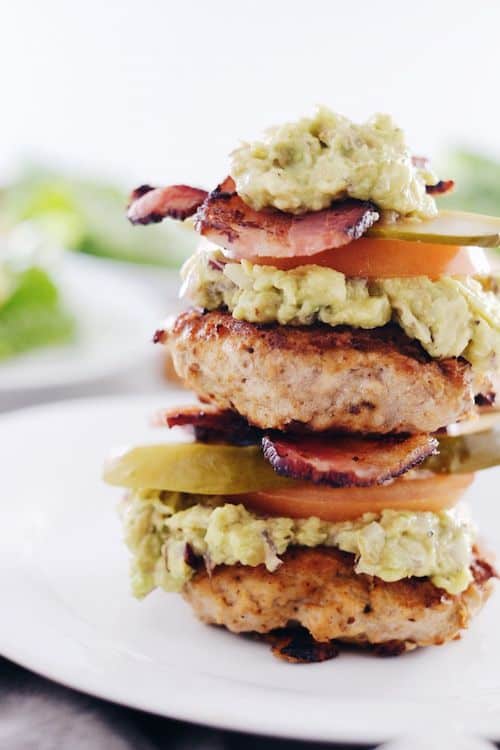 Real Simple Good's turkey burger recipe uses chipotle powder and bacon to add a deep, smoky flavor. Serve with avocado in lettuce wraps for an easy lunch or dinner. Yum!
Another turkey burger featuring south-of-the-border flavors, The Hungry Mommy's recipe adds cilantro, jalapeño, and your favorite compliant hot sauce for an added zing!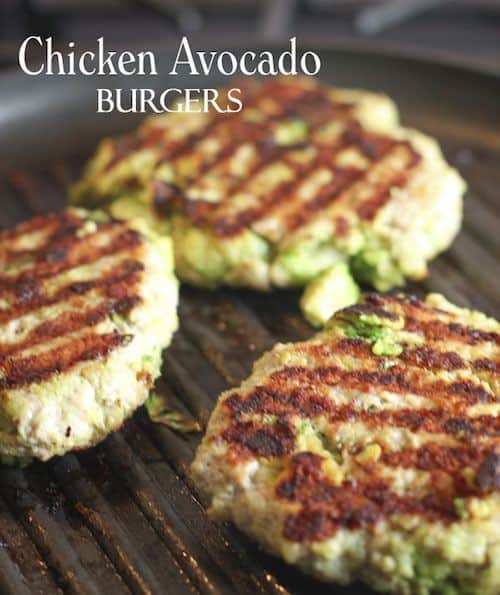 Avocado lovers, this one's for you. This chicken burger recipe from Laughing Spatula uses whole chunks of avocado folded into the meat for a huge pop of avocado flavor. Add a chopped poblano or jalapeño for some added zing!
Looking for a more classic chicken burger? PaleOMG has you covered. Served with asparagus and avocado, this meal has the veggies, protein and fat to keep you full and your tummy happy.
Whole30 Fish Burgers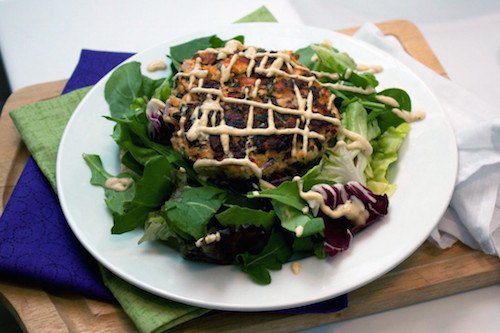 These seafood burgers from Home Sweet Jones feature ingredients like basil, lemon and a delicious mustard sauce for a light, fresh take on a burger. Just make sure your mustard is compliant. If you can't find a compliant worcestershire sauce, sub balsamic vinegar or coconut aminos…or you could always make your own!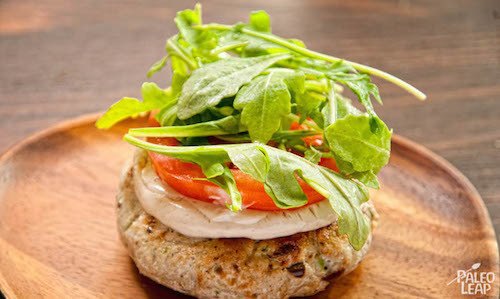 Paleo Leap's tuna burgers have kalamata olives, scallions and anchovy paste for some extra-savory flavors. Serve on a salad with a squeeze of lemon for a fresh summery meal!
These "fish cakes" from Perchance to Cook aren't necessarily burgers…but close enough, right? Made from tilapia, they're reminiscent of crab cakes and perfect over salad.
Lamb Burgers
Craving some Mediterranean flavors? Zen Belly has the perfect recipe! This recipe for lamb burgers uses lemon, mint and parsley and is served with a dairy-free (and totally Whole30-friendly!) tzatziki recipe. Serve in lettuce wraps with red onion and hearty tomato slices.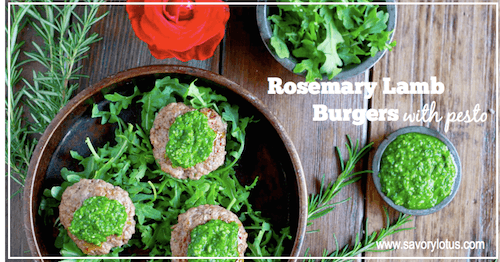 We're always looking for more ways to add fresh herbs to our dishes, so this Savory Lotus recipe is a huge win! The rosemary in this recipe goes beautifully with the lamb, not to mention this amazing, compliant pesto-recipe for topping off the burgers. Delicious!
Bison Burgers
These genius bison sliders from My Healthy Happy Home sit on little roasted sweet potato rounds. Topped with guacamole and smoky bacon, these little sliders are certainly a crowd-pleaser. These make great apps for entertaining on Whole30!
The Feedfeed throws a perfectly fried egg on top of their bison burger…making us seriously consider burgers for breakfast an option. Topped with sea salt, sesame seeds, avocado and basil, this recipe are seriously hearty with tons of fresh flavor!
Whole30-Friendly Veggie Burgers
Didn't think we'd forget veggie options, did you? Lexi's Clean Kitchen's mushroom burgers have that umami flavor we love from the mushrooms, plus some good carbs from the sweet potato to keep you going and tons of great seasoning. Serve over lettuce with all your favorite burger fixings.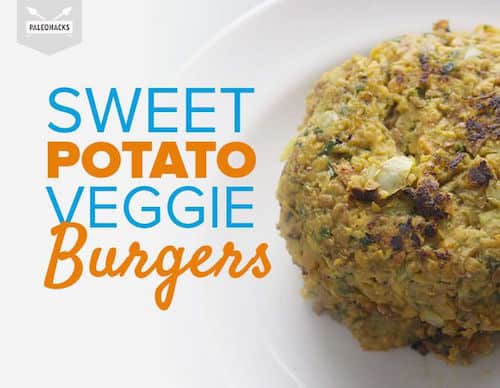 These sweet potato burgers from Paleohacks are packed with not only with one of our favorite Whole30 starches, but fresh spinach as well! A creative way to get some extra greens in, this recipe is a great one to add to your rotation for a meatless meal.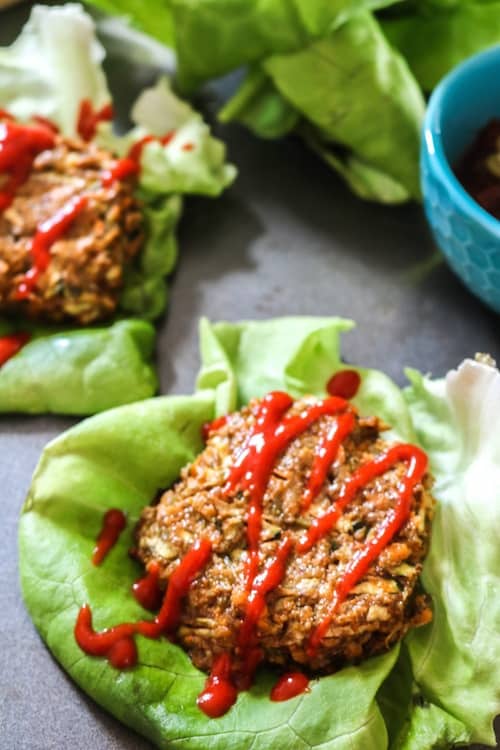 A Mind "Full" Mom has yet another way for us to add extra veggies into our burger patties: with zucchini! Seasoned perfectly with chili powder, cumin, garlic and onion, these burgers are nutritionally dense and simple to prepare.
***
Well, there you have it! 20 of our favorite burgers to make on Whole30, from beef to fish to vegetables. Do you have a go-to burger recipe that we missed out on? What are your favorite compliant burger toppings? Let us know in the comments below!