Are you a big fan of Brussels? We sure are! This hearty and tasty veggie has become a popular plate favorite in recent years.
The era of flavorless boiled Brussels sprouts is over – check out these delicious Whole30-friendly Brussel Sprouts recipes that will have you wanting to include these sprouts in every meal!
These Crispy Garlic Brussels Sprouts come from Pale Hacks. A tried and true classic, this is a great dish for those just beginning to cook with marvelous Brussels!
This irresistible Roasted Brussels Sprouts & Bacon recipe can be found at Nom Nom Paleo. Using ghee, sugar-free bacon, and aged balsamic vinegar, this is a great Whole30-friendly side dish (just make sure to use compliant bacon and balsamic).
This tasty Chicken Brussel Sprouts & Bacon recipe comes from Paleo Running Momma Using skinless chicken breasts, brussels sprouts, coconut oil,  coconut milk, tapioca flour, and sage leaves, this dish is a dinner favorite.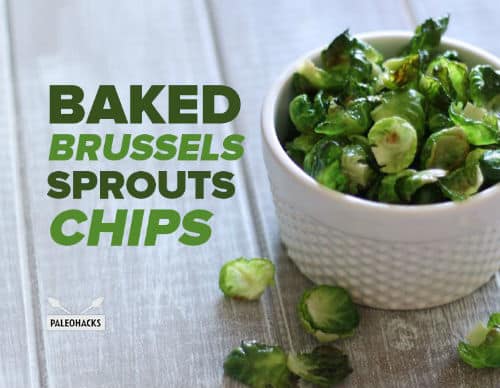 These chomp-inducing Bakes Brussels Sprouts Chips come from Paleo Hacks.
These Roasted Brussel Sprouts with Bacon and Apples recipe can be found  at Paleo Running Momma. This recipe is made from Brussels sprouts, pink lady apple, nitrate-free bacon, and fresh rosemary.
This recipe for Roasted Brussels Sprouts comes from Primal Palate, relying on organic coconut oil,  garlic, and brussels sprouts.
This paleo and Whole30-friendly Brussels sprout slaw comes from The Movement Menu. This recipe uses brussels sprouts, red cabbage, hemp seeds, pitted & soaked dates, and bacon. It's healthy, vibrant and delicious!
This sweet potato and Brussels hash comes from Real Food With Dana. With red onion, garlic, and paprika, this wholesome hash is great for breakfast or lunch!
This Roasted Brussel Sprouts with Grapes recipe comes straight from Paleo Leap. Using red grapes, walnuts, olive oil, balsamic vinegar, and fresh thyme results in some wonderful and unexpected flavors.
This Roasted Fennel and Brussel Sprouts with Orange & Almond recipe can be found over at Paleo with Mrs P. This Whole30 recipe includes fennel, shallots, almonds, and orange for a dish that mixes sweet and savory with perfection.
This Pomegranate Balsamic Brussels Sprouts recipe originates from Plaid & Paleo. Simple yet tasty, this easy Brussels dish is great when you don't want to work too hard in the kitchen.
This Whole30-friendly Brussels Sprouts & Spinach Truffle Frittata originates from Paleo OMG. Using eggs, brussels sprouts, fresh spinach, bacon fat, avocado, and garlic, this dish is full of flavor and can be made in just 20 minutes!
This Paleo Brussel Sprouts, Blueberry, & Bacon Salad from Stupid Easy Paleo is another drool-worthy dish. With crispy Brussels, sweet blueberries, savory bacon, and a tangy lemon tarragon dressing, it's the perfect summer salad!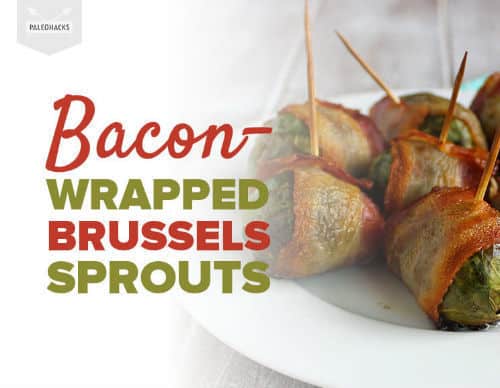 These Bacon-Wrapped Brussels Sprouts comes from Paleo Hacks. Just wrap your Brussels and bake them for the perfect party appetizer!
This Brussel Sprouts & Cauliflower Soup recipe comes from our friends over at SkinnyTaste. This creamy, dairy-free soup has a fantastic texture in a dish that's light, yet filling!
That concludes our collection of Whole30 Brussel Sprouts recipes! Any favorite dishes of your own that we missed? Share your top Whole30-compliant Brussels recipes in the comments!