Perfect for desserts, salads, and even main meals, apples can be used in Whole30 recipes to replace artificial sweeteners and enhance the flavor of dishes.
Listed here are some Whole30 recipes that are prepared with apple as one of the primary ingredients and are worth giving a try if you are craving variety in your Whole30 journey.
1) Butternut Squash and Apple Hash with Sausage
This quick Butternut Squash and Apple Hash with Sausage from the Real Food Dieticians is incredibly filling and great to start your day with a bang. Just be sure to choose a Whole30-compliant sausage for this recipe.
2) Sautéed Apples
The raisins add to the sweetness of this Sautéed Apple recipe to satiate your sweet tooth cravings. (Recipe from The Whole Cook)
3) Roasted Carrot Apple Soup
Loaded with apples, pecans, carrots and herbs, this soup from Our Salty Kitchen is super comforting and nutritious.
4) Grain-Free Apple Crisp
This delicious Apple Crisp recipe from Living Well Mom is a must-have dish for your fall-themed parties and family gatherings.
5) Apple Onion Pulled Pork
Your looking at a Pulled Pork recipe that's Whole30-compatible and unbelievably tasty without the added carbs. What more can you ask for? (Check out the recipe from Thank You Honey Blog).
6) Broccoli Apple Salad
This bright and sunny salad with loads of texture and crunch from apples, nuts, and broccoli can be prepped ahead for a quick weekday meal. (Recipe sourced from Kim's Cravings).
7) Cinnamon Sweet Potato Apple Bake
Cinnamon enhances the flavor of this gorgeous Sweet Potato Apple Bake from The Real Food Dieticians.
8) Apple Cinnamon Hot Cereal
This Apple Cinnamon Hot Cereal from Paleo Gluten Free literally takes 1 minute to a nutritious, filling breakfast that's super yummy as well!
9) Apple Almond Butter Sandwich
These delicious Apple Almond Butter Sandwiches from 5 Dollar Dinners are kid-friendly but the adults in your home may devour them too!
10) Pumpkin Apple Breakfast Bake
Wholesomelicious' Pumpkin Apple Breakfast Bake combines pumpkin puree, eggs, coconut milk, banana, seasonings, apple, and pecans for a healthy, make-ahead breakfast.
11) Curried Chicken Salad with Apples
Got some leftover chicken? We recommend preparing this Curried Chicken Salad with Apples from Tasty Thin for a delicious dish.  Simply toss the shredded chicken with apples, curry powder, almonds, and a handful of other ingredients for a hearty meal.
12) Homemade Apple Pie Larabars
These protein-rich Apple Pie Larabars from Bakerita take just 10-minutes to prepare with no baking required!
13) Prosciutto and Rosemary Baked Apples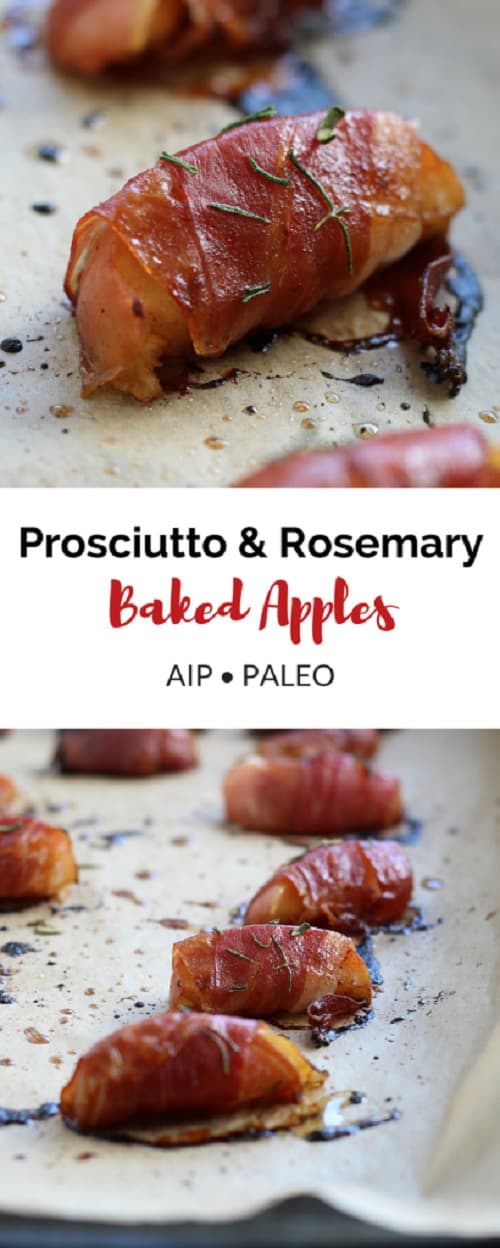 Impress your guests while staying Whole30 guilt-free!  Just wrap apple slices in prosciutto and pop them in the oven until golden and crisp. Your party appetizers will be ready in almost no time! (from Food And Sunshine).
14) Baked Pork and Apple Meatballs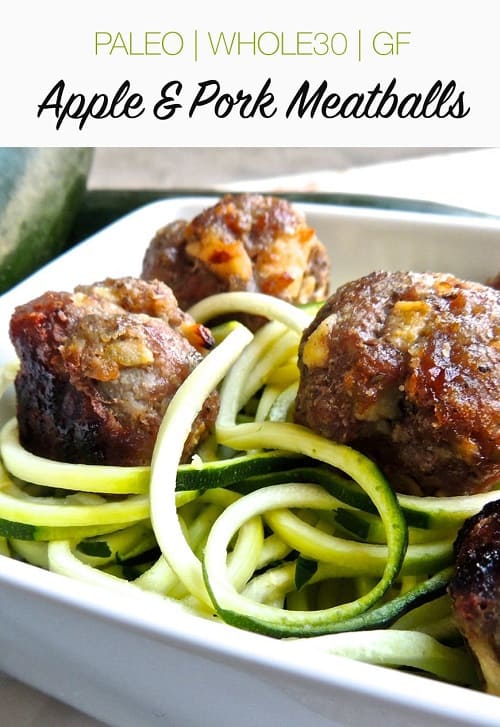 Tender and juicy, these Baked Pork and Apple Meatballs from Eat Drink Paleo are decadent with a hint of sweetness and kick of saltiness.
15) Apple Coconut Breakfast Bowl
Nail the day with this simple Whole 30 Apple Coconut Breakfast Bowl from Prevention RD.  This quick and hearty breakfast can be whipped up in just 5 minutes with a food processor!
With that we conclude this list of 15 Whole30 apple recipes. Let us know which one you think is the best in the comments below.  Do you have a favorite we missed? Be sure to share it in the comments.