What Is Thrive Market?
Thrive Market is basically an online catalogue for health food (mostly pantry items).
This in and of itself is nothing so new, but what's cool about Thrive is that they actually offer deep discounts through their wholesale pricing, which is 25-50% off what you'd find these same items priced for at a standard grocery store. Thrive can do this because they work directly with major health food brands and pass on the savings to members.
It can feel a little weird paying a membership fee, but think about it this way – normal grocery stores have to upcharge to make a profit, which is why their prices are so much higher than you'll see on Thrive. Thrive offers you these awesome wholesale prices, but they still have a website to maintain, which is why there's a membership fee.
The membership to Thrive is $60/year, but once you see the crazy discounts Thrive offers the math starts to add up really quick and you realize just how much you can save (especially if were' talking about feeing a whole family organic, non-gmo foods).
Thrive actually has a great deal where they promise that your membership will pay for itself in terms of savings within your first year of membership. If not, they reimburse you the difference in Thrive credit. Most folks actually have their membership pay for itself within their first two or three orders.
Thrive Market even lets you try their system out free for a 30 day trial! AND to sweeten things, they're currently doing a 25% off and free shipping deal!
Basically, it's impossible to not get the good end of the deal here.
How Thrive Market Can Help With Your Whole30
If you've ever done Whole30 before, you know what a trial it can be to spend hours combing your local super market, squinting at tiny food labels, and shaking your fist at the sky like a mad women when you discover that there's dextrose in that darn coconut milk.
Thrive Market makes it easy as sweet potato pie to stock up on Whole30 essentials without growing grey hairs at the grocery store.
They really do a stellar job making it easy – Thrive Market actually has a Whole30 starter kit with a selection of basic stock items you'll probably want when you begin your Whole30 journey.
Thrive's Whole30 Starter Kit (which is officially endorsed by Whole30 BTW) includes:
Organic Virgin Coconut Oil
A 3-Pick of Wild Albacore Tuna
Grass-Fed Beef Bone Broth
Beef Apple and Uncured Bacon Bar o
Greek Vinaigrette with Avocado Oil
Just knowing that you're getting products that are 100% Whole30 approved is a pretty big relief. Trust me, I've spent enough hours sweating it out in the aisles of Trader Joes to know.
What's really cool is that Thrive has much more than just that starter kit. They actually have a whole section of their website dedicated to Whole30-approved goods.
We're talking oils, meats, nuts, the whole deal! And best of all, this stuff is delivered right to your door, so you don't have to lug 2 tons of groceries across town.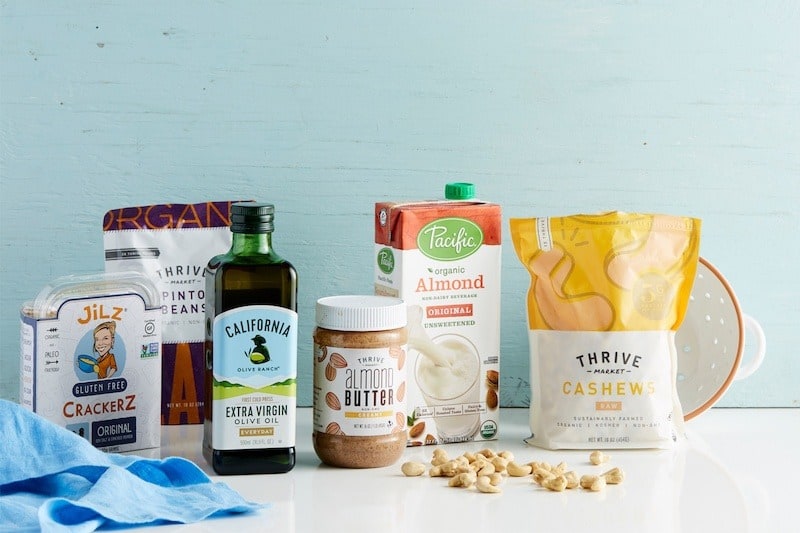 Our Favorite Whole30 Items To Grab at Thrive Market
Thrive Market's collection is pretty extensive, so we can't list everything they offer here. But we're happy to highlight a few favorite items of ours and stuff other Whole30-ers have loved.
Nutpods. These things are awesome almond and coconut based non-dairy dreamers that are a life saver for making a good cup of Whole30-friendly coffee. Grab Nutpods here!
Kettle & Fire Bone Broth. I recently got to try Kettle & Fire Bone Broth for the first time, and it's awesome stuff – definitely beats poking at your own broth on a stovetop for 18+ hours. Grab Kettle & Fire Bone Broth here!
Justin's Classic Almond Butter. If you're a nut-butter enthusiast like me, you'll probably want to try Justin's – like everything else on this list, it's 100% Whole30 compliant, made of just almonds and oil. Grab Justin's Almond Butter here!
Thrive Ghee. Thrive actually has their own brand of ghee, which is a must-have Whole30 pantry item. Grab Thrive Ghee here!
Epic Chicken & Sriracha Meal Bars. We talk all about the different kind of Whole30 bars here, and Epic is one of the few brands that is officially backed by the Whole30 program, since their bars include meat and not just fruit with nuts. Grab Epic Bars here!
Thrive Market Coconut Milk. Depending on your grocery store, compliant coconut milk can be tough to come by. It's a main ingredient in many Whole30 recipes (not to mention it makes a great coffee creamer), so most Whole30-ers consider it a must-have item. Luckily Thrive Market offers this compliant variety. Grab Thrive Market Coconut Milk here!
Coconut Secret Coconut Aminos. Again, Coconut Aminos is another staple most Whole30-ers would consider a must-have. Sometimes you can find it in local grocers, but not always. It's used often as a soy sauce substitute, and is common in many Whole30 recipes. Grab Coconut Aminos here!
Red Boat Fish Sauce. If you plan on cooking any Whole30 asian dishes during your program, you'll probably want some fish sauce on hand. It's tough to come by compliant versions, but this one my Red Boat is safe and sound! Grab Red Boat Fish Sauce here!
Coconut Flour. Coconut flour is often used as a traditional grain flour substitute for coating meats and other recipes. Grab coconut flour here!
Almond Flour. Used for similar reasons as above – some recipe prefer almond flour over coconut flour, but either should work. Grab almond flour here!
Seriously, between the label-reading, the aisle-searching, and the general stress of visiting a packed supermarket on a Sunday, going the delivery route with programs like Thrive Market is a pretty smart solution.
If you've ever done Whole30 before and had to buy products like these at the grocery store, than you're probably in the process of pulling you jaw off of the ground. Yup, these prices are pretty sweet.
I know I for one spend a fortune every time I embark on another round of Whole30. Thrive definitely can help a long way into making your next Whole30 program more affordable, so it's pretty fantastic that they offer so many Whole30-approved products!
Click here to try Thrive Market free for 30 days & get free shipping + 25% off your first order!
Have you used Thrive Market? What are your thoughts? Tell us in the comments!