A Complete Guide to the Mediterranean Diet: Overview, Food List, & Meal Planning
Note: Some sections of this article include sponsored content from Blue Apron.
The Mediterranean Diet Concept
The general concept of the Mediterranean diet involves eating foods that the Greeks, Italians, and other people bordering the Mediterranean Sea traditionally have consumed.
These Mediterranean communities are focused on a diet of seafood, fruits, veggies, whole grains, and healthy fats (predominately olive oil – if you know Italians, you know the love olive oil)!
Many foods that are common in the Western diet, like dairy, red meat, sugar, saturated fats, and processed grains, are shunned or only consumed in limited quantities.
Instead, the Mediterranean diet relies on fresh, minimally processed foods with an emphasis on herbs, spices, and healthy unsaturated fats.
Benefits of the Mediterranean Diet
Research has shown that folks in the Mediterranean region, following a Mediterranean diet, tend to be healthier than Americans with lower disease risk.
The Mediterranean diet has been shown to help with:
Weight loss
Prevent heart attacks and strokes
Lower risk of type 2 diabetes
Some newer studies even imply that the Mediterranean diet may be helpful in preventing Alzheimer's disease, Parkinson's disease, and cancer.
What to Eat on the Mediterranean Diet
Fish and Seafood. These will be your primary protein sources – it's suggested you eat fish and seafood at least twice a week, if not more. Popular items include salmon, haddock, tuna, shrimp and shellfish like lobster, oysters, mussels, crab, etc.
Vegetables and Fruits. All fruits and vegetables are heartily encouraged on the Mediterranean diet! Popular choices include tomatoes, broccoli, kale, spinach, onions, artichoke, eggplant, cauliflower, carrots in the veggie department, as well as fruit like apples, bananas, oranges, strawberries, grapes, etc
Nuts and Seeds. These serve as additional sources of protein and healthy fats. Similar to olive oil, nuts and seeds contain unsaturated fatty acids as well as beneficial omega-3 fatty acids. Includes almonds, walnuts, hazelnuts, cashews, sunflower seeds, pumpkin seeds, etc. Opt for unsalted and non-candies varieties. Despite the healthy fats, nuts and seeds are still high in calories, so stick with just an ounce or two per day.
Legumes. Beans, peas, lentils, peanuts, chickpeas, etc. 
Potatoes, Whole Grains, Whole-Grain Breads. Includes white potatoes, turnips, sweet potatoes, whole wheat bread, whole wheat pasta, brown rice, rye, barley, couscous, buckwheat, and whole oats. While whole grain breads and pastas are recommended, avoid processed white breads and pasta.
Herbs & Spices. Pepper, basil, cinnamon, rosemary, mint, etc.
Healthy Fats. Healthy fats are a major component of the Mediterranean diet, keeping you full and fueled for longer! Extra virgin olive oil is the healthy fats super star, but other healthy fats include olives, avocados, avocado oil, coconut oil, and more. Hellooo avocado toast!
The Mediterranean diet encourages consumption of healthy fats and oils that contain unsaturated fatty acids (shown to lower harmful cholesterol), as opposed to saturated fats, which aren't good for the body.
What's Allowable in Moderation
These foods can be eaten on the Mediterranean diet, but they shouldn't be eaten as often as the foods above.
Poultry. Chicken, turkey, duck, etc. 
Eggs. All types of eggs are encouraged in moderation as a protein source and can be cooked any number of ways (such as fried, scrambled, poached, and hard-boiled). Check out our full list of Mediterranean diet breakfast recipes for AM eating inspiration with and without eggs.
Dairy. Low fat and fat free dairy can be consumed, such as low fat milk, yogurt, cheese. Opt for these lower-fat options over full-fat dairy.
Red Meat. Red meat (steak, ground beef, bacon etc) is especially rare on the Mediterranean diet, and should only be consumed very infrequently.
In the Mediterranean diet, seafood and poultry should take the place of red meat. Red meat is allowed only in very limited quantities – just 12 – 16 oz. per month. Save it for a great steak!
What You Should Not Eat
Added Sugars. Added sugars of any kind are to be avoided, like ice cream, candy, chocolate, and sugary sodas. For Mediterranean diet desserts, fruit is the way to go.
Refined Grains. While whole grains are allowed in the Mediterranean diet, refined grains are to be excluded. This includes white bread, refined pasta (aka the normal kind), bagels, cereal, etc.
Highly Processed Foods. Processed foods in general shouldn't be eaten on the Mediterranean diet. Basically, if it comes in a box, don't eat it! This also goes for foods marketed as "diet" or "low fat," since these tend to be highly processed.
Trans or Saturated Fats. Margarine, butter etc.
Refined Oils. Oils like soybean oil, vegetable oil, and cottonseed oil are not to be used. Stick with olive oil and healthy oils instead!
Processed Meats. Heavily processed meats like hot dogs, sausage, and bacon should be avoided.
What to Drink on Mediterranean Diet
Good news winos – the Mediterranean diet encourages moderate wine consumption (is that any surprise considering Italians love their vino?).
Those on the Mediterranean diet can have 1 glass of red wine each day, if you so choose.
Of course water should be consumed heavily – H2O is always good stuff! Coffee and tea are also allowed. However, sugary sodas and fruit juices should be avoided.
Mediterranean Diet Snacks
There are plenty of healthy snacks you can enjoy on the Mediterranean diet. Some ideas include:
A few handfuls of healthy trail mix with nuts and dried fruit
Fruit (such as a banana or apple slices with peanut butter)
Baby carrots and mini peppers dipped in hummus
Greek yogurt with mixed berries (a perfect Mediterranean breakfast)
Mediterranean Diet Meal Planning
Looking for an easy way to eat Mediterranean style and stay healthy?
Blue Apron is one solid option, as they've recently started offering Mediterranean Diet meal options – hurrah!
When you're trying to eat healthy, it can be such a headache constantly heading to the grocery store for fresh ingredients as you meal prep. Blue Apron serves as a nice break, delivering fresh, pre-portioned ingredients to your door so that all you have to do is whip out a pan, follow instructions, and get cooking!
While Blue Apron won't always have a full stock of Mediterranean Diet recipes, they have at least a few each week. Blue Apron's recipe deliveries make it easy to follow the Mediterranean Diet without having to shop for the specific ingredients on the approved food list – they do it for you!
I recently gave Blue Apron a try and had a great time cooking their two Mediterranean Diet meal options for that week: the Creamy Polenta & Spicy Tomato Sauce, as well as the Baked Harissa Chicken with Farro & Vegetable Salad.
I included the recipe cards for each of these below in case you want to make them on your own!
First up was the polenta dish – I've never had polenta before so was excited to have a go with this one. I'd equate polenta to a grits-like texture. The polenta, topped with a nice tomato and zucchini sauce, made a really nice meat-free Med meal!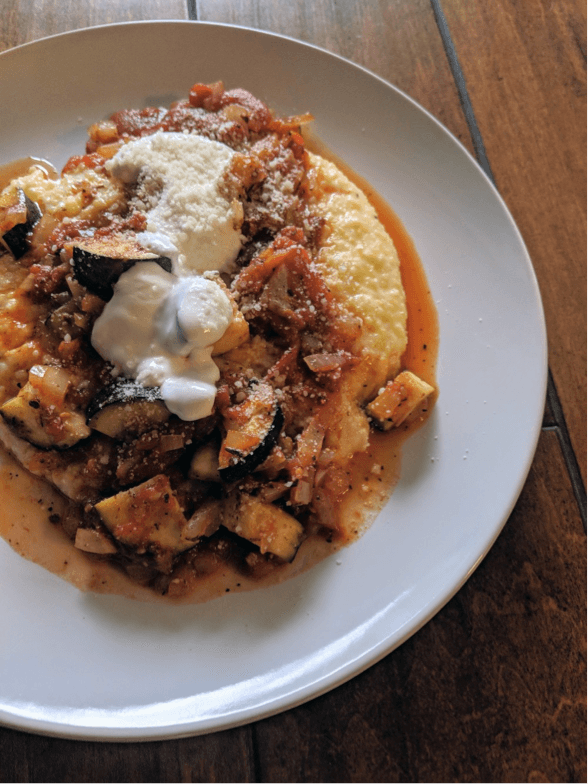 Next I had a try cooking the Baked Harissa Chicken with Farro & Vegetable Salad. I preferred this meal a bit more over the polenta dish, as it was incredibly fast and easy, taking me just about 30 minutes to cook from start to finish.
I also got try farro – another healthy, natural grain I've never tried before. This is definitely a meal I could see myself eating regularly on the Mediterranean Diet.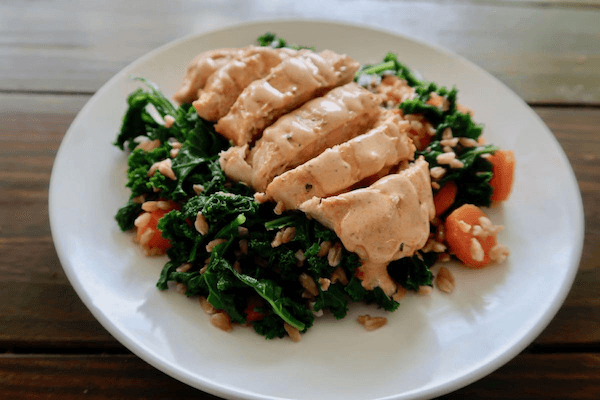 Blue Apron has actually begun offering eight different recipes to choose from each week (as opposed to the usual six), so you've got lots of options. They're also constantly adding new dishes so you're bound to find some fun meals no matter what week it is.
It's also worth noting that every meal is designed to take 40 minutes or less, so you won't accidentally find yourself spending hours over a pot thanks to a deceivingly complicated recipe.
Plus, each recipe is always 500-800 calories per person, so you're well within the healthy eating range!
Overall, if you want an easy way to eat Mediterranean Style, I'd say Blue Apron is certainly worth a try.
Plus, the first 50 of our readers will get $50 off their first two weeks of Blue Apron if you click here – awesome!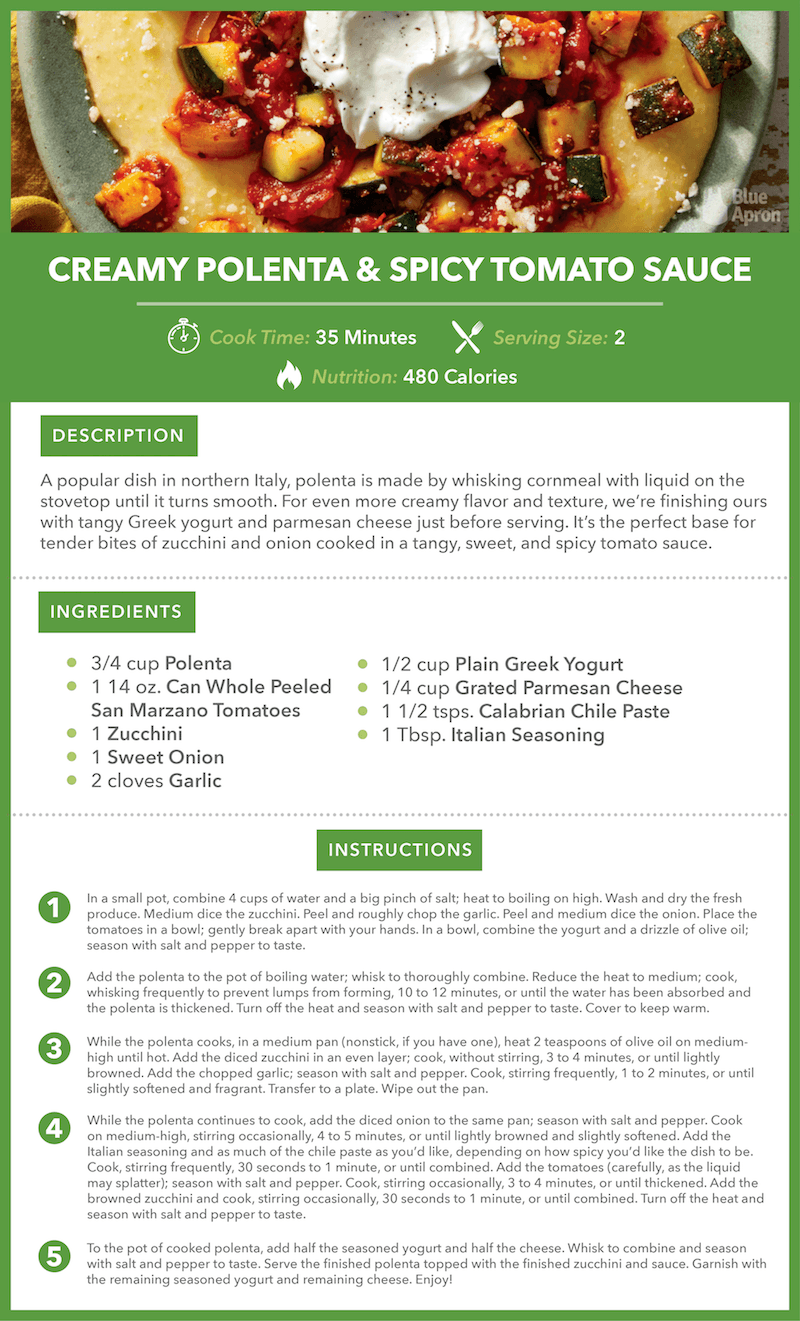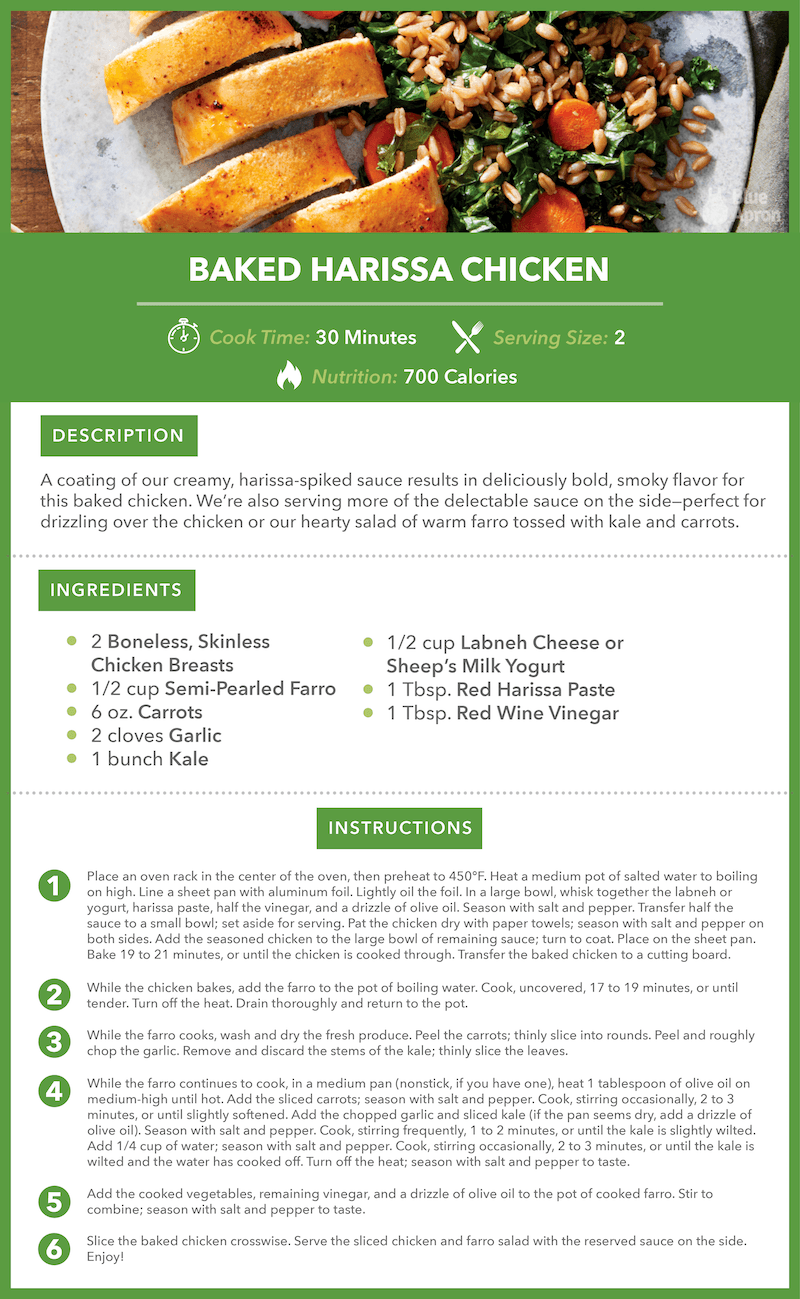 Eating Out on the Mediterranean Diet? Follow These Rules
Luckily the Mediterranean isn't especially strict or difficult to follow – it's quite easy to eat out and stay true to the Mediterranean way of life!
We suggest looking for any kind of seafood or fish dish on the restaurant menu. Ask if the chef can prepare you food in olive oil, rather than the more common soybean or canola oil.
From there, simply go for a side of salad or vegetables.
You'll likely have to pass up the bread rolls, unless you get lucky and they have whole grain bread, but this tends to be generally uncommon.
Have you ever tried the Mediterranean diet? Share your experience in the comments!