If you've decided to give the Mediterranean Diet a try, you'll need some breakfast options to get you started.  We've rounded up 15 Mediterranean Diet breakfast recipes to kick-start your day and inspire you.
Check out these breakfasts fit for a queen!
1) Mediterranean Flatbread
This recipe for Mediterranean Flatbread from This Savory Vegan will take you straight to Italy! Pizza dough, pesto, grape tomatoes, olive oil, oregano, pepperoncini peppers, and fresh arugula make a tasty morning treat that is light and fluffy. Use whole wheat pizza dough to stay Mediterranean Diet-compliant.
2) Blackberry Ricotta Toast
Whole wheat bread, ricotta cheese, fresh blackberries, and honey; just 4 simple ingredients is all you'll need to make a Blackberry Ricotta Toast.  I Heart Vegetables creates this beautiful and bountiful breakfast recipe to brighten your day!
3) Strawberry Coconut Breakfast Bake

Strawberries make a sweet and satisfying breakfast choice. This Strawberry Coconut Breakfast Bake recipe by Wholesomelicious are created using common ingredients like unsweetened coconut flakes, coconut oil, unsweetened nut milk, strawberries, and banana.
4) No-Bake Peanut Butter Oatmeal Bars
These No-Bake Peanut Butter Oatmeal Bars by Far From Normal are mind-blowing! Simply mix natural peanut butter, honey, old fashioned oatmeal, and vanilla as a breakfast bar or anytime snack.  Just be sure to make them ahead of time as they need 8 hours to set!
5) Peanut Butter Breakfast Quinoa

Eat Healthy Eat Happy made this recipe for Peanut Butter Breakfast Quinoa to placate your peanut butter cravings! Quinoa, cinnamon, unsweetened almond milk, peanut butter, maple syrup, and crushed peanuts create a crumbly and crunchy cookie-like dish. Make a huge batch and store them to last you the whole week!
6) Baked Banana Peanut Butter Oatmeal

Another peanut butter recipe for those nutty lovers! Happy Healthy Mama combines old fashioned rolled oats, bananas, natural peanut butter, maple syrup, and more create this Baked Banana Peanut Butter Oatmeal. Dish out this easy-to-make morning treat for the whole family!
7) Vanilla Maple Almond Butter Overnight Oats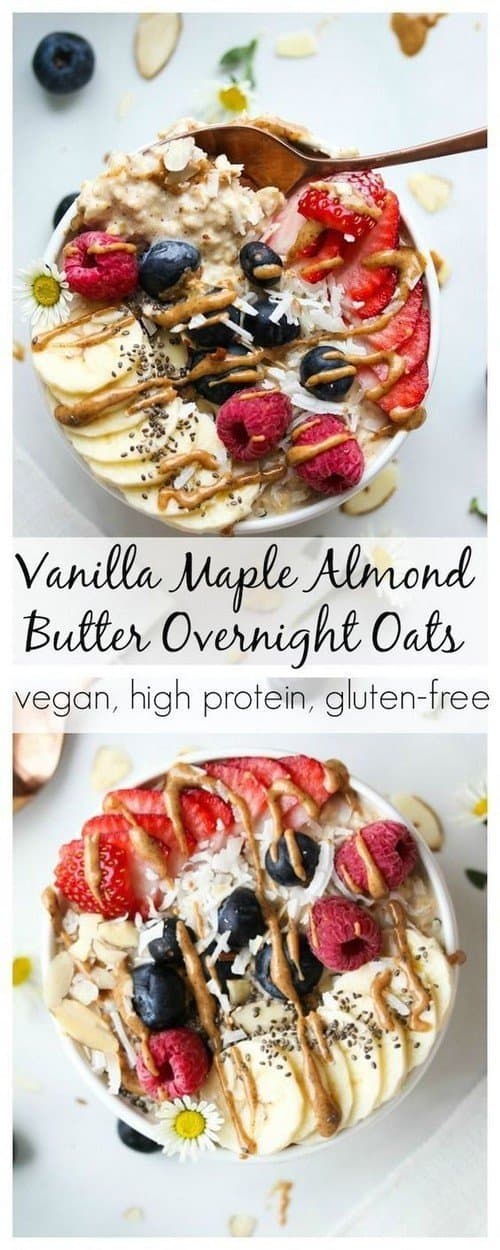 Dishing Out Health came up with the perfect formula for sweet and refreshing breakfast oats. These Vanilla Maple Almond Butter Overnight Oats use old fashioned oats, unsweetened vanilla almond milk, creamy almond butter, pure maple syrup, and vanilla extract. Even better? This delicious delight is rich in fiber, protein, and omega-3!
8) Blueberry Banana Overnight Oats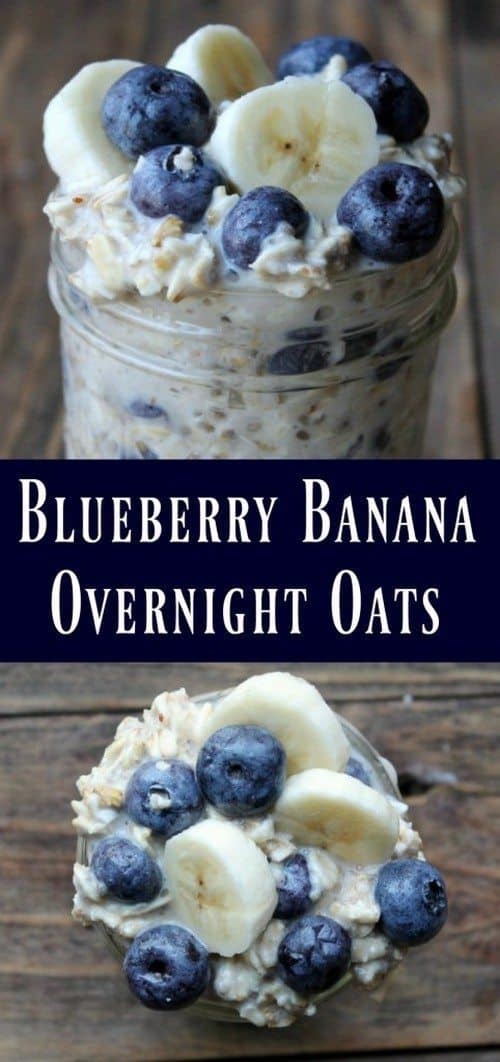 Organize Yourself Skinny created a Blueberry Banana Overnight Oats for busy mornings. The ingredients for this recipe include rolled oats, chia seeds, unsweetened coconut milk, pure vanilla extract, banana, blueberries, and pure maple syrup. Just make this ahead for a grab-to-go meal!
9) Almond Cardamom Chia Buckwheat Power Bowl

This Almond Cardamom Chia Buckwheat Power Bowl recipe comes from Healthy Aperture. Create your own with chia seeds, buckwheat groats, Medjool dates, almond butter, blueberries, and cocoa nibs. Remember to use sugar-free cocoa nibs to stay on track with your Mediterranean Diet!
10) Hippie Breakfast Bowl
Looking for a hip-looking and tip-top tasting breakfast bowl? Choosing Chia crafts this recipe for a Hippie Breakfast Bowl! This meal requires vanilla chia seed pudding, raspberries, and hemp hearts. Don't miss out on this ravishing recipe!
11) Healthy Egg Muffins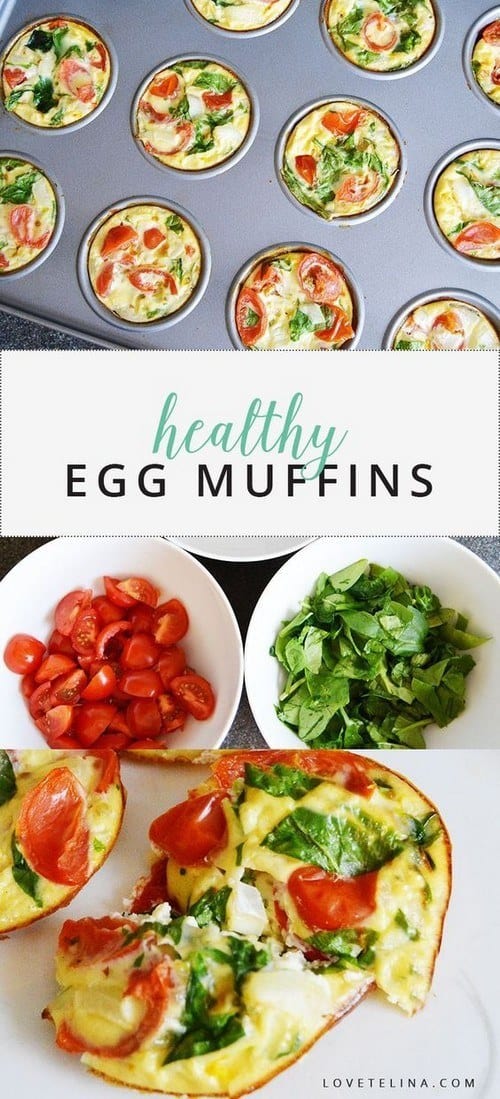 Love, Telina came up with a simple and swift recipe for Healthy Egg Muffins. These muffins are made with only 5 ingredients – eggs, milk, baby spinach, cherry tomatoes, and onion. Start your day with these hearty and heavenly bites!
12) Smoked Salmon and Broccoli Frittata
Traditional frittata is terrific. But this Smoked Salmon and Broccoli Frittata is also Mediterranean Diet-friendly! Taming Twins mixes olive oil, broccoli, frozen peas, smoked salmon, and eggs to create a soft and scrumptious breakfast.
13) Avocado Tuna Melts

Don't Go Bacon My Heart created these Avocado Tuna Melts using enticing ingredients including bagels, tuna, tomatoes, avocado, mayo, and Dijon mustard. Use whole wheat bagels for a healthy Mediterranean breakfast!
14) Shrimp Avocado Garlic Bread

Shrimp should be included in your mornings! After all, seafood is the prime protein on the Mediterranean Diet. Try this Shrimp Avocado Garlic Bread recipe from Cafe Delites! For the bread, try whole wheat Ciabatta and olive oil based garlic "butter". For the toppings, you'll need garlic, paprika, lemon, shrimps, parsley, avocado, and tomatoes. Voila! An unusual but excellent breakfast option.
15) Grilled Caprese Zucchini Boats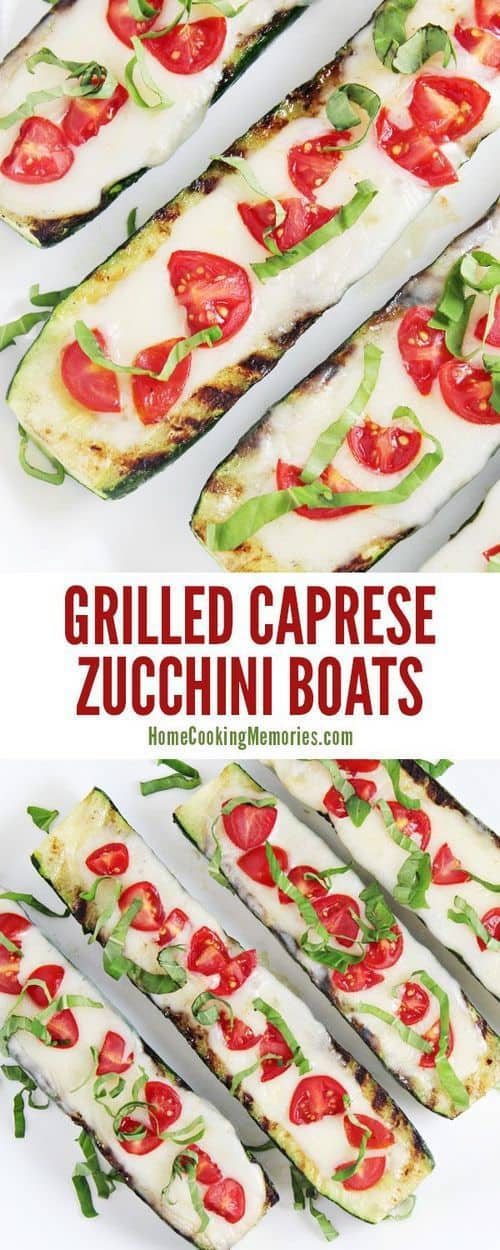 Switch up your meals with greens! Home Cooking Memories uses 5 incredible ingredients – zucchini, olive oil, mozzarella cheese, tomatoes, and basil – to make Grilled Caprese Zucchini Boats. Vibrant in color and brilliant in taste, this is a dish to start your day!
That concludes our list of 15 Mediterranean Diet breakfast recipes. Did we miss any of your favorites? Share your top breakfast dishes in the comments below!