Beef can get boring – try these tasty twists on the turkey burger for fabulous dinner dishes that can last you all week! Make sure to comment and let us know what your favorite paleo-friendly (and Whole30-compliant) turkey burger is from this list!
 1) Jalapeno Turkey Burgers

This scrumptious Whole30 Jalapeno Turkey Burger recipe from The Organic Kitchen was first discovered in a local Whole30 community group and we are so grateful that it's been shared globally for the rest of the community to enjoy.
This recipe includes ingredients such as jalapeno pepper (ideally minced), chopped cilantro, guacamole, and a poached egg to suit. These Whole30 jalapeno turkey burgers are perfect for adding a bit of spice to your barbeques this summer. 
2) Chipotle Turkey Burgers
This Whole30 chipotle turkey burger recipe from Real Simple Good offers a fantastic way to bulk up your burgers using bacon, avocado, chipotle powder, and a fresh selection of salad ingredients. Get your apron on now and you could have these tasty turkey burgers ready to eat in just 30 minutes!
3) Turkey Avocado Burgers
This turkey burger recipe from The Laughing Spatula was originally created using chicken, but works just as well with turkey. This adaptable recipe allows you to incorporate your favorite sauces and is even ideal for freezing. The key ingredients for this recipe are Almond meal, poblano/jalapeno, avocado, and a good dose of garlic.
4) Mediterranean Turkey Burgers 
Indulge in the tastes of summer with this Mediterranean style turkey burger recipe from Stupid Easy Paleo. If you're not already a fan of Whole30 turkey burgers you certainly will be after trying this one! This juicy recipe includes roasted red peppers, Kalamata olives, sundried tomatoes, and a good amount of oregano.
Packed with all the classic flavors of the med, these burgers compliment any veggie or salad side option.
5) Roasted Garlic And Basil Turkey Burgers 
This warming garlic and basil turkey burger recipe comes from The Pike Place Kitchen. The key ingredients in this recipe are zucchini, roasted garlic, a pinch of chili powder, and fresh basil.
6) Greek Spiced Turkey Burgers 
Inspired by traditional Greek delicacies, these perfectly herb-filled turkey burgers from Healthy Helper Blog are fantastic for showcasing your culinary skills. This simple recipe is great for a wholesome meal or a bite-sized snack.
7) Italian Turkey Burger
Moving around the globe to Italy now, these tasty yet minimalistic Italian-themed turkey burgers from Delightful Mom Food serve as the perfect thing for lunch or dinner. Primary ingredients for this Italian-inspired dish include oregano, garlic, olive oil, basil and, onion.
8) South Texas Turkey Burger
Well, we all know Texas is big on flavour and this Whole30 south Texas turkey burger from The Hungry Mommy delivers all that and more. Just reading the ingredients – we're talking bacon, egg whites, jalapeno, grated carrot, and hot sauce – is enough to get your mouth watering!
Prepped and cooked within half an hour, this dish is ideal for those "I want something tasty and quick" kind of moods.
9) Poblano Turkey Burgers
This chili pepper orientated recipe from Salt And Guava is brilliant for those wanting to turn the heat up a notch. With enough spice to get that kick, but mild enough for the non-spicy eaters, this Whole30 poblano turkey burger that includes green chilies, lime juice, poblano, cumin, and coriander is a great all-rounder.
10) Strawberry Turkey Burgers
This burger from The Cast Away Kitchen is really one of a kind. Some would never think to incorporate strawberries into the turkey burgers, it's actually a brilliant twist. Think of it this way –  turkey is usually served with cranberry sauce, so why not apply that berry-friendly attitude to burgers?
11) Thai Turkey Burgers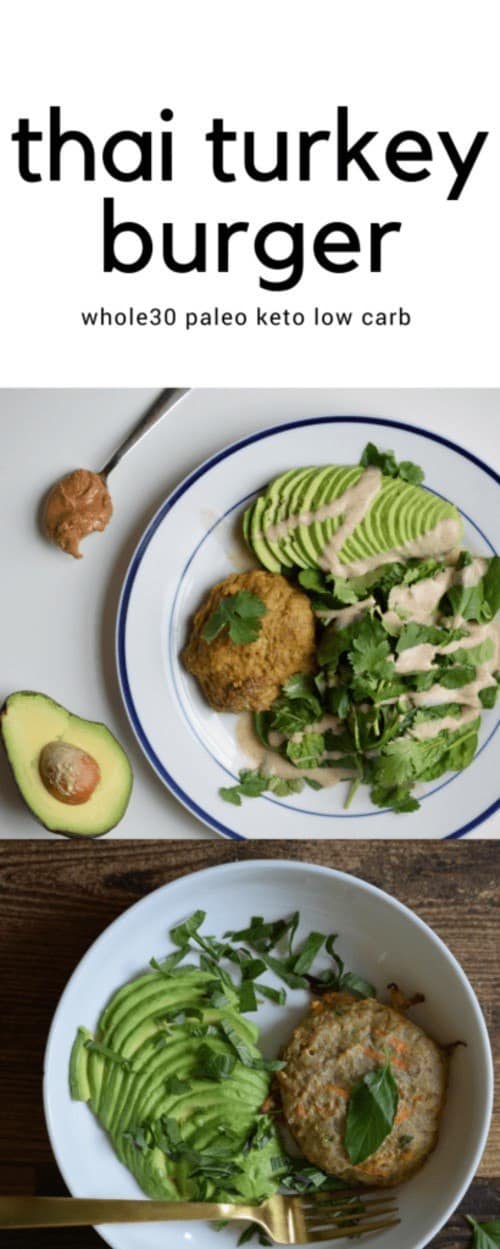 These Whole30 Thai turkey burgers from The Cast Away Kitchen have captured the classic Thai flavorings perfectly. Whip up this recipe using the likes of almond butter, garlic, turmeric, ginger, egg, and apple cider vinegar.
12) Pesto Turkey Burger Sliders 
Get creative with this turkey burger sliders recipe from Ambitious Kitchen  – you can cook them as they are, in bite-sized chunks, or scale up the ingredients to create full-sized pesto turkey burgers.
These turkey burger sliders rely on pesto, sweet potatoes, onion, avocado, and fresh garlic for main ingredients.
13) Caramelized Onion Turkey Burgers
A gorgeous fall-feel recipe, these turkey burgers from The Almond Eater include a Whole30 compliant apple slaw, complimenting the caramelized onions beautifully.
The primary ingredients for this scrumptious turkey burger recipe are apple, fennel, onion, and purple cabbage. The subtle sweetness of the onions in these burgers add an uplifting tone to the dish, whilst the crisp apple in the slaw keeps things fresh.
14) Spinach And Cilantro Turkey Burgers
These spinach and cilantro based turkey burgers from Savory Lotus are a great way to get a dose of veggies with your protein, all in one burger! The fundamental ingredients of this recipe include onions, spinach, cilantro, and ghee.
15) Bacon And Sweet Potato Turkey Burgers
These tasty turkey burgers incorporate a uniquely effective use of cinnamon, resulting in a dish that's sweetened to just the right level.
That concludes our list of Whole30 compliant turkey burger recipes! It's definitely sparked some Whole30 inspiration on our side – how about you?
Did we miss any of your favorites? Share your top turkey burger recipes in the comments below!