Is there anything better than a really good salad?
They're easy to prep ahead of time (which is great for making Whole30 a little easier), a delicious way to get tons of veggies in a meal, totally customizable and easily improvised.
Missing an ingredient? Sub a different one! Not a huge fan of a certain type of dressing? Switch it up to your liking (and check out our Whole30 salad dressing collection for inspiration). Salads are an extremely forgiving kind of recipe–you can mix and match to your heart's content.
Love salads as much as we do? We have the recipe roundup for you. Without further ado, 18 excellent salads for your Whole30 that cover all the bases. Who knows, you might just find a new favorite or two in here!
Green Salads
This salad from North South Blonde is low-carb, paleo and Whole30-approved! It's super simple–only takes 20 minutes to make–but certainly doesn't skimp on flavor. We love avocado for those added healthy fats!
Craving some asian flavor? This Tastythin salad has a satisfying crunch (thank you, cabbage and bell peppers!) and a tangy, savory dressing to go with it. Complete with some chicken for protein, this salad makes the perfect Whole30 lunch or light dinner.
Serve up this bright salad from The Speckled Palate as a perfect patio meal for a warm summer evening. With perfectly cooked steak and juicy oranges, this salad is sure to please.
No Crumbs Left brings us this picture-perfect Whole30 take on a Caesar salad. While we always love a good romaine salad (especially when avocado is involved), the real star of the show here is the Whole30 caesar dressing–just make sure the Dijon mustard you use is compliant!
Feel like you need a nutrient (and flavor) boost? I Heart Umami has your back. With lacinato kale, snow peas, avocado and hemp seeds dressed with asian flavors like ginger and sesame oil, this salad is as unique as it is tasty!
Gotta love a classic wedge salad. While you don't typically think of this as the most Whole30-friendly of salads, Lisa of Cooking with Curls might just change your mind with her Homemade Whole30 Ranch Dressing recipe. Iceberg lettuce topped with crumbly bacon and gorgeous, ripe cherry tomatoes make for a fun side to serve with a seafood dinner.
Who ever thought taco salad could be Whole30 compliant? Thanks to Savory Lotus, all of our taco salad dreams are coming true–check out the colors in that dish!
Note, however that store-bought plantain chips are no longer compliant on the program as they were when this recipe was written. To keep this recipe Whole30-friendly, check out our post here to get the plantain low-down and use the recipe listed to make some Whole30-legal (and absolutely delicious) fried plantains to sub in this salad.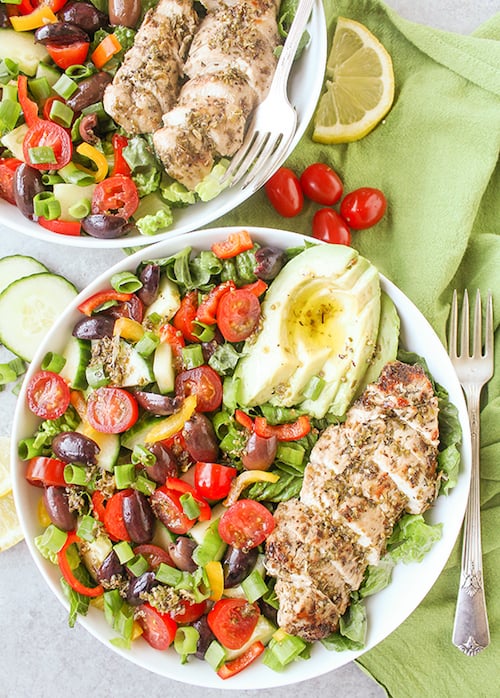 Skip the feta and stuffed grape leaves and opt for extra kalamatas instead in this Whole30-style Greek salad from Jay's Baking Me Crazy.
Cucumber, bell pepper and onion give this salad a satisfying crunch while the extra protein from the chicken and healthy fats from the olives and avocado will keep you going until dinner.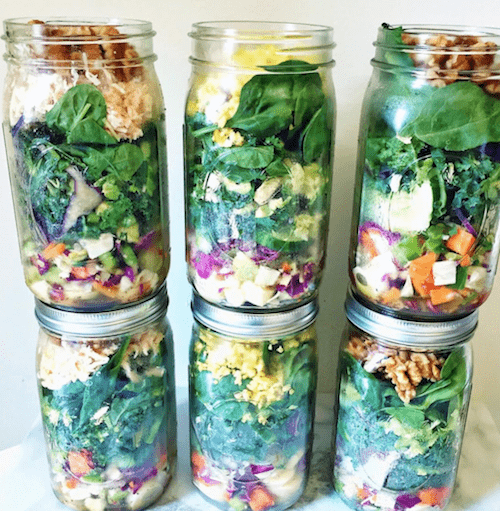 Busy? This one's for you! This post from Balanced-Life-Leslie is less of a recipe and more of a hugely helpful Whole30 salad tip: how to meal-prep your salads to perfection.
By layering salad ingredients in mason jars (starting with the liquid resistant produce, followed by protein and finally by your greens), you can easily prep a couple different salads ahead of time for easy grab-and-go work lunches.
"Everything Else" Salads
Potato salad has a bad rap for being the unhealthy "salad" that people bring to potluck dinners…but Fashionable Foods is here to show us that potato salad can get a Whole30 makeover and be as tasty as ever.
Perfectly cooked potatoes paired with crunchy pickle pieces and plenty of fresh herbs smothered in creamy dressing make for a great side for a Whole30-friendly summer barbecue!
Mayo not really your thing? Rethink potato salad with Bravo For Paleo's take on a mayonnaise-less alternative for those not as fond of the creamy condiment.
The main fat in this potato salad is bacon grease–need we say more? This dish is great either hot or cold, any time of day. Use the leftovers in a breakfast hash with eggs and greens! Yum!
Grapes in your chicken salad? Don't knock it 'til you try it! The Real Food Dietitians Whole30-ified this classic chicken salad recipe with compliant mayonnaise, grapes, walnuts, celery and fresh basil so you can enjoy an old favorite even while you're on the program.
This one's great in a lettuce wrap with a side of carrot slices for lunch!
Think Greek with this Mediterranean take on a chicken salad from The Whole Smiths. Tomatoes, kalamata olives and cucumber come together with plenty of lemon juice and fresh herbs for a lighter chicken salad for those looking for a mayonnaise-free recipe.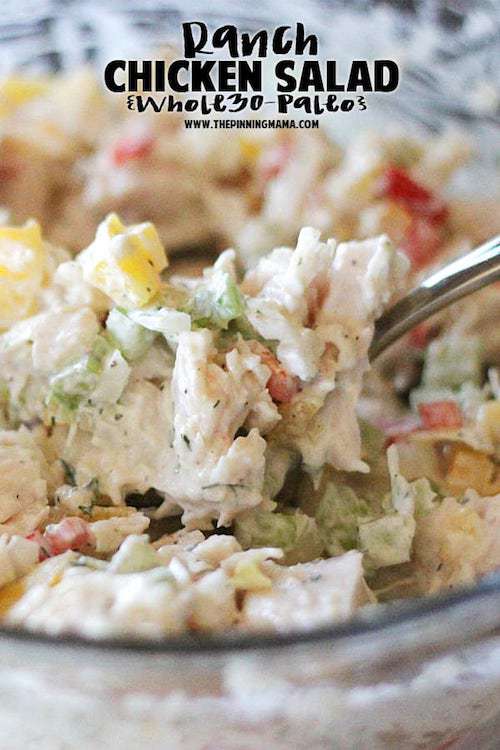 The Pinning Mama cleverly adds her dry ranch seasoning blend to a classic chicken salad to mix up the flavors and serves spoonfuls on cucumber slices for a crave-worthy snack! Eat as pictured or scoop a serving onto a green salad for a quick and easy lunch.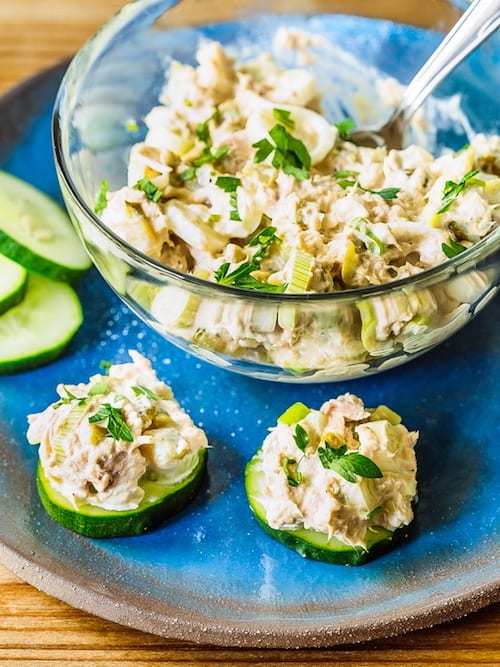 This boldly named recipe from Paleo Grubs uses simple ingredients to mix up some awesome flavors in a classic Whole30-style tuna salad. In a protein pinch? Canned tuna can easily be transformed into something amazing with the simple addition of some scallions and a quick dressing!
No mayo and more veggies put the "Healthy" in this "Healthy Tuna Salad" from Confetti Kitchen. Added crunch from apples, cucumbers, pickles and bell peppers and healthy fats from avocado make this tuna salad super well-rounded for any meal.
Pro-tip: according to this recipe, it tastes even better after a day in the fridge for the flavors to come together!
Egg salad–another nostalgic, comforting, not-so-Whole30-friendly meal…or so we thought! Lucky for egg salad lovers, this is an easy one to tweak to make it compliant.
Paleo Running Momma uses mashed avocado as a "dressing" for this egg salad to come together with the more classic ingredients like eggs and scallions. Serve with crunchy jicama spears and a dash of paprika on top for that smoky deviled egg flavor!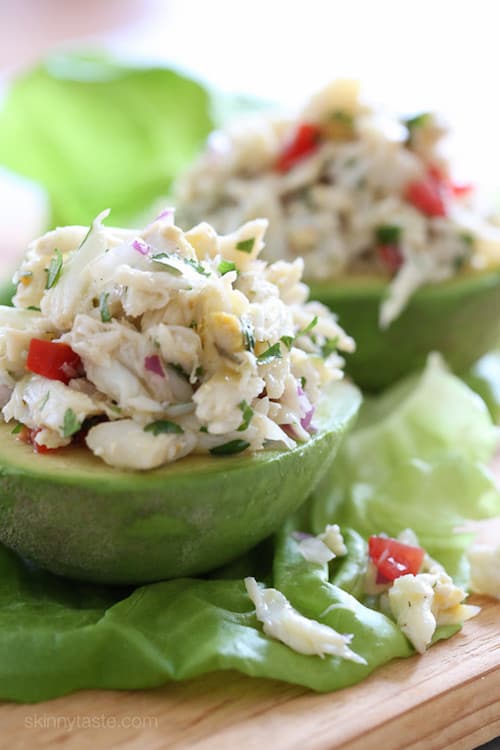 Feel like you're on a tropical vacation with the fresh flavors of this lump crab salad from Skinnytaste. Lime juice and cilantro give this crab salad a bright, zesty flavor. Serve in avocado halves for a hearty midday meal!
Well there you have it–18 of the most delicious (not to mention most photogenic!) salads to have on your Whole30. Did we miss your favorite? Have a go-to recipe for a Whole30 version of a classic? Leave us a comment and tell us!