Nut butters are an ultimate staple on Whole30–from a great addition to a healthy snack to a component of a nutty sauce or dressing, we can't get enough of 'em!
Like we said in our Whole30 Nuts Guide, you do need to watch out for overconsumption of nuts because of their high levels of Omega-6s, but when consumed in moderation, nuts and nut butters can be a very healthful and hearty addition to our diets.
Whole30 Nut Butter Quick Picks
What Nut Butters Can I Have on Whole30?
Commercially produced nut butter is pretty easy to find these days.
We are living in a time where rather than the shelves at the grocery store only being stocked with processed peanut butters, we now have almond butter, cashew butter…even macadamia nut butter! How lucky are we?
Nut butters are all allowed in moderation on Whole30, as long as the nut they are made from is compliant of course. (You'll find a list of compliant nuts and their order of Whole30 preference here!) Since the only "nut butter" that isn't allowed is peanut butter, you have your pick of many, many others!
Heads Up: Look Out For Sneaky Ingredients
The most common offenders when it comes to non-Whole30 ingredients in nut butters is sugar and non-compliant oils. Look out for sugar disguised with names like "evaporated cane juice" or other pseudonyms to disguise its existence on the ingredient label.
Sometimes nut butters contain added oils for texture and consistency–typically it is sunflower or safflower oil. Since both of these are on the "consume occasionally" list of Whole30 oils, it's best to avoid nut butters that list anything other than avocado oil, coconut oil, or palm oil.
Since nuts are very rich in fat and are naturally pretty oily, many nut butters do not have any added oils at all. When shopping, look for the simple ingredient lists of the nut of choice and maybe salt. These are the best bet for your Whole30.
Stuck on where to start? Check out some of our brand picks for Whole30-friendly nut butters! We have picks from all different types of nuts so there are plenty of options out there for everyone.
1) Thrive Market Organic Crunchy Almond Butter – Let's start off with a classic: almond butter. This one has one ingredient: dry roasted raw almonds. Simple and delicious!
2) Barney Bare Smooth Almond Butter – Another popular brand of compliant almond butter, Barney Butter is made from roasted almonds and palm fruit oil. Just be careful, as not all flavors and types of Barney Butter are compliant (available on Amazon or Thrive Market).
3) Justin's Almond Butter Squeeze Packs – Justin's makes their nut butters in super convenient squeeze packs–perfect for emergency purse or backpack snacks when you're on the go. Their only ingredients are roasted almonds and palm oil so these are good-to-go for Whole30.
4) Artisana Raw Walnut Butter with Cashews – If you're looking for a raw option, this is a great one! The only ingredients here are raw walnuts and raw cashews (available from Amazon or Thrive Market).
5) Purely Pecans Pecan Butter – This nut butter is made from just one thing – pecans! If you're a pecan fan, give this one a try (available from Thrive Market).
6) Georgia Grinders Cashew Butter – With just roasted cashews and sea salt, this is a great option for cashew lovers. Not to mention…cashews also happen to be one of our top picks on our Nut Guide for best nuts to eat on Whole30.
7) VOR Macadamia Butter – Macadamia nuts are a bit on the pricier side, making macadamia nut butter more pricey than other nut butters, but the result is a taste some people adore. This macadamia butter is sugar, salt, and preservative-free – just macadamia nuts!
8) Sunbutter Organic Sunflower Seed Spread – Roasted sunflower seeds make up this delicious, creamy seed butter…use as a replacement for peanut butter to make a super satisfying Whole30-friendly Pad Thai!
9) Raw Health Hazelnut Butter – Just blended hazelnuts…that's it! Also one of our top nut choices, hazelnuts (or filberts) are a great nut to add to your rotation.
10) Organic Raw Vegan Coconut Butter – While not a traditional "nut butter", we just had to include this coconut butter on our list. Super creamy and packed with healthful fats and all the nutritional goodness of coconut, this stuff is a dream drizzled over frozen raspberries or added to soups for some extra creaminess.
DIY Nut Butter Recipe
Prefer a more Do-It-Yourself approach?
As long as you have a high-powered blender or food processor, nut butter couldn't be easier to make.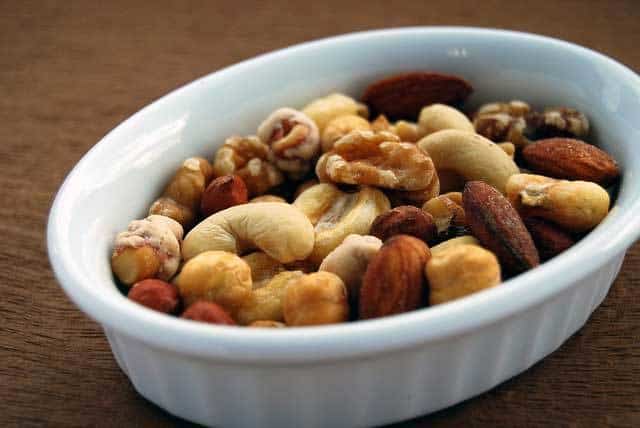 We recommend starting with a raw nut as opposed to a roasted and salted one–that way you can control all the ingredients and the salt levels that go into your precious nut butter.
Step 1: First, preheat your oven to 350 degrees.
Step 2: Spread 2 cups of your nut of choice on a baking sheet and roast for 15 minutes, checking about every 5 minutes or so to stir them around so that they roast evenly.
Step 3: Once they've turned a light golden brown (careful not to burn them, nuts get toasty pretty quickly!), remove them from the oven and let cool.
Step 4: Pour into your blender or food processor, add a pinch of salt or two if you'd like, and it let run for up to 10 minutes or until you get the consistency you're looking for. It may take a while for the oils to release, so be patient!
Step 5: Once it's all blended nicely, store in an airtight jar in the refrigerator. The finished recipe should produce about a cup of nut butter, so choose your jar accordingly.
Voila! You've made your very own nut butter. Easy enough, right?
Any "crunchy" fans out there? This recipe will yield a smooth nut butter–if you'd prefer a crunchy one, reserve ¼ or so of your nuts and roughly chop them with a knife. Once your nut butter is the consistency you want, add your roughly chopped nuts and pulse a couple of times to incorporate some crunch.
Remember, this is a super adaptable recipe! You can mix different nuts, add different herbs or spices…as long as all the ingredients are Whole30-friendly, the sky's the limit!
What do you think about nut butters on Whole30? Have a favorite recipe or brand you want to share? Let us know in the comments below!