Eggplant is one of those vegetables that you either cook with a lot (think Italian-American cuisine) or have no idea what to do with. What better time than on your Whole30 to explore some new recipes?
Check out this list of 15 of our favorites featuring the wonderful eggplant–from snacks to mains, this list will keep you inspired.
Meals
Physical Kitchness uses eggplant paired with tomatoes and basil in this cozy stew dish. While the original recipe from her mother calls for macaroni noodles, the eggplant serves as a Whole30-friendly sub to soak up all the tomato-y, herby goodness and add some great texture to the dish.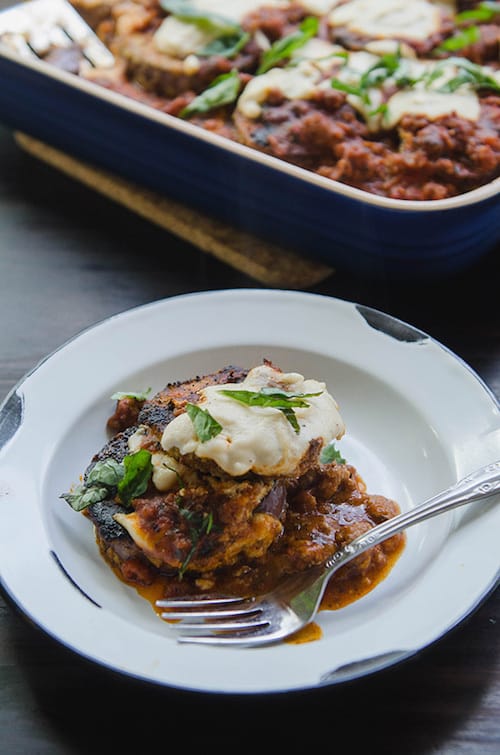 While this recipe from So…Let's Hang Out toes the line of the SWYPO category of foods, it was just too good not to share! Layers of eggplant, lightly coated with an herb and almond flour mixture then coated in sauce and cashew "cheese"…doesn't that sound just plain sinful? If you feel comfortable with this recipe not being too reminiscent of pre-Whole30 meals, by all means, go for it!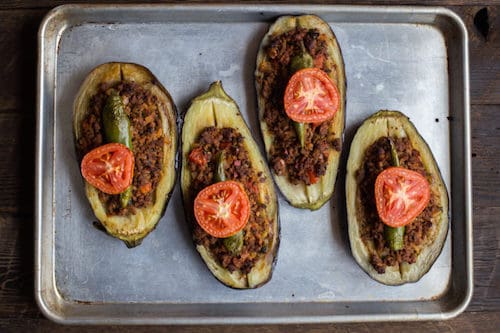 This stuffed eggplant—traditionally called karniyarik—is a hearty mix of ground beef, onion, tomato paired with some fresh parsley to lighten up the dish. Serve with a side salad and you have an entire meal!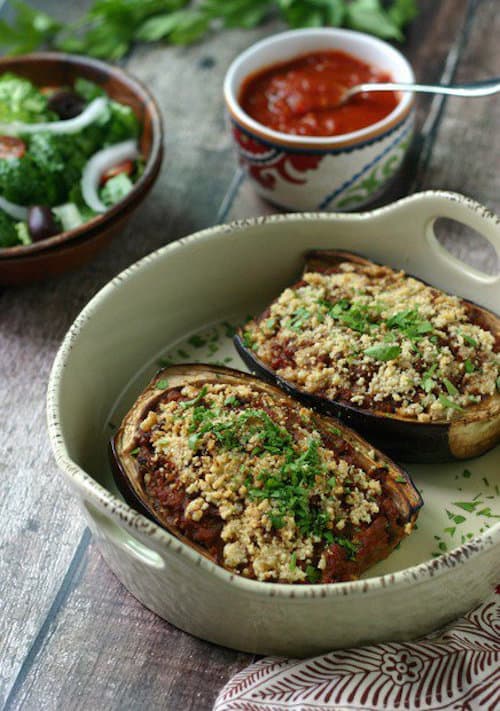 Everyday Maven's stuffed eggplant takes a more Italian approach with ground beef, onions, garlic and tomato sauce. Topped with a crispy "breadcrumb" topping made of almond flour for some added crunch, this dish is definitely worth adding to your rotation.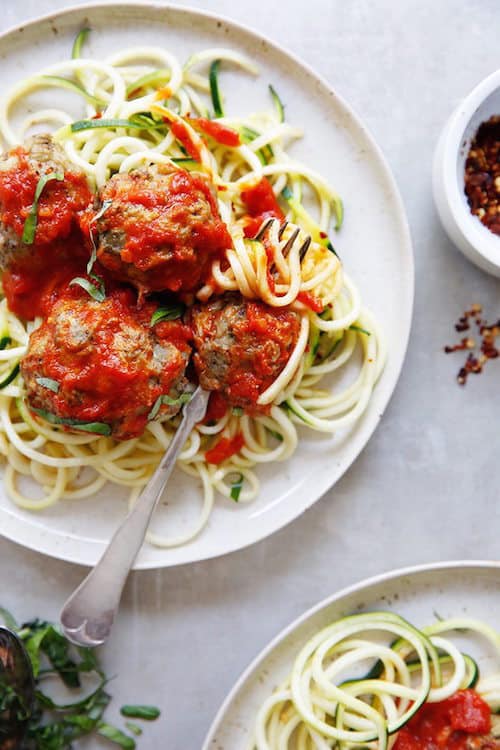 This recipe from Lexi's Clean Kitchen is for anyone who's looking to leave the meat out of a meal, whether it is because you are a vegetarian, a pescatarian, or simply looking for a meatless meal every once in a while. Throw these "meatballs" over some zoodles and enjoy! (P.S.: Don't forget to omit the optional parmesan for Whole30.)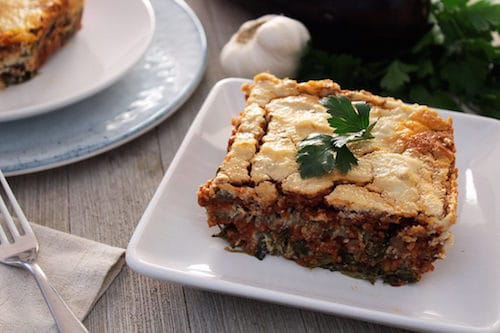 The Foodie Eats brings us this Whole30-friendly lasagna recipe using eggplant slices in place of noodles and cashews instead of cheese or cream. Filled to the brim with veggies smothered in sauce and delicious herbs and spices, this dish is certainly worth the effort.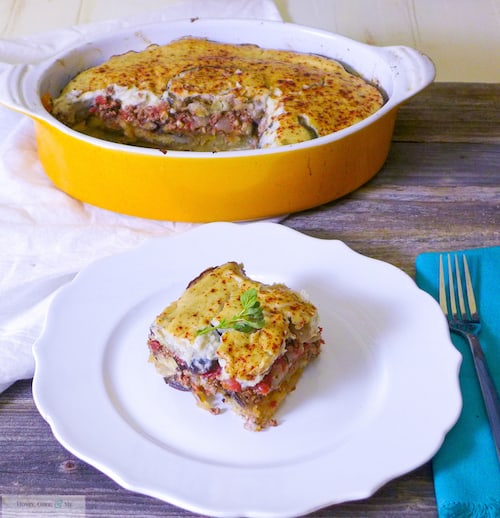 Honey, Ghee & Me adapted a traditional Greek moussaka recipe—usually fried eggplant and potato smothered in béchamel sauce—to make it Whole30-compliant, but just as soul nurturing! Cauliflower and coconut milk make up the béchamel and come together with the potatoes, eggplant and a ground beef sauté so you can get your Greek food fix, even on Whole30.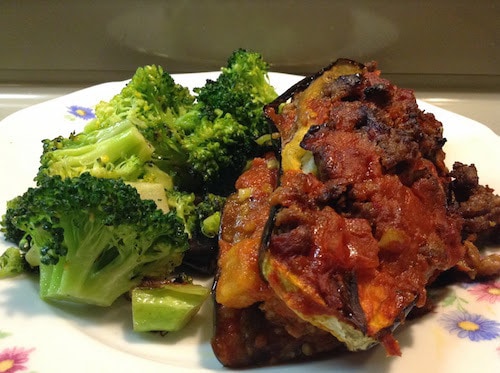 Another casserole-style dish, Cave Food Kitchen's eggplant "lasagna" is a hearty dish packed with protein and vegetables. Ground beef or pork is paired with sauce, eggplant and spices for a simple (but super delicious) weeknight dinner that makes great leftovers!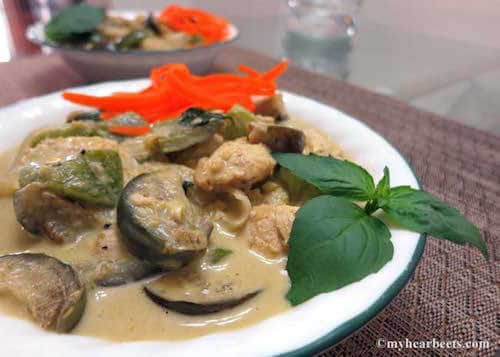 We couldn't make an eggplant recipe list without including a curry! My Heart Beets is an expert when it comes to Whole30-ifying all sorts of Asian cuisines—and this Thai curry recipe is no different. Green curry paste and coconut milk come together with Thai eggplant, ginger and Thai chilies for a traditional (but compliant) dish.
Snacks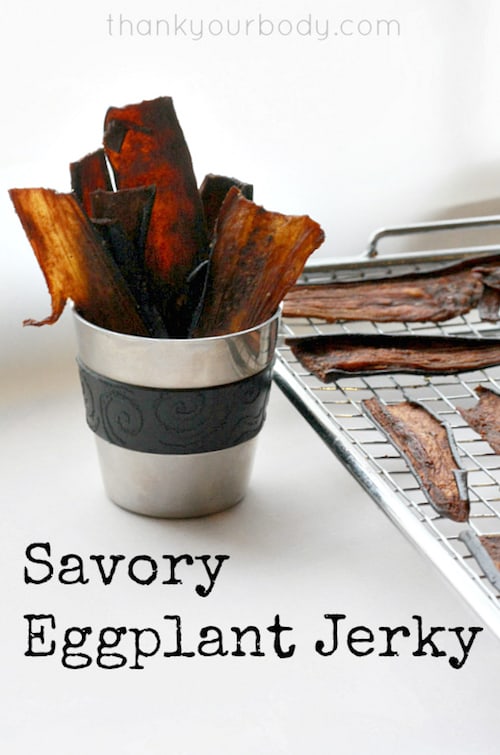 This unique recipe from Thank Your Body uses your oven's lowest setting (or a food dehydrator, if you have one!) to make a delicious jerky-like eggplant snack! Chop and as a bacon substitute for some smoky flavor and texture in salads, add to sandwiches (breadless, bun-less ones of course), or eat it as is.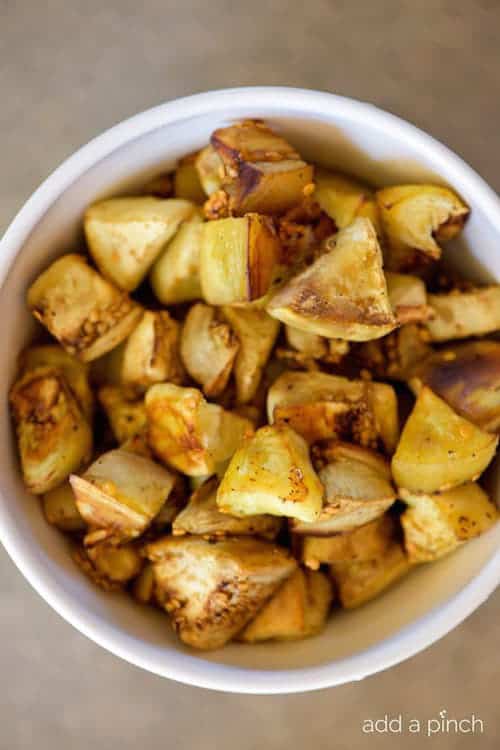 This Add a Pinch recipe keeps it simple with a basic, roasted eggplant recipe that serves as an excellent base to other recipes or side to a main dish. This recipe is also freezable for some meal-prep goodness!
Paula Goes Primal brings us this silky smooth Middle Eastern hummus alternative made with tahini, garlic, cumin, lemon and, of course, eggplant! Perfect with raw carrots, celery or cucumber spears, this dip will provides a legume-free and healthful way to enjoy these flavors while staying true to Whole30.
This dip recipe comes from Minimalist Baker, using caramelized onions to pump up the umami flavor to the next level. Dollop this chunky dip over some ground beef and cauliflower rice for an easy dinner or serve with crunchy veggies! (Don't forget to omit the optional sour cream or yogurt to keep things Whole30-friendly.)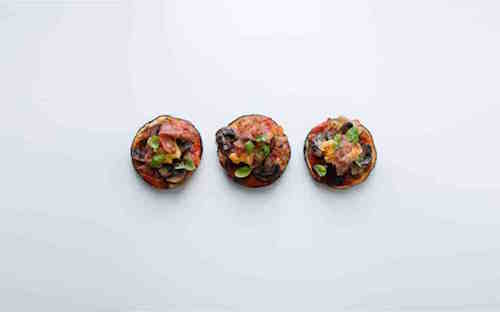 Who could say no to "mini pizzas"? This Chef Sous Chef recipe uses eggplant rounds as pizza "crust." Topped with classic Italian flavors like tomato sauce, basil, garlic, and prosciutto, these make the perfect snack for a movie night in!
Gourmande in the Kitchen's eggplant fries are coated in a light "breading" of almond flour and spices and then baked to perfection for a delicious snack or side dish. Although the goat cheese dip included in this recipe is non-compliant, these would be delicious dipped in guacamole or a homemade mayo!