Bacon – we all love it! But eating straight bacon can get old fast.
That's why we've created this list of Whole30 bacon recipes that include everything from major main dishes and breakfast bites, to quick lunches and complimenting side dishes.
Get ready to drool – it's bacon time!
This crispy one-pan paleo bacon wrapped chicken is as easy as it gets for a Whole30 main dish. It requires only 20 minutes to make and includes two delicious Whole30 friendly protein options.
Looking for a one dish meal? This creamy Whole30 bacon garlic spaghetti squash is the perfect casserole to make 4 meals at once. This Whole30 bacon recipe includes spaghetti squash as the base of a creamy bacon garlic flavor sure to make you not feel like you are doing a Whole30.
Missing your quick and easy chicken salad on your Whole30? This bacon avocado chicken salad uses avocado as the mayo and bacon as added taste to make this chicken salad more flavorful than your Mom's original recipe.
Finding a Whole30 compliant bacon can be tricky sometimes. Most packaged goods include ingredients to preserve and sweeten your food. Instead of getting frustrated finding bacon at the store make your own using this homemade paleo bacon using pork belly.
One of the biggest challenges to Whole30 is the lack of variety for breakfast. This Whole30 Bacon Brussels Sprout Frittata just might change your mind. This creamy frittata packs a punch with simple seasonings like salt, pepper, and cayenne.
This is a unique twist on your classic Jalapeños popper. These poppers are stuffed with ground chicken, then wrapped around with Whole30 compliant bacon. Perfect for game days.

This bowl is the perfect find when you are sick of the typical egg breakfast. Whole30 Beef and Bacon Breakfast bowl combines ground beef, bacon, and a Whole30 Cauliflower Fried Rice to mix up your meals.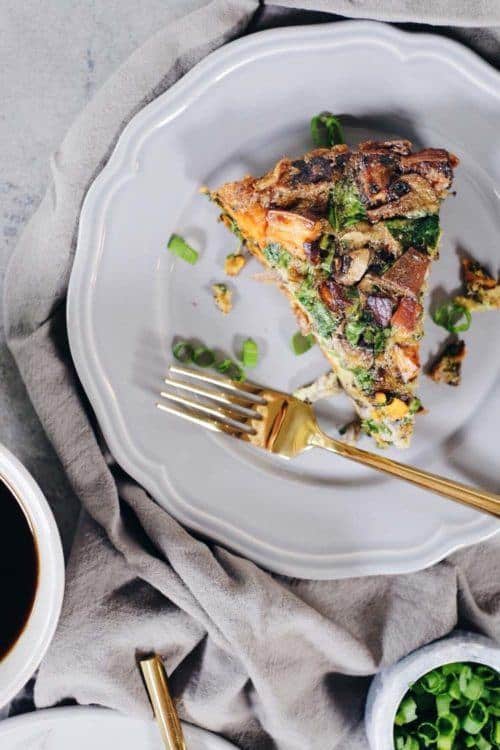 This frittata combines a sweet and salty with sweet potatoes and bacon. You can expect a hearty filling dish that works great for breakfast, lunch, or dinner.
These Whole30 Bacon & Poblano Potato skins are sure to satisfy your craving for potato skins. By adding lots of crispy flavorful bacon you won't even miss the cheese or sour cream.
This Bacon Cauliflower Rice is the perfect recipe to spice up your flavors on the Whole30. This recipe uses flavors like coconut aminos, garlic, and onion to pull together a fried rice with added bacon to change up your meal.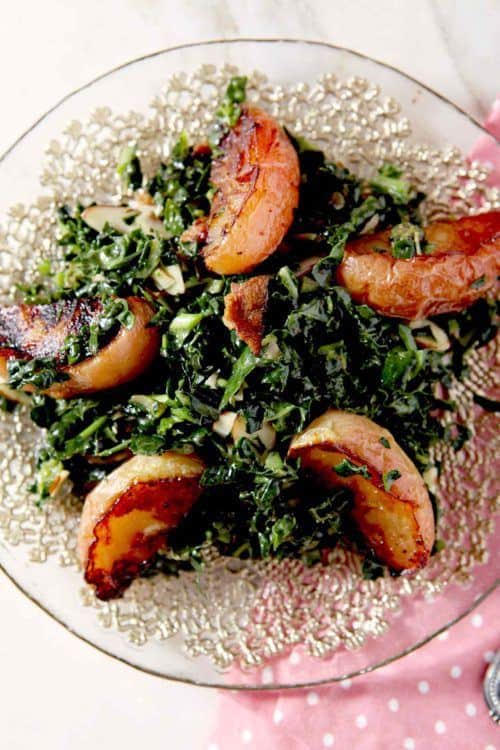 If you have been craving bacon, this recipe has double the bacon flavor. What's not to love about salad with apples cooked in bacon fat and homemade bacon bits? Plus its all complimented with the sweet and savory apples!
Looking to spruce up your veggies? Check out this recipe for Bacon Wrapped Aspargus in the Oven. A no-mess alternative using the oven to roast your veggies and cook your bacon at the same time.
These bite-size savory delights are sure to be the life of the party. These bacon wrapped shrimp are as easy as it gets, requiring just two ingredients – shrimp and bacon.
Taking less than a minute to prepare, this is your one-stop shop for a speedy breakfast on Whole30. This grab and go breakfast will not only save you time, but save you the stress of scrambling to find something to eat while you are running out the door.
This recipe is perfect when you are craving bacon, but still need to get some veggies in. You would never guess these bacon blistered green beans are Whole30 friendly!
And that concludes our list of Whole30 Bacon recipes. We hope you enjoy our collection and we hope it brings you success in you Whole30.
Any favorite Whole30 bacon recipes we missed? Share them in the comments below!