Tender, juicy steaks anyone? We recommend you try these steaks prepared a la sous vide for perfectly cooked meat every time.
Listed below are 16 Sous Vide steak recipes to suit a variety of occasions and cooking styles.  Which ones will make your mouth water?  Why not try them all?
1) Sous Vide Japanese-Style Steak (Wafu)
Just One Cookbook's Juicy Sous Vide Wafu Steak seasoned with onion and daikon, is a melt-in-your-mouth delight, packed with delicate Asian flavors.
2) Sous Vide Garlic Herb Butter Steak
Number 2 Pencil's Garlic Herb Butter Steak will make your dinners hassle-free yet exciting.
3) Sous Vide Rib Eye Steak with Madeira BBQ Sauce, Navy Bean Puree and Ratatouille
Don't be fooled by the gourmet presentation of the dish. This Sous Vide Rib Eye Steak recipe from That Other Cooking Blog looks like you worked for hours, but is really quite simple to prepare.  Accompanying ratatouille and navy bean puree are bonus recipes included with this link.
4) Sous Vide Beef Tataki Steak
The preparation for this Tataki Steak recipe from Glebe Kitchen will be well worth the effort once you taste this succulent dish.
5) Sous Vide Korean BBQ Short Ribs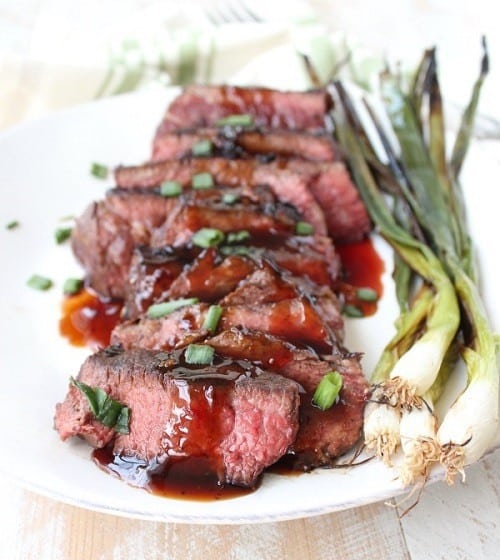 Whitney Bond's BBQ Short Ribs are super-delicious and perfect for a more casual, cozy meal with family.
6) Garlic-Rosemary Sous Vide Steak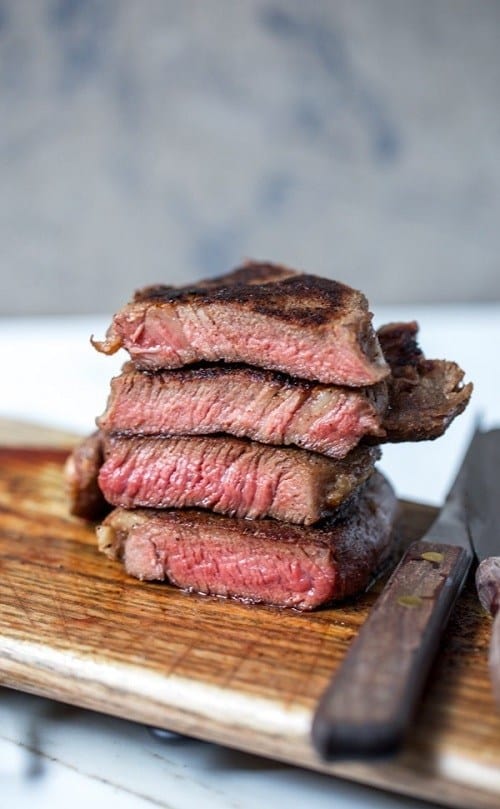 Simply toss the steaks in a Ziploc bag with garlic and rosemary and then sous vide to perfection for a scrumptious meal. (Recipe from One Armed Mama)
7) Sous Vide Steak Fajitas
Happy Mothering's Sous Vide Steak Fajitas are decadent and full of flavor.  Be sure to try this one!
8) Sous Vide Steak Sandwich
These charming sandwiches are made with your choice of veggies and layered with strips of perfectly-cooked sous vide steak for a quick, filling meal. (Check out the recipe from Couple In The Kitchen)
9) Sous Vide Tri-Tip Steak
Perfect for preparing ahead, this Sous Vide Tri-Tip Steak recipe from A Duck's Oven is downright simple with hints of rosemary and butter to bring out the steak's best flavor.
10) Garlic and Herb Beef Tenderloin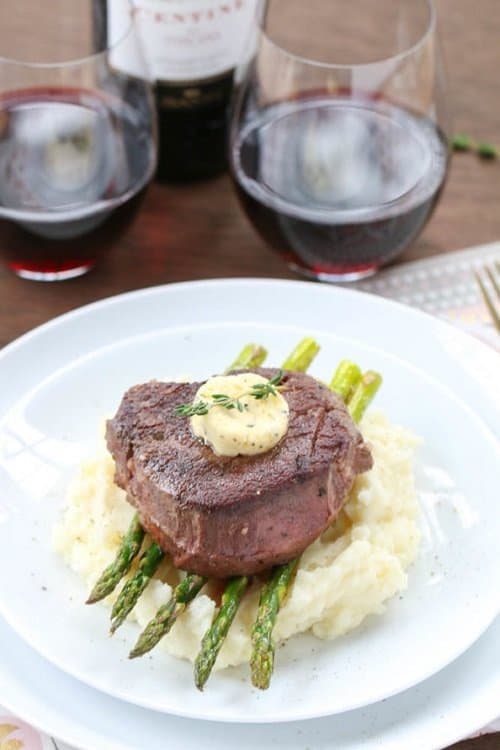 Butter, garlic, rosemary, and thyme are all you need to make this delicious and juicy Beef Tenderloin Steak from Food N Focus.
11) Sous Vide Flat Iron Steak
Tender Sous Vide Flat Iron Steak and a glass of wine- what could be a better combination? (Get the recipe from The Domestic Man)
12) Sous Vide Rosemary Garlic Steak
Long day at work? No time to prepare a meal? Just 5 minutes of prep time is all you need for this wonderful Sous Vide Rosemary Garlic Steak from Whitney Bond.
13) Simple Sous Vide Rib Eye Steak with Basil Garlic Compound Butter
This steak is prepared with the sous vide method, seared to add a gorgeous golden crust, and topped with basil garlic butter for the perfect finishing touch. (See the whole recipe from I Am A Food Blog)
14) Sous Vide Steak with Pickled Green Tomato Salsa Verde
Packed with intense flavors, the pickled green tomato salsa verde adds a hint of tanginess to this tender Sous Vide Steak from Beyond The Bayou Blog.
15) Sous Vide Herb and Spice-Rubbed Rib Eye Steak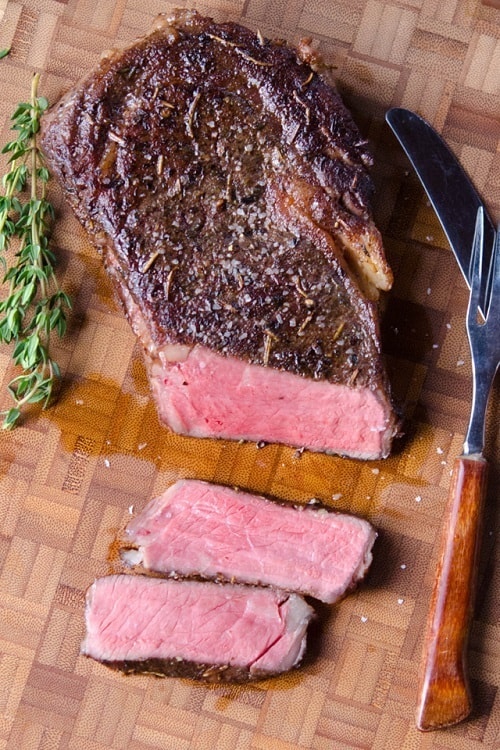 Blue Jean Chefs' Herb and Spice-Rubbed Rib Eye Steak is a simple preparation, using a blend of aromatic herbs, perfect for dinner after a tiring day.
16) Sous Vide Steak and Eggs
Girl Carnivore's Sous Vide Steak and sunny poached eggs is a heavenly combination, rich in protein and flavor.
That completes our 16 fantastic Sous Vide steak recipes. Mention your favorite steak recipe in the comments and let us know which one you have tried or plan to try soon!