These recipes use the Sous Vide hassle-free cooking method to yield tender and juicy chicken every time. From every day meals to fancy dishes, you will never have to worry about overcooking chicken again.
Listed below are fifteen fantastic Sous Vide chicken delights!
1) Sous Vide Chicken with Asparagus and Brown Butter
Smothered in butter and served with tender asparagus, this recipe from Every Day Good Thinking is flavorful and kid-friendly too!
2) Sous Vide Chicken with Pesto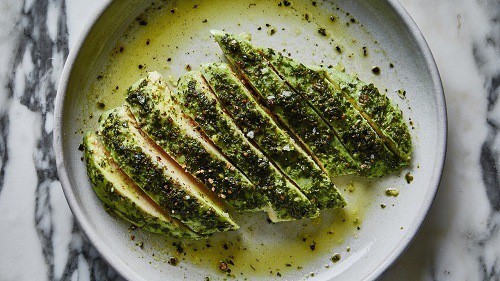 In a rush? This Chicken with Pesto from Bon Appetite includes store-bought pesto and ground black pepper for a super-simple yet tasty entree.
3) Sous Vide Balsamic Chicken
This Meredith Laurence Balsamic Chicken recipe uses the Sous Vide technique for a tantalizing twist on a  popular chicken dish.
4) Sous Vide Fried Chicken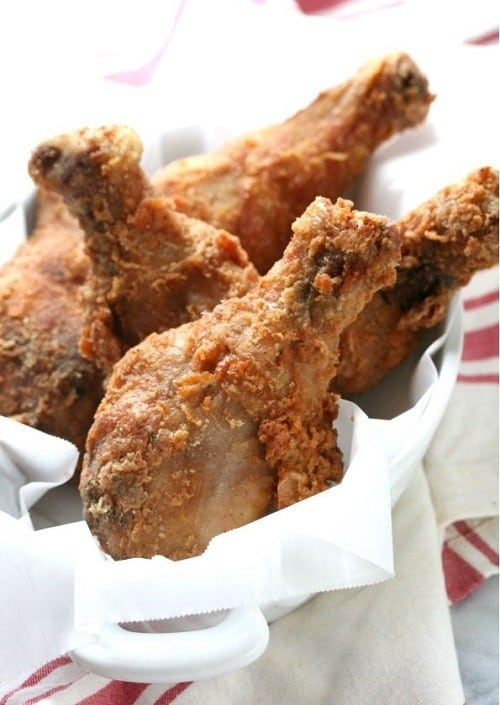 Who knew fried chicken could be prepared Sous Vide style? This recipe from Dash Of Savory promises great results: crispy on the outside, tender and juicy on the inside!
5) Sous Vide Chicken and Broccoli
Make a fresh and nutritious meal in no time, with this easy Chicken and Broccoli recipe from Simply Recipes.
6) Sous Vide Chicken Tikka Masala
Tender bites of chicken cooked in a flavorful, aromatic curry make this Sous Vide Chicken Tikka Masala from Food For Net simply heavenly.
7) Sous Vide Chicken Teriyaki
Glazing the chicken after cooking sous vide, is what locks in the juices in this wonderful Chicken Teriyaki Recipe (from No Recipes).
8) Chicken Breast with Mushroom Sauce
The chicken breasts in this recipe from Orgasmic Chef are topped with a creamy mushroom sauce for an elegant meal.
9) Chinese Style Fried Chicken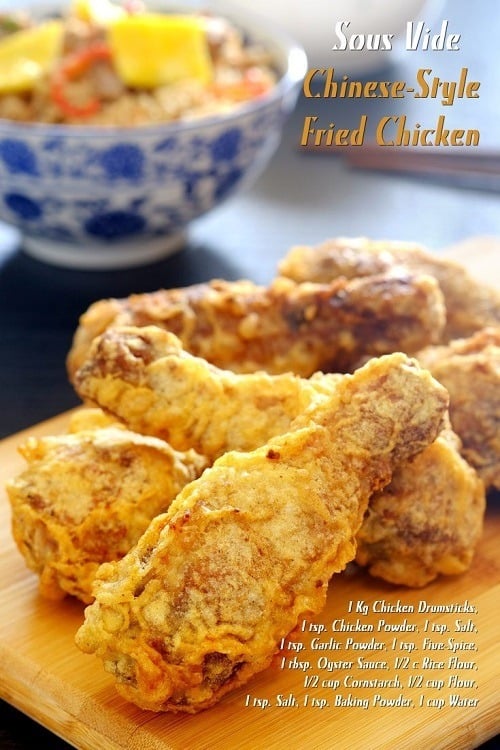 Perfect for parties, this Chinese Style Fried Chicken from Food For Net can be prepared ahead and simply reheated before serving.
10) Sous Vide Chicken with Melted Leeks and Panko
Anova Culinary's Panko-crusted chicken breasts served with a side of buttery leeks, provides an interesting mix of textures and is unbelievably easy to prepare.
11) Garlic Thyme Chicken Breast
Just three main ingredients in this Buttery Garlic Thyme Chicken Breast recipe from Kitchen Bowl make it quick to prepare, yet impressive to serve.
12) Barbecue Chicken Thighs
Chicken thighs cooked Sous Vide are simply tossed in a smoky salsa for a great crowd-pleaser from Great British Chefs.
13) Sous Vide Chicken Salad Sandwich
Tasting Table's Sous Vide Chicken Salad Sandwich recipe is just about the tastiest and most tender we've found! Adjust the seasoning as you like for a custom chicken salad.
14) Sous Vide Chicken Piccata
Sun-dried tomatoes, parsley, and capers give this Sous Vide Chicken Piccata from Unorthodox Epicure robust bursts of flavor for a truly special recipe.
15) Sous Vide Garlic Cilantro Chicken
Food For Net's recipe of Garlic Cilantro Chicken works for a special occasion or as an everyday meal for your family.
That brings us to the end of these super Sous Vide chicken recipes. Mention your favorite in the comments and let us know any tips you may have for Sous vide cooking!