Cooking eggs with a Sous Vide offers a lot of opportunity for creative breakfast dishes. Whip out a pot of water and get cooking in the AM with these tasty egg Sous Vide recipes!
1) Sous Vide Egg Bacon Bites Bacon Gruyere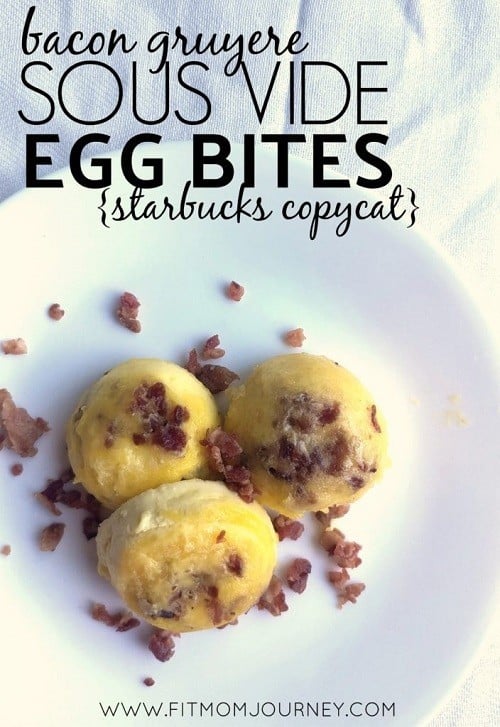 These soft and fluffy Starbucks-inspired Egg Bites from Fit Mom Journey are perfect for a quick and healthy breakfast munch.
2) Sous Vide Egg and Bacon Pizza
This pizza recipe from The Elite Chef proves that Sous Vide egg and bacon are terrific topping combinations for pizzas.
3) Sous Vide Egg Sandos
Make your morning breakfast more exciting with these gorgeous Sous Vide Egg Sandos from Buzzfeed.
4) Perfect Sous Vide Eggs with an Avocado Toast
Gorgeous runny eggs cooked in Sous Vide make this Avocado Toast recipe from Dash Of Savory a mealtime superstar.
5) Sous Vide Egg with Sunchoke Veloute, Crispy Prosciutto and Hazelnut
Zen Can Cook's Sous Vide eggs paired Sunchoke Veloute and Crispy Prosciutto is another fantastic Sous Vide recipe that's as pretty as it is tasty.
6) Sous Vide Egg Noc
Enjoy Egg Noc Sous-Vide style and you will definitely thank the Sous Vide Magazine for this wonderful recipe.
7) Sous Vide Eggs Benedict Pizza
A delicious combination of two popular recipes, this Eggs Benedict Pizza recipe from Baking Steel uses Sous Vide-cooked eggs and Hollandaise sauce as a topping.
8) Cooked Lettuce with Peas and Sous Vide Eggs
This healthy AM breakfast features a Sous Vide egg-topped Lettuce and Peas Salad from Culinary Colleen. A great guilt-free morning meal!
9) Sous Vide Egg Yolk Croquette
Encased in a crispy panko breadcrumb coating, these Sous Vide Egg Croquettes from Savoring The Good are simply out of this world.
10) Sous Vide Ramen Eggs
Amp up your ramen or any recipe with these gorgeous gooey-centered Sous Vide Eggs from Food For Net.
11) Sous Vide Eggs Benedict
This unbelievably simple Eggs Benedict recipe from Sous Vide Guy will let you enjoy this delicacy anytime, right at home.
12) Sous Vide Egg and Bacon Salad
Fresh and vibrant, this nutritious Egg and Bacon Salad from Tasting Table will definitely be your top pick for salads.
14) Tex-Mex Shakshuka with Sous Vide Eggs and Labneh
Circle Of Eaters' Shakshuka with luscious Sous Vide eggs is a saucy breakfast dish for those slow moving mornings.
15) Deep-Fried Sous Vide Egg Yolks
Look at that yellow yolk! All Recipes' Deep-Fried Sous Vide Egg Yolks will make you crave more every time you take a bite.
16) Thai Curry Risotto with Sous Vide Egg
The runny Sous Vide egg enhances the creaminess of this yummy Thai Curry Risotto from Delishar.
With that, we've concluded our list of mouth-watering Sous Vide egg recipes. We hope you enjoy these egg-tastic recipes. If we missed any of your favorites, make sure that you comment and share your favorite below!