Welcome to our Teeth Talkers series, where we'll be discussing dental issues, particularly concerning cost-saving solutions for those who don't have access to dental insurance (or insufficient dental coverage).
Today I want to talk about my person experience getting a root canal. As a freelance writer, I have zero dental insurance, although I do have some decent coverage from MassHealth.
You Need a Root Canal and Have No Insurance – What Do You Do?
A couple weeks ago I awoke in terrible, excruciating pain – some of the worst I've ever experienced! It felt like my tooth was chewed apart from the inside. I quickly made an appointment with a local dentist, but the days before my appointment were horrifically painful as I struggled to manage the tooth pain.
When I visited the dentist, I was upset to learn that I needed a root canal in one of my back molar teeth. I knew that the root canal, along with the crown, would be a very pricey procedure that I couldn't really afford. I began to research all of my options, which I'm sharing with you in case you are in a similar predicament!
Option #1: State Covered Dental Insurance
If you have low income, you may qualify for state-run dental insurance. Often times there are big stipulations for what dental procedures are covered, but it's still worth looking into your individual state health and dental legislation to see if the state programs will cover what you need.
As a member of MassHealth, I have basic dental procedures like fillings, cleanings, and x-rays covered, but nothing else under MassHealth.
There is an additional program called Health Safety Net, which covers more advanced procedures if you go to a community health clinic. Unfortunately, community health clinics don't do root canals or crowns for molars, so that also wasn't an option.
Option #2: Student Dental Schools
If you need a root canal for your molar teeth, you'll likely have to be paying out of pocket. Pretty scary stuff, since dental work can easily cost thousands of dollars.
For an affordable dental solution, consider student dental schools. Many dental schools, such as the dental treatment schools in Boston, have a great track record, and offer dental services as much as 50% less than private practices.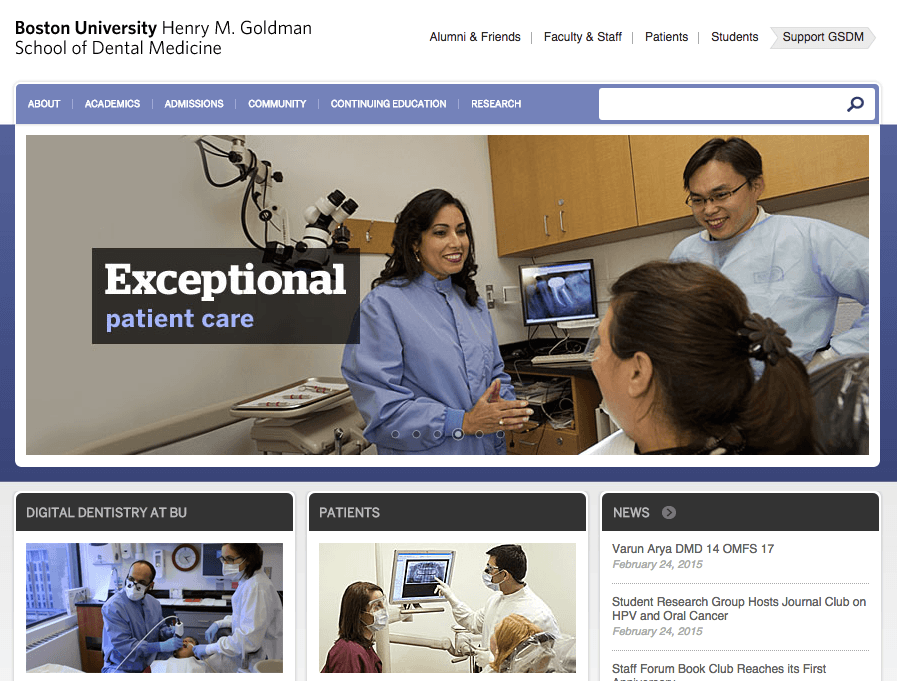 The downside is that getting these procedures at dental schools takes considerably more time, since students must check every step with the faculty and don't work as speedily.
A procedure that normally takes an hour could take 3-4 hours at a student dental clinic. One thing I had to consider was my fear of dental visits. I already have moderate dental anxiety, so the idea of an extra-long procedure didn't sound very exciting for me.
Not only will the procedure take longer, but likely the entire process will take a few weeks to a month. Since these are student practices, they'll want to set up at least one (maybe even multiple) assessment and evaluation visits prior to beginning treatment.
However, if you live near Boston and are interested in getting work done at a dental school, I'm happy to offer the information I've gathered during my research.
Option #3: Dental Savings Program
Another option is to sign up for a dental savings program.
These programs are not dental insurance – instead they are dental savings plans in which you pay the negotiated rate that insurance companies usually pay.
For example, imagine one endodontist office that normally charged $1,800 for a root canal on a molar teeth (pretty common in the Boston area). In this hypothetical scenario, if you had dental insurance, the insurance company would pay $1,000 and the patient would pay $800.
With a qualifying dental savings program, you would just the amount that the insurance company usually pays – the $1,000.
Now remember, this is a dental savings program, NOT dental insurance. What does this mean for you?
No forms or pre-approvals are necessary, so a lot less hassle.
You pay the full amount to the dentist when you get the procedure – you do not get billed and pay at a later date, so you need to have the full payment amount readily available.
There are many different dental plans, and you'll probably need to do some research to decide which plan is best for you.
You will want to choose a plan that offers the largest number of specialists in your area for the procedure you are seeking.
For example, I was looking at two plans – Patriot Plus and Signa Plus Health. Patriot Plus was a little cheaper, but there weren't many dentists partnering with that program in my zip code.
However, there were many dentists who were partnering with the Signa Plus Health dental savings program, so I ultimately went with them.
Signa Plus Dental Savings Program: My Experience
Signing up for Signa Plus Health Savings got me an amazing deal! The cost of signing up for the program for me was $60 for the year (the cost varies depending on if you are an individual or signing up an entire family).
Through this dental savings program, I was able to book the molar root canal procedure I needed at a local endodontist office for $795, although they normally charge $1,400. That's  over 55% off!
Now this is an exceptional deal, but you'll have to dig for these kinds of deals. I used the Signa Plus Health Savings online portal to find nearby endodontists who take Signa Health Plus Savings, but then I also had to call manually and ask them to quote various prices.
You can also call Signa Health Plus Savings (or whichever dental savings program you are considering) and they will help you find various practitioners and will give you their prices, but it's still a grueling process as you have to provide many different zip codes for nearby towns to scour around for a good deal.
When I was looking for a root canal procedure, nearly all offices were charging between $900-1200. That's still a TON less than many private practices normally charge patients, but I was really psyched to find that $795 deal. Just know that it took a lot of effort to find that one gem.
It should be noted that prices vary a a lot depending on where you live, so your savings could vary. I live in Boston, so all prices are very high and the $795 price I got is nearly unheard of.
I hope this helps! I know finding a reasonable cost for my root canal was a trial and hassle, made no easier by the pain I was in.