You love your electric toothbrush – but how do you handle all those cords when you're on the go?
I've been a big fan of electric toothbrushes ever since I set my molars on my Phillips Sonicare toothbrush.
However, lately I've been traveling a lot and have found that the Sonicare's fairly bulky design, along with the wall charger I need for longer trips, have become quite impractical.
Using manual toothbrushes after being such a die-hard electric endorser feels strange – I never feel I'm getting my teeth as clean as I should. I wanted a compact design I could take on my travels.
Tooth technology has come a long way, and I'm happy to say that after our research we've found a nice variety of quality electric toothbrushes that are slim and compact enough for travel.
Today we're exploring all your options when it comes to travel electric toothbrushes – we'll talk about features to look for and review a few top pick suggestions.
See our quick picks to get right to the good stuff, or continue reading for our full reviews!
Things to Consider When Shopping For a Travel Electric Toothbrush:
Weight. Naturally, the slimmer the better, and usually lighter is better too. However, with some products, users note that having a toothbrush that is too light gives the device a cheap toy feel. Ideally, you want a toothbrush that is light enough to be convenient but has at least a bit of weight to give it substance and add some durability.
Battery vs Wall Charger. Most traditional electric toothbrushes feature rechargeable batteries, but this can be impractical for travel. Rechargeable batteries are still doable if the charge can last a very long time, but if you're traveling for months at a time, this will be hard to come by. Luckily, there are some great slim electric toothbrushes on the market that can last a very long time with just a single AA battery.
Timers. One of my favorite features of my Sonicare brush is the pulsing timer than vibrates every 30 seconds, reminding me to brush another section of teeth and keeping lazy brushers like myself to the 2-minute rule. Some travel toothbrushes lack these extra bells and whistles, but if it's important to you, seek out the ones that have great features like these.
1. Phillips Sonicare Battery-Powered Toothbrush
The Phillips Sonicare HX3631 takes one of the most popular electric toothbrush brands and introduces a travel-friendly, battery-operated model.
This model measures in at 1 x 1 x 7 inches, and weighs about 4 ounces.
This brush has the features you'd expect in a Sonicare – a built-in 2-minute timer to ensure you're brushing the right amount of time, an ergonomic handle, and 15,000 brushstrokes per minute, promising perfect pearly whites.
Phillips also claims that this brush has been clinically proven to be safe for folks with braces, fillings, crowns, veneers, etc. so you can rest easy when you brush.
PROS: Advocates love that they finally have an electric toothbrush that is light enough for travel, offers a great teeth cleaning, and does away with cumbersome cords.
CONS: One unhappy owner notes that this toothbrush feels like it makes his entire head vibrate, and yet he still doesn't feel his teeth are satisfyingly cleaned.
2. Quip
Quip has been quite the social media darling, and it's pretty easy to stumble upon one of their stylish ads on Instagram.
Reviews are generally positive, but some folks aren't too happy with Quip's cheaper plastic models, claiming that the toothbrushes feel too light. Most happy customers are those who opted for the metal finish models.
Quip takes the cake when it comes to style – its sleek design (especially the metal models) makes it feel like it would look at home next to an iPhone. Quip's electric toothbrush runs on a single AAA battery, and can last for months at a time without losing juice.
Quip prides itself on including all the features you need in a toothbrush, without any extra gimmicks. It has a handy 2-minute timer, with 30-second pulse intervals to remind you to switch teeth quadrants.
This unit is super slim and very convenient for travel, especially considering its handy travel cover that also doubles as a wall mount (and not the sticky kind that can be used once – this wall mount can be suctioned and removed from multiple spots).
Quip also comes with a brush head subscription plan, delivering fresh brush heads to your home on a set schedule to ensure that you're brushing most effectively and with clean bristles.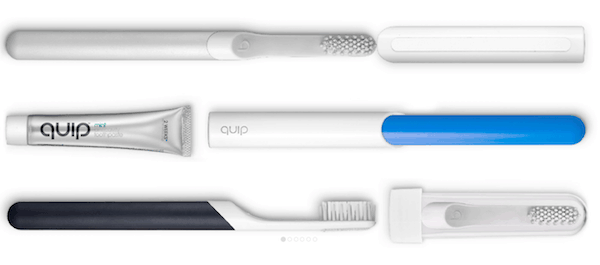 PROS: Quip is slim, sleek, and a very convenient design for travel. It feels nice to hold, and the built-in timer is a nice added touch.
CONS: I own a Quip and have to say, I continually question its effectiveness. The vibration is so gentle compared to my home Sonicare brush that it's offputting. Still, my teeth do seem to get clean, but I don't have that sense of really getting all the gunk scraped off that I do with my Sonicare.
While the Quip looks great, it still has some major design flaws. The rounded bottom means the toothbrush can't stand on its own (something I've become accustomed to with other electric toothbrushes).
At the same time, resting the toothbrush horizontally on a sink countertop feels strange because opposite side of the brush is a tongue cleaner. The raised tongue cleaner surface means that the toothbrush is constantly rolling to one side or the other and won't stay upright.
I still use my Quip for traveling and overnights, but I've found that at home I prefer to go back to my Sonicare.
Update: I've been using my quip for over a year now and despite my initial reservations, it's become my full-time toothbrush. My dentist seemed happy with my dental hygiene last time I visited, so I'll continue using Quip. I'm on the go a lot, and it's nice to have a toothpaste that is so easy to pack up and take on the go, plus it takes up a lot less space than my old Sonicare brush.
I also have to say, I love the auto-shipment of brush heads. I used to have to remind myself to get on Amazon and order Sonicare brush head replacements every few months, but I don't need to worry about that with Quip's auto brush head refills, and it's always fun to see those shiny packages with my new brush head in the mail!
It's not perfect – I've found that gunk gets stuck at the bottom of the holder / travel carrier, so I have to use a bottle brush to clean it. But largely, Quip has really grown on me!
3. Oral-B Black Pro Rechargeable Toothbrush
The Oral-B Black Pro is a sophisticated electric toothbrush with some impressive bells and whistles, all while being
Oral-B's pride and joy is the unit's "CrossAction brush head," featuring a circular brush that has bristles angled at 16 degrees, designed to get in deeper between teeth and around gums. The CrossAction brush rotates, oscillates, and pulsates to remove additional plaque along the gumline.
Oral-B Black Pro also has a unique pressure sensor that will stop pulsations if it recognizes that you are brushing too hard (a nice bonus if you've already been chastised by your dentist for hard brushing).
This unit also features an in-handle timer that ensures you brush for the dentist-recommended full 2 minutes. The timer also uses a 30-second pulsing timer to remind you to switch to the next section of teeth.
This unit uses a rechargeable battery, but claims to hold a charge for 7 days, so it should still function well for the occasional short-trip traveler.
Sale
Oral-B Pro 1000 Rechargeable Electric Toothbrush, Black
REMOVE UP TO 100% MORE PLAQUE* along the gumline whilst PROTECTING GUMS with our dentist-inspired round brush head technology *vs. a manual toothbrush
PROTECT YOUR GUMS with sensi cleaning mode and GUM PRESSURE CONTROL that automatically stops brush pulsations when brushing too hard
MAXIMIZE CLEANING performance with 3 EASY-TO-USE CLEANING MODES + handle-integrated quadrant timer that alerts you every 30sec to change brushing zone
PERSONALIZE & LEVEL-UP YOUR CLEAN with Oral-B BRUSH HEADS AVAILABLE* for YOUR individual needs: e.g., deep clean, gentle clean, whitening *for purchase
Oral-B ROUND brush heads REACH WHERE RECTANGULAR manual brushes DON'T. Experience a better clean from the #1 brand most used by dentists worldwide
PROS: Most users are very happy with the Oral-B Black Pro and feel that their teeth are getting a good solid cleaning. Folks also appreciate the built-in timer.
CONS: Some users expressed the wish to have replaceable batteries so that the unit doesn't have to be trashed when the lithium-ion batteries die (which they inevitably do at some point over the years).
4. VioLife
VioLife is an affordable line of portable electric toothbrushes that are charged by AAA batteries. It's a bit on the basic side – it doesn't have a built-in timer – but we still think it's a worthy travel brush.
VioLife puts an emphasis on a slim and portable – at .8 x .8 x 6.2 inches and weighing 1.9 ounces, it's quite small indeed.
VioLife also features a snap-on mascara-style vented travel cap that makes it easy to bring your brush wherever you go.
Unit comes with 2 brush heads, and the VioLife handles come in a variety of styles and patterns so you can choose a look all your own.
PROS: Most folks appreciate the VioLife as an ultra-compact, on-the-go brush great for the occasional trip or to keep at the office, but most agree they wouldn't use it as their primary toothbrush.
CONS: Some users note that this brush feels cheaps and not as sturdy as other electric toothbrushes. Some question how powerful the brush is as well.
5. Oral-B 3D White Battery Powered Toothbrush
The Oral-B 3D White is definitely the most affordable brush on this list, putting it within basically anyone's budget. There's only one speed, and while the bristles are fine, they aren't anything special. They are designed with medium pressure bristles, which may be too hard for some.
This unit certainly lacks bonus features like a built-in timer or travel-handy covers. Still, at 1.3 x 1.3 x 9.4 inches and weighing at 3 ounces, it's a fine contender for your travel toothbrush companion.
There's no travel case for this toothbrush, so you'll need to find your own way to keep the top clean during travels. There are options for replacing brushes, but they can be a bit hard to come by if you don't order them online. The batteries are also replaceable, using AA batteries that are easy to come by.
While these are probably still more effective than standard toothbrushes, you can do a lot better when it comes to electric travel toothbrushes. The vibrations aren't as tight or fast as they are with higher-end models, and most agree that they aren't as effective at cleaning teeth.
Still, for a short trip out of town, Oral-B 3D White isn't the worst option out there!
PROS: Super affordable, it's a portable electric toothbrush any budget can handle.
CONS: No timer, and some claim the vibrations are actually too strong and can hurt your gums if you're used to softer bristles. Some note that the unit feels cheap and flimsy in general.
What's your top pick when it comes to an electric toothbrush that is travel-friendly? Share your favorite picks in the comments!
Last update on 2023-12-01 / Affiliate links / Images from Amazon Product Advertising API