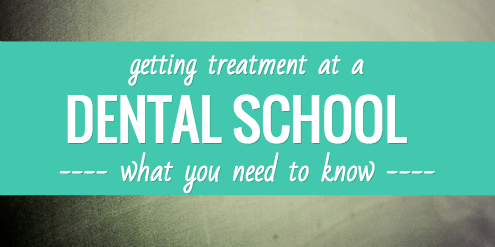 If you need serious dental work done and can't afford to visit a private practice, dental schools are a great option!
When I found out I needed a root canal on one of my molar teeth (while being uninsured), I knew I was in trouble. Luckily, if you live in or around Boston, there are some fantastic dental schools to choose from.
A Word About Dental Schools
Getting your dental work done at dental schools offers some major incentives, but some drawbacks as well.
Pros:
Cost of procedures are significantly reduced.  Dental schools commonly will offer procedures anywhere from 30%-60% less than what you'd pay at a private practice.
Great care under top students. Most of the students at dental practices are highly qualified and are working under experienced faculty. Teachers check students' work at each step, ensuring you get great care.
Cons:
Procedures take much longer. A procedure that takes one hour at a private practice may take 3-4 hours at a dental school.
Multiple appointments. Patients are often required to attend one or two evaluation and assessment appointments prior to beginning treatment.
Students are the priority. While many dental schools offer perfectly fine care, you won't be getting your hand held. Remember, a student practice means the students come first. Your comfort and time aren't as much as a priority.
Top Boston Dental Schools
I'll be detailing the various Boston dental schools you can attend for treatment and reviews posted of various schools.
From the research I did online and from talking with friends in the medical industry, I found that Tufts is by far the most popular student dental clinic. I found tons of positive feedback from patients who had very good experiences at Tufts.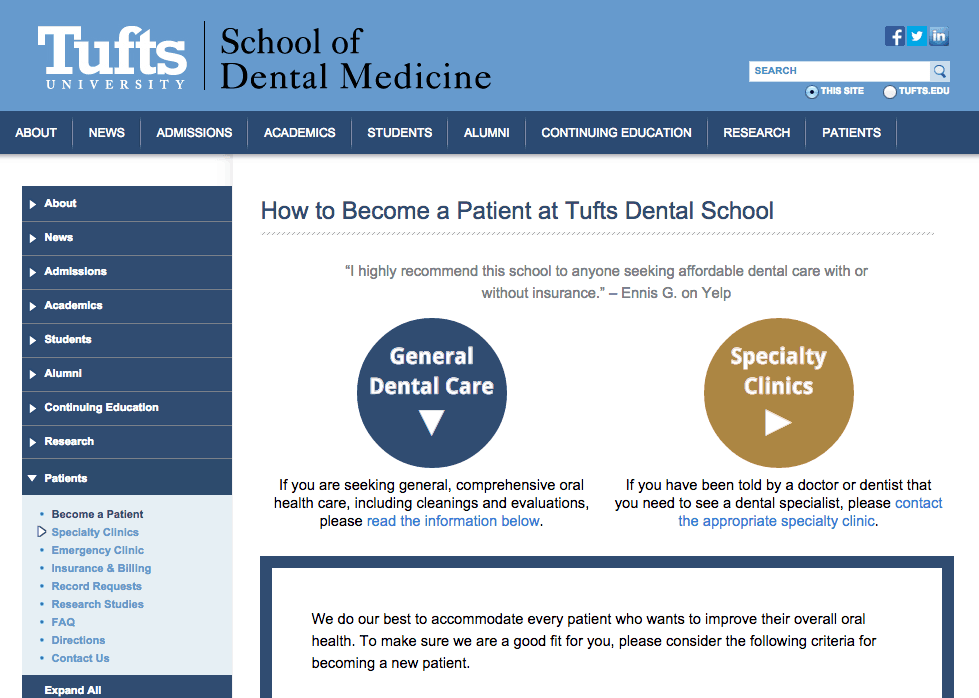 When I called to find out about a root canal procedure, I was told that having the root canal done at Tufts student dental clinic could take a month or even longer for the entire process from start to finish. This is ultimately why I didn't end up going to Tufts – I wanted to get things resolved and do the root canal ASAP.
Now, you can visit the emergency clinics for these student dental centers, but this doesn't mean you'll get your procedure done right away. Instead, they will do what they can to alleviate any immediate pain. You'll still need to come back for an official appointment. Still, it's good to know this is an option if you are in severe pain.
Note: Tufts charges an $89 emergency clinic fee for those who seek treatment at the emergency clinic.
When doing research for my root canal, my dentist said that all three of Boston's dental schools were excellent choices. Now, I couldn't find a ton of patient testimonials, but I did have a few people online tell me that they would not recommend BU dental school and had heard some bad results from those seeking treatment there.
Whether there really is anything to worry about is up for debate, as you'll find that on review services like Yelp, folks are FAR more likely to share a negative experience than a moderate or positive experience.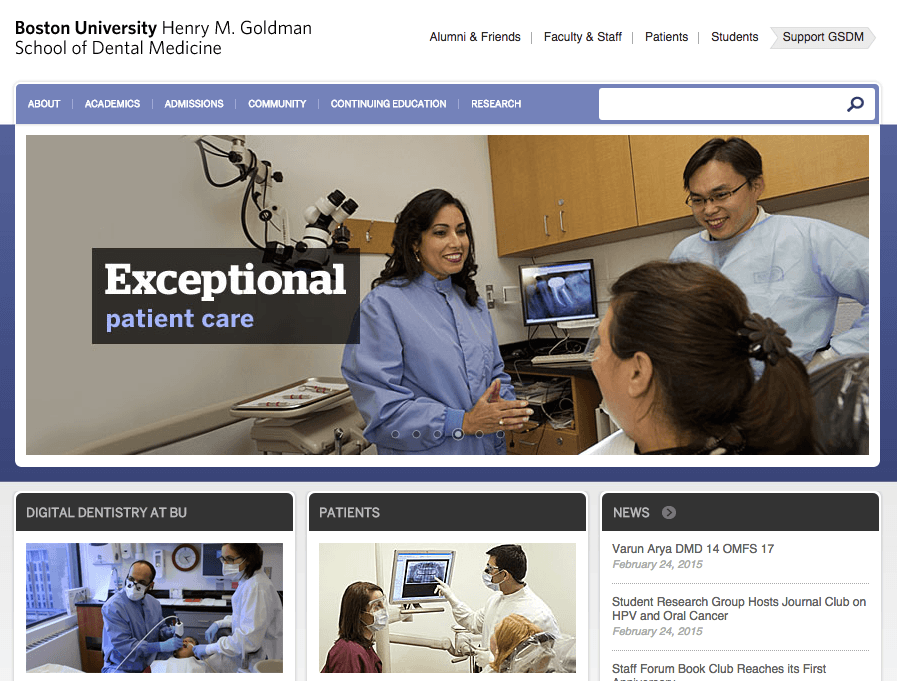 I will say that I found the BU dental website lacking in information compared to Tufts website. Still, there's no reason to doubt that you can get great treatment at BU's dental school.
Harvard School of Dentistry is another option if you're looking at Boston dental schools for treatment. At first I was quite put off by Harvard Dental School's website, as it's by far the worst of the three and is not very reassuring.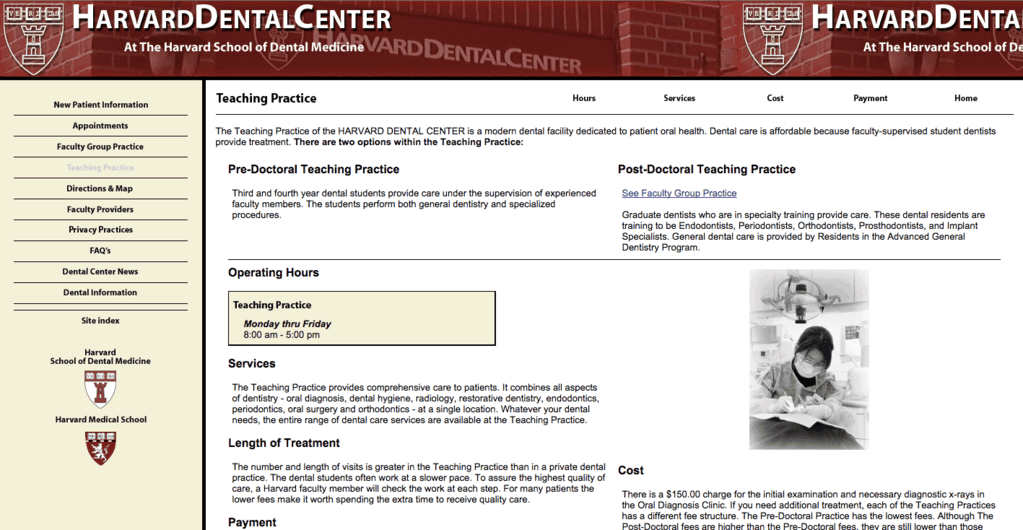 However, when I called, I was surprised to hear that I could be booked for a root canal treatment the very next week. This was the earliest booking I could receive out of all three dental schools I contacted.
It's also important to understand the difference between the Harvard Dental School's faculty practice vs. the Harvard student practice.
The Harvard dental faculty practice puts you under the treatment of post-doctoral graduate dentists, whose prices are slightly less than normal private practices.
The Harvard student dental clinic is where you'll be under the care of pre-doctoral dental students in their 3rd and 4th year (while under faculty supervision) and will receive deep discounted pricing.
Harvard Dental School Pricing Info
The Harvard Dental School wouldn't give me much pricing info over the phone, but here are the quotes I did get.
Expect initial $150 fee for initial examination and x-rays
Approximately $500 for root canal on moral tooth
Note: I can't guarantee these quotes are correct or that you will be given the same pricing. This was just based off of my personal experience calling and talking with staff there.
General Dentist vs. Specialist
When considering different dental schools, make sure you talk to your regular dentist about whether you can get your procedure done by a general dentist or a specialist. In my case, I needed to know if my root canal could done by a general dentist or a endodontist (a dentist who specialized in root canals).
While front teeth can often be done by a general dentist, back teeth usually should be done by an endodontist. It's important to be very clear when booking your appointments whether you want to be treated by a general dental student or someone specializing in a specific dental field.